Australian distillery Twenty Third Street has expanded its reach to our shores. It's their first time offering their range of award-winning products outside of Australia. Built in 1914, the distillery uses previously abandoned South Australian-built copper pot stills (of about the same vintage as their building) to produce its spirits. After years of repairs and relocations, the stills were back in business.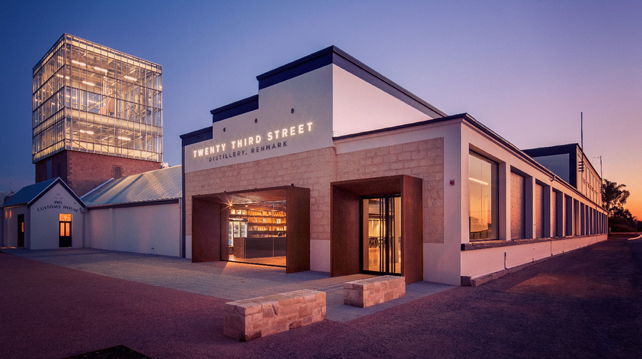 With its launch in Malaysia, Twenty Third Street brought four of its products to our shores: the Hybrid Whisk(e)y, Riverland Rose Vodka, Not Your Nanna's Brandy and its Signature Gin. Each of the spirits is distinct in taste and provide a different experience on their own.
Here we explore the spirits.
Hybrid Whisk(e)y
It's a blend of two worlds: Scotch with bourbon, giving rich sherry characters, aromas of oak and floral fruity notes, with a nutty finish. Head Distiller Graham Buller lets the Scotch whisky age in the barrel for five years while the American bourbon ages for two. The final blend goes back into bourbon barrels for finishing.
Riverland Rose Vodka
Probably one of the tastiest vodka's we'd ever tried! It's got a delicate vanilla taste and smells of fresh roses. The vodka is distilled using Valentine-red 'Mr Lincoln' petals as well as other mixed blooms gathered at the Rustons Roses, Riverland. The petals are macerated over time in cane-based vodka to produce this perfect pink tinted blend.
Not Your Nanna's Brandy
A unique brandy that tastes of toasty oak, vanilla, honey and apricot. That's what you get when you leave brandy in a mix of French and American oak barrels (ex-chardonnay) for two years. Finish it off with a single copper pot distilled portion, and you've got a slightly brighter brandy.
Signature Gin
This crisp gin is the result of infusing ten botanicals including juniper, coriander and citrus. There's an underlying citrusy taste of Riverland mandarin and lime that makes it so fresh. It's also slightly spicy which gives us the kick we love.
Twenty Third Street distillery products are currently available at Paus TTDI, PS150 and Pahit.
-T-