From now on to the 7th day of Chinese New Year, many will celebrate with the traditional "lou shang" 捞生 (also called "lou hei" 捞喜). A big plate of colourful condiments and crunchy snacks called "yee sang" 鱼生 (although "yee sang" means the raw fish which is normally mixed with the condiments, the phrase is also used to refer to the ingredients as a whole) are dribbled with sweet fruit sauce and sesame oil, mixed at the round table with participants calling out good wishes.
The ritual is available in most restaurants and not exclusive to Chinese ones, and is usually conducted before the main meal or sometimes, after. But what do we drink with this unique food that's sweet, sour and crunchy? We've tried a few combinations and here are some recommendations:
Tea
Full fledged Chinese restaurants normally serve tea with their meals. Chinese tea such as Pu'er, Cha Wang and Chrysanthemum are the popular choices as they cut through the normally oily Chinese dishes. Served as a palate cleanser, the tea will prepare you for a full meal ahead after the yee sang appetiser.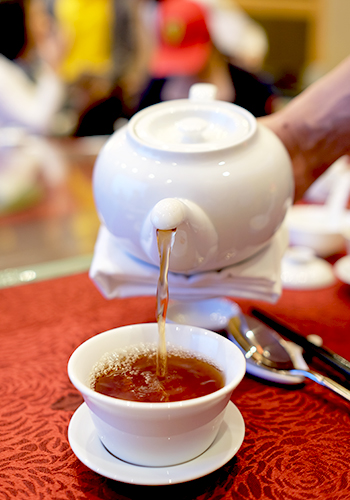 Goh Tong Pu'er Cooked Tea served in restaurants at Resorts World Genting
Resorts World Genting has their own Pu'er, called Goh Tong Pu'er Tea Cake, named after their founder Lim Goh Tong. It's made by Yunnan Seven Tea Cake, comes in cooked and raw types, which are pressed and condensed into round cakes, known as "yuan tea" 圆茶. With the former, the tea leaves are withered, rolled, pan fried and dried, giving a tea with light tannins and a fresh bitter finish; whilst with the latter, the leaves go through a natural fermentation that gives the tea a slight smokey flavour.
Available in all Chinese restaurants under Resorts World Genting. Gift packs of 357g per cake are also available for purchase. Priced at RM75 and RM90 for the Cooked and Raw respectively.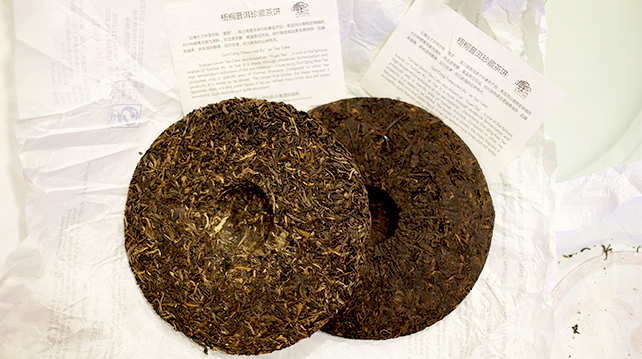 Goh Tong Pu'er Tea
Beer
Perfect if lou shang is done at home! Buy a 6-pack, 12-pack or a carton of 24 and take advantage of Chinese New Year promotions run by the beer companies.
Carlsberg is giving away 8,000 prizes including cash of RM88 ang pow for purchases in selected supermarkets. There is also a chance to have your groceries paid for up to RM800 worth.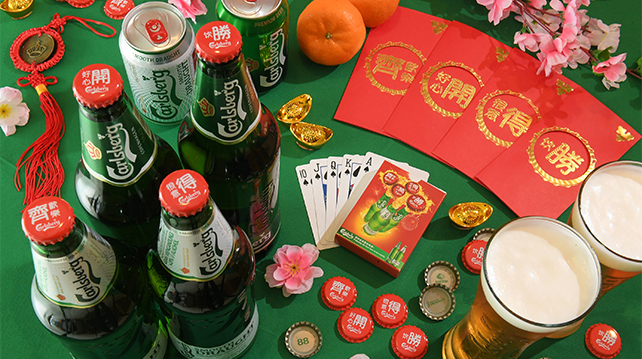 Purchase bottles with red cap to win prizes
Heineken runs a sweepstake with Tiger Beer at selected Tesco hypermarkets with a minimum purchase of RM200. Prizes include Tiger Beer Mahjong sets, and cans of their other beers.
Taps Beer Bar joins in the fun for the first time this year, with a chance of a free beer inside their gift packs containing 8 ang pow packets for a minimum purchase of RM150 in a single receipt.
Cocktail
This is a less likely combination since cocktails have never been part of our culture, or have they? We know some people mix whiskies with green tea or cola, but those are hardly called cocktails, merely mixed drinks. We tried a Mandarin Orange Mojito in Souled Out based on their best-selling classic, with an added dash of Grenadine to give the red tinge. We think this could work, especially when the lou shang session is a casual one with a group of friends.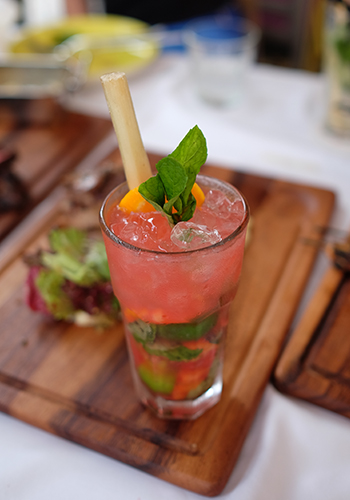 Souled Out Mandarin Orange Mojito is included in their Mojito Trio promotion
Recipe for Mojito comprises of white rum, sugar, mint, lime and topped with soda.
Available in all SOULed OUT outlets: Beer Mojito Wine Happy Hour (12pm – 7pm) at RM11, normal price RM21++, Mojito Trio priced at RM55++