After a two month deliberation from the submission deadline, the Fay Khoo Award for Food and Drink Writing announced the finalists at the George Town Literary Festival in Penang.
Present at the ceremony was Bettina Chua Abdullah, Director of the Fay Khoo Award, and Datuk Khoo Heng Choon and Datin Renee Khoo (father and mother of the late Fay Khoo), to congratulate the shortlisted participants and the two winners.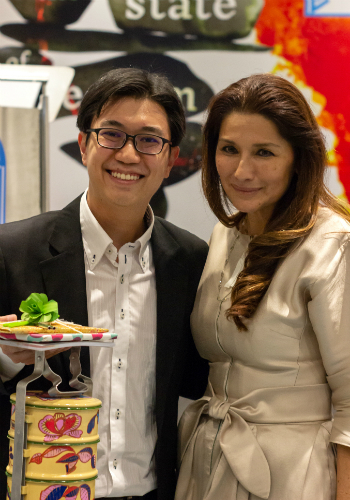 Cheah Soon Seng receiving his trophy for best Personal Narrative with Bettina Chua Abdullah, Director of the Fay Khoo Award.
One winner for each category was selected from a final shortlist of three competitors. For Reportage, Dipika Mukherjee (pictured above with Datin Renee Khoo) clinched the title with her writeup Paet Puja: How Malaysian-Bengalis Worship the Stomach; and for Personal Narrative, Cheah Soon Seng won for his story The Banker's Dinner. Both stories are available to read online.
The winners of each category both came away with a hand-painted tiffin, by Lisette Scheers, as their trophy, as well as RM2000 cash prize and RM500 book voucher for Gerakbudaya Book Shop Penang, books, chopsticks, and metal straws, dining vouchers from BIG, and a winner's dinner at PLOY and Babe.
Congratulations to the winners and the shortlisted finalists. Keep an eye out for next year's competition announcement, and try to get your submissions in early!
- T -