Wolfburn is a new Scotch whisky producer, located in Thurso, Caithness, in the most northerly part of mainland Scotland. Its "fiercely independent" ethos drives the production of young and lively non-age whiskies that are vibrant and flavourful to suit all palates.
Distillery
The young distillery took only 6 months to complete in 2012 and is built near the original Wolfburn Distillery which was founded in 1821 and demolished around 1877. The stone foundations of the old distillery can still be seen at a short distance from the current site. The current distillery still draws water from the Wolf Burn stream.
Its logo, based on a drawing by 16th century naturalist Conrad Gesner, is that of a mythical sea wolf believed to be able to walk on water and bring good luck if seen.
The first drop of spirit was distilled on 25th January 2013, appropriately Robert Burns Day. For the following three years, Master Distiller Shane Fraser and Distillery Manager Iain Kerr worked to create whiskies that would represent the brand's philosophy.
Wolfburn currently produces 125,000 litres per year. Staying true to the geography and history of the distillery, Wolfburn's whole production takes place on site from milling to maturation of the whiskies. The fermentation of Wolfburn's wash takes between 3 to 4 days to complete, longer than the usual 2-day fermentation, which makes the process more costly but results in higher floral and fruity notes that eventually comes through to the spirit.
Brand
The brand strategy is to create premium single malt Scotch at affordable prices. "A good whisky (for me) is if it's good on the nose and pallet but also good on the wallet," says brand ambassador Mark Westmorland in the media tasting session held in Wholly Spirits' office.
He continues, "We use different casks to impart different flavours (to suit) different palates. The strategy is to cast the net really wide and to get as many consumers as possible." There are four core products and a special annual release by the distillery.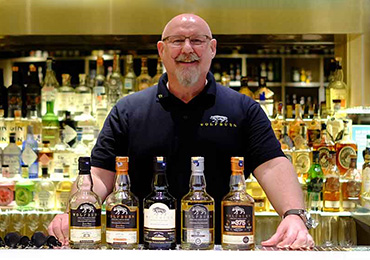 Wolfburn Ambassador Mark Westmorland
Whiskies
Wolfburn release their first whisky Northland in March 2016 and proceeded to win Gold in the World Whisky Awards for three consecutive years from 2017.
Northland 46% ABV
The signature Wolfburn whisky as well as a representation of the first chapter of the distillery. Northland is matured in 120-litre American oak second filled Laphroaig Quarter Casks.
It has a freshly malted barley note on the nose, minty on the palate and smooth, sweet honey on the palate with a mild peat finish.
Aurora 46% ABV
Referring to the Northern Lights which is visible from the cape during winter time in Caithness, Aurora is the second expression that hit the market in 2016. This is a marriage of 80% whisky from first filled bourbon cask and 20% from Oloroso Sherry cask.
Apparent sherry note on the nose, bite of white pepper on the palate with sweetness carrying a vibrant vanilla scent that ends with a clean mouthfeel.
Morven 46% ABV
For two months of the year right before summer, the stills in Wolfburn would run malted barley kilned with peat smoke to make this 10ppm malt. This expression is a mix of half Islay cask and half first filled bourbon cask.
Enticing aromas of barbeque meat on first whiff, taste of caramel sweetness with a lasting peat finish.
Langskip 58% ABV
This expression is named after the Viking launcher to reflect the history of Thurso, a Thor town. Released in 2018, this cask strength whisky is a blend of liquids from 4 and 5-year-old first fill bourbon casks.
Like sea splashing up against the wall when the Viking ship smashes through the waves. Almond-y and slightly salty, chew on it or add water.
Wolfburn Small Batch No. 375
This limited release on 21 March 2019 is aged about 4 years in a combination of 75% 100-litre first-fill Woodford Reserve bourbon barrel and 25% oloroso sherry hogshead.
On the nose, there is a prevalent sherry note with the fragrance of lilies. The rosy hued spirit tastes of maple syrup sweetness with a creamy mouthfeel. Detect layers of flavours such as oak, dry apple, and vanillin at different sips.
Wolfburn whiskies are available in Wholly Spirit shop.
- T -