Would you have coffee or cocktail first thing in the morning? Why not have both….and on-the-go too…

A while back, I was given the opportunity to test out a hand-held espresso machine. So upon receiving it, I was really excited to test out the portable hand-held espresso maker - myPressi. What made it more interesting was that I was asked to test and review it in the context of "Use in Cocktails".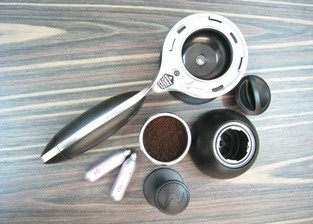 As I quickly browsed through the instruction manual I grew a little sceptical of the apparatus. Prior to this, I had already completed my Master Barista course awarded by Università del caffè della Malesia by Illy here in KL. All the criteria to pull a perfect espresso with myPressi did not match up with what I had been taught in the course.
First of all, let us look at how it works.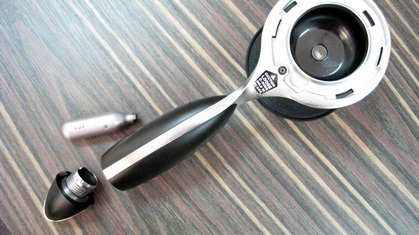 Unscrew the bottom of the handle to open the nitrogen cartridge chamber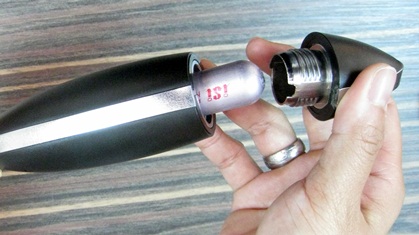 Insert the nitrogen cartridge into the handle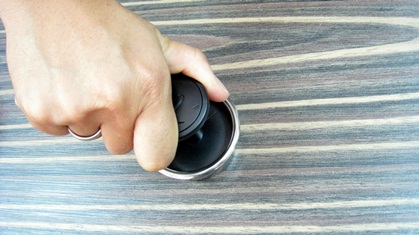 Fill ground coffee in the basket and tamp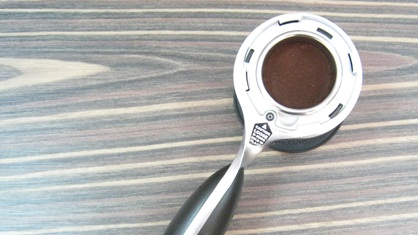 Place the coffee basket back into myPressi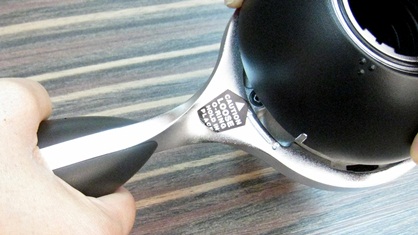 Align the water chamber with the marking on the handle and secure it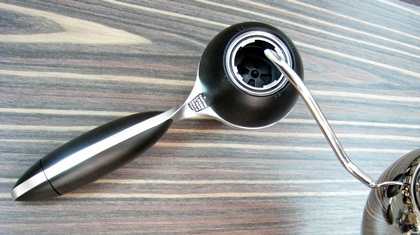 Pour in liquid (freshly boiled water if making espresso)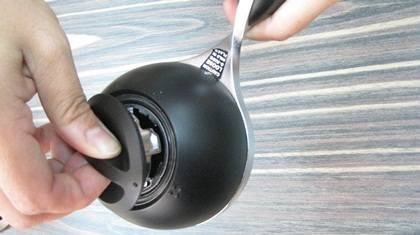 Close the water chamber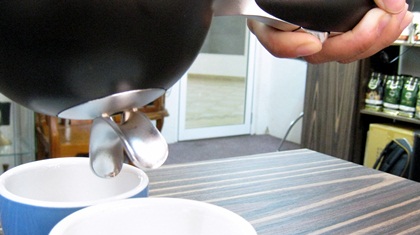 Press the button under the handle and pull you shots

The mechanism of myPressi is slightly sophisticated but is nothing new to bartenders, I believe. This is because it uses NO2 (nitrogen) cartridges to create the pressure in order to pull the espresso. This is exactly the same (procedure and cartridge used) for soda and cream siphons often used at the bar. The cartridge is inserted at the end of the handle which provides enough gas to pull 8 shots of espresso.

After a few trial and errors, I managed to pull quite a decent shot of espresso. So how does it fare in the world of cocktails? Firstly, I like how it is portable which makes it efficient, easy to use and doesn't take up a lot of space. Secondly, you can change the basket to use the disposable pods for quick reload and extraction. Thirdly, commercial espresso machines have a built-in water chamber which is used to fill water and boil before making your cup of espresso. For myPressi however, the chamber is much smaller and it does not have a boiling function. Therefore when making espresso, you have to fill in boiled water and compress it through pressure using carbon cartridge. This really intrigued me as it got me thinking, "If I can open the water chamber to fill boiling water, it means that I can fill it with ANY kind of liquid!" This led me to… immediate flavour extraction!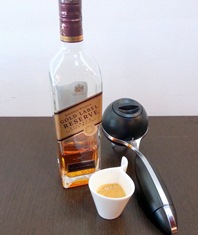 Test 1: Johnnie Walker Gold Label Reserve

For this test, I used Johnnie Walker Gold Label Reserve whisky as the liquid for extraction instead of hot water. I tried once with the whisky at room temperature and another with the spirit heated to almost boiling point ( 92°C).

Results
Whisky at room temperature - the espresso extracted with the whisky tasted very acidic, sour and harsh.

Whisky heated – this time the whisky fared much better as it wasn't as acidic, while the character and alcohol of the whisky still noticeable and present particularly the smokiness and roasted malt notes.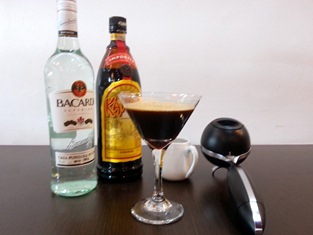 Test 2: Espresso Martini using Bacardi Rum

For this test, I did a variety of trials using Bacardi rum, Kahlua coffee liqueur, sugar and espresso.

Trial 1 – Standard double shot espresso (not necessarily perfect), extracted straight into mixing glass. Then add rum, coffee liqueur and sugar syrup. Shake and strain

Result
A very decent and balanced espresso martini with good volume (full portion size in martini glass).

Trial 2 – Added rum to the double shot espresso, extracted straight into mixing glass. Then add coffee liqueur and sugar syrup. Shake and strain.

Result
Lack of volume (3/4 portion size in martini glass) but all flavours (coffee and ingredients of cocktail) still noticeable.

Trial 3 – Using all ingredients in the cocktail to extract double shot espresso. Add 1 shot of water. Shake and strain.

Result
Severe loss of flavour (coffee overpowers flavour of the spirits) and volume (half portion size in martini glass).

Verdict

Looking at the tests, the first test shows that a bartender's creativity of flavours can be exercised by extracting espresso shots with any spirit of choice. The second test shows that the espresso need not be of "perfect extraction" quality as preached by the barista world. The addition of spirits and mixers make the quality of extraction less critical as proven with the espresso martini. .

Conclusion

myPressi is a very interesting tool to have behind the bar and will do a decent job for bars which choose to sell espresso-based cocktails. It is portable, easy to store and handle. The initial investment is very much cost effective compared to a commercial machine.
Local distributor(s):
Malaysia
Cuppa Coffee Boutique (sole distributor): AR13, Megan Embassy, 225 Jalan Ampang, 50450 Kuala Lumpur. Tel: +603 2149 9291 / 95