If you are looking for a fun bar to spend the night or have a party, BAC located above a shop lot in the Damansara Heights neighbourhood is that place to let your hair down.
"BAC" – originally Beef and Coffey, allows for any interpretation. It can stand for 'Before any Covid', 'Blood Alcohol Content', 'Booby and Charlie', 'Bring Any Clown', 'Buy A Cocktail', 'Bad At Counting', 'Bonkers At Chasers'… whatever strikes your fancy.
What matters is the restaurant bar promises a good time. All the walls are painted black to make you forget the time, while the colourful paintings blend with the eclectic mix of the best music from different eras bringing you back to the good old pre-Covid days. The vibe of BAC is akin to the character of General Manager "BACtender" Mattman Joseph, full of life, fun and infectious with his laughter.
Watch the bartenders banter with each other, dance to the tunes and make your drinks. Their cocktail menu ranges from classic to barrel aged, low ABV to boozy all of which keep the party going. Call for "WMD" for a Mattman's prescription and let the house decide your next drink.
You will notice some of the elements about the drinks in BAC that really puts them on the list of quality cocktail bars. They use block ice for all their drinks and don't skimp on the quality of garnishes. As a highball focused bar, they chose a soda with the finest bubbles and tonic brands made for cocktails. That shows dedication. They laser-focus on one theme for their drinks menu and created their food around it.
In ten highballs, there is enough creativity to offer ample variations in terms of flavour and ABV by being up to trend with their use of shrubs, vegetation and kombucha while giving every spirit category a shine.
*Outlet menus are subject to change periodically. Please refer to outlet's social media platforms for updates.
Cocktails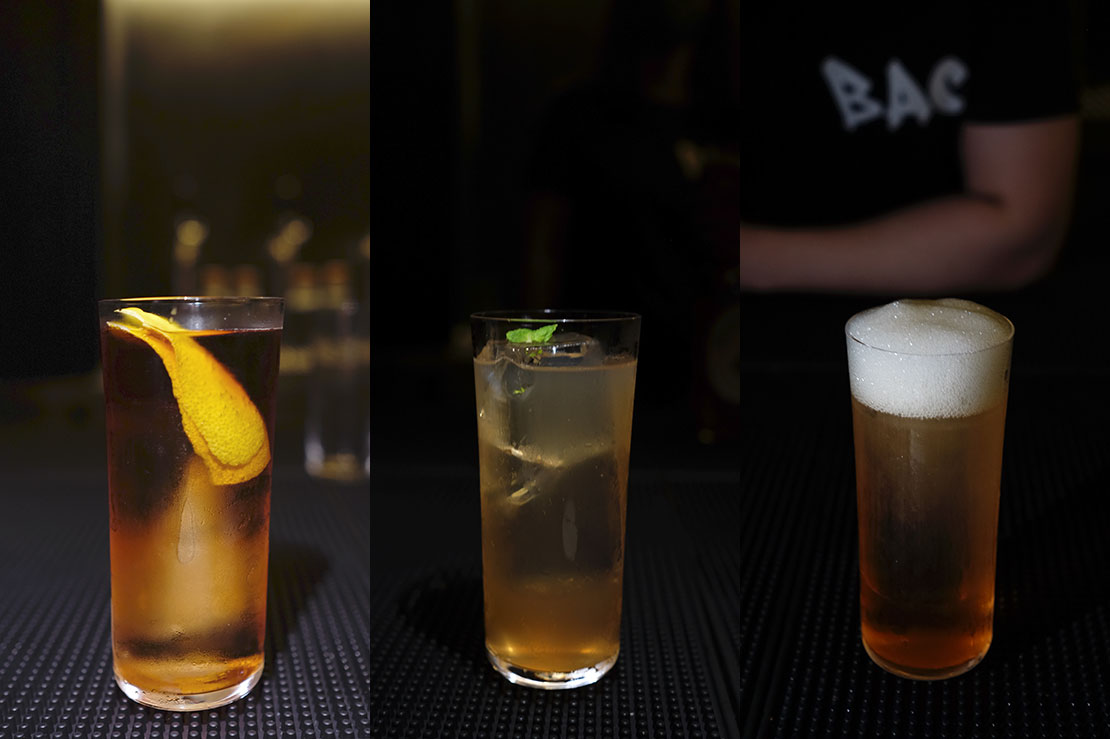 Barrel-Aged Americano, Wire to Wire and Tropical Thunder
Barrel-aged Americano RM38
Campari and Mancino Vermouth mixed then barrel-aged for two weeks and a day, topped with Michter's Bourbon and soda
Wire to Wire RM45
Michter's bourbon, white peach and mint shrub, Chang soda
Tropical Thunder RM38
Diplomatico Mantuano and Planas rum blend, Campari, pineapple, Scrappy aromatic bitter and East Imperial Ginger Beer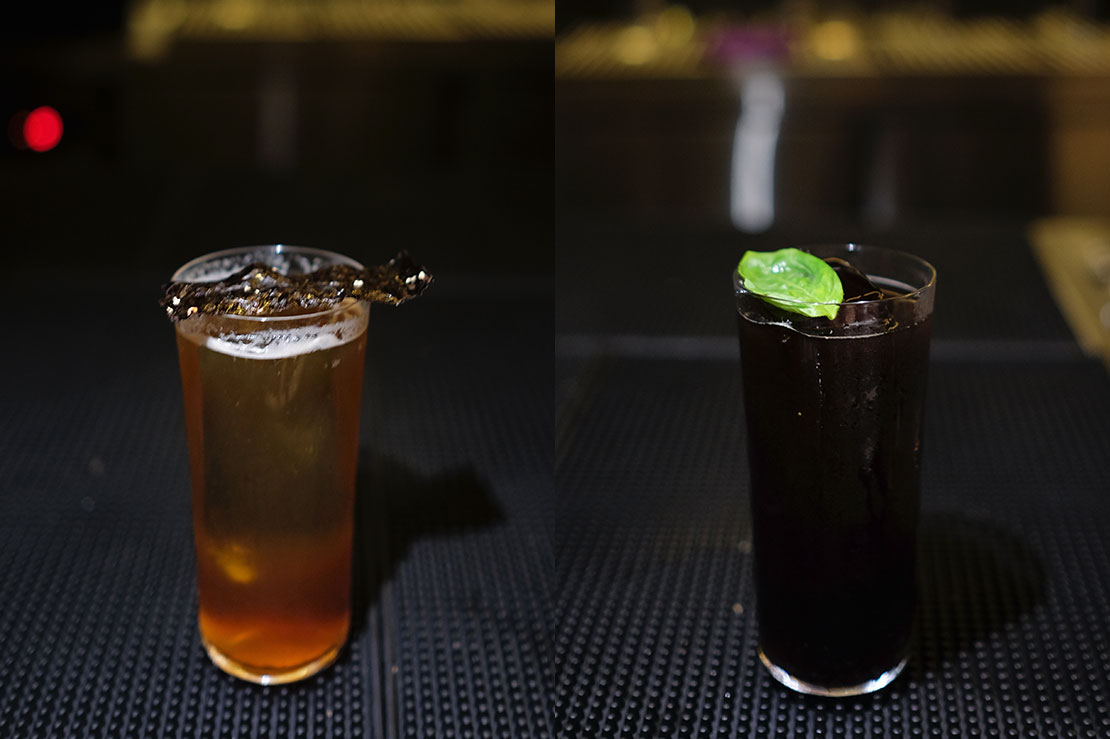 DTF @ BAC and Deja Brew
DTF @ BAC RM45
Toasted rice, miso fat-washed Mackintosh Whisky, seaweed and wakame kombucha blend
Deja Brew RM45
Pierre Ferran 1840 Cognac, Mancino kopi vermouth, East Imperial tonic water
BAC to Black RM45
Michter's Rye whiskey, strawberry and basil balsamic shrub, Chang soda
Oren Jus RM38
Fennel infused T&T vodka, saffron infused Mancino vermouth secco, orange cordial, East Imperial Thai ginger ale
Lionel Richie RM45
Diplomatico Reserva, prosecco lime & passionfruit, scrappy firewater bitters, Chang soda
Paloma Picante RM38
Jalapeno Arquitecto Tequila, Machetazo Mezcal, saline solution, lime sour syrup, East Imperial grapefruit soda
Green Glutton RM38
Widges Gin, St. George absinthe, lime, sugar, Chang soda
BAC's fusion Asian food menu is designed to fix your after-drink cravings and to fuel you for the night long party whilst also delighting vegetarians as it provides plenty of plant based options. Using fine ingredients like wagyu beef, Sarawak pepper, shiitake mushrooms and egg noodles, there's variety for every palate.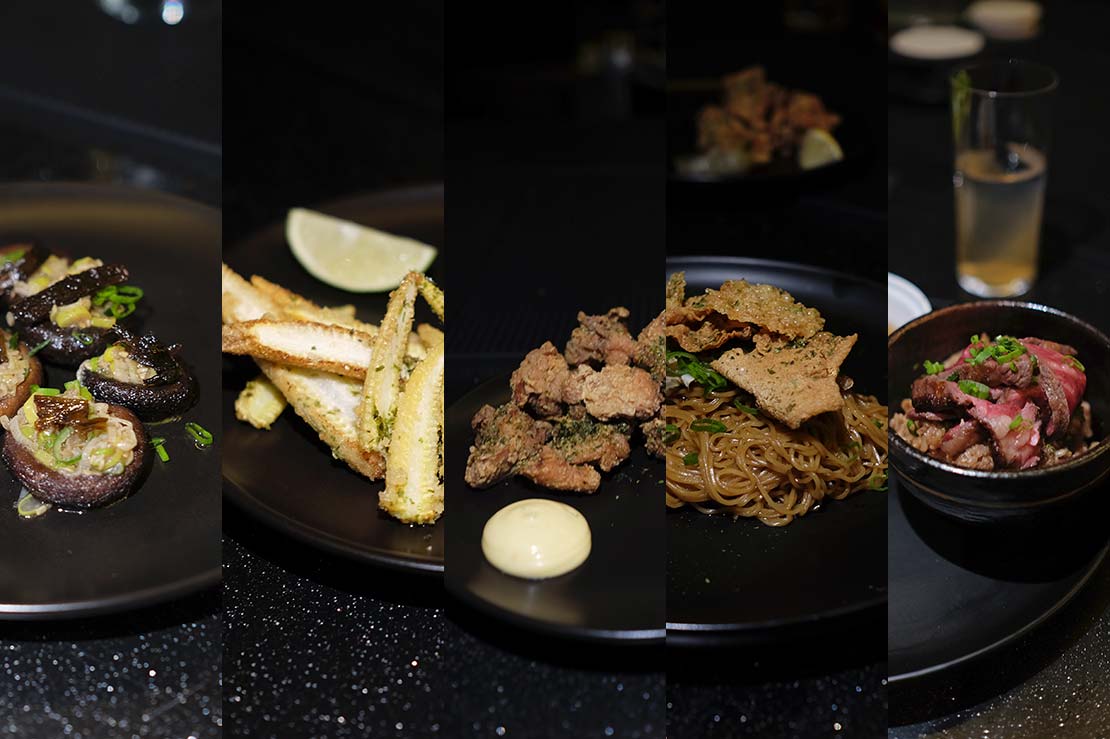 Corny East (RM15) - Fried baby corn Sarawak pepper hollandaise lime
Rooms for Shroom (RM15) - Shiitake mushrooms topped with crispy leeks
Atas Ayam Goreng (RM25) - Cincalok fried chicken, lacto chili mayo
18+ (RM28) – Thin noodles stir fried with garlic and cabbage, aromatic spring onion oil, crispy fu chuk tofu skin
Wagyu Don Ochazuke (RM65) – Wagyu rice bowl with a side of hot broth
When you hear, "B.A.C., one, two, three!", that's the cue to take a shot. Get ready to party.
- T -
Address:
73­-1, Jln Setia Bakti, Bukit Damansara, 50490 Kuala Lumpur, Malaysia
Telephone No:
+6010 287 0731
Website:
https://www.facebook.com/highbac.kl/
Operation Time:
Mon-Sun: 5pm-12pm