While acerbic British chef Gordon Ramsay's first foray into Malaysia, the Gordon Ramsay Bar & Grill has raised hype with his signature dishes and posh presentation, let's not forget there's a bar component to the experience too.
Located in Sunway Resort in Bandar Sunway, the restaurant is extra as expected, with plush leather furniture, walnut hardwood flooring, and a literal gold ceiling covered in hand-placed 24 karat gold leaf.
The main dining area is roomy with space for 150 guests at a time, while the bar offers a cosy hideaway. The six-seat bar plus a few adjacent tables are tucked out of view behind a floor-to-ceiling glass display, which is the temperature-regulated home for the restaurant's over 1,000 bottles of wine from around 210 labels.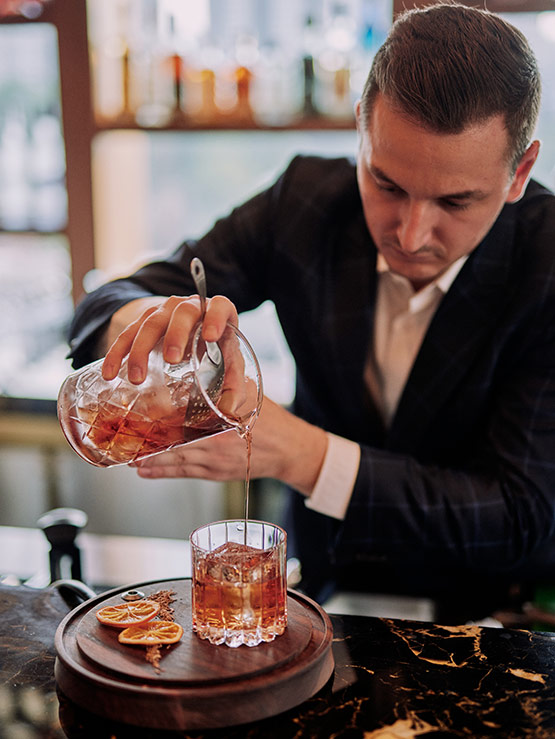 Bartender at Gordon Ramsay Bar & Grill Sunway Resort, Marek Klecka
Diners can order cocktails or wine to go with their dinner, but those on a liquid diet will want to reserve a seat at the bar, where they'll be hosted by bar manager Marek Klecka.
Previously based out of Singapore at Catchfly on Ann Siang Hill, he's also got experience slinging drinks in a suit at the Singapore Polo Club (an actual club, not an ironically named bar).
Cocktails
The Gordon Ramsay Bar & Grill's drinks menu is compact with nine drinks, all riffing-off classics, and five zero proof options made with Lyre's non-alcoholic spirits.
Like the food menu, the drinks too follow Ramsay's Savoy Grill in London. The exception is Klecka's signature, the OMLG. Its name is a nod to the brand Oh My Gin, distilled in his home country, the Czech Republic. However, perhaps sourcing the obscure gin was a bit too far, so like the rest of gin cocktails it is built with Tanqueray.
OMLG (RM70) is floral without being cloying using Chambord and home-made lavender syrup. Like the Angostura Sour (RM80) - a blend of Amaro di Angostura and Woodford Reserve Bourbon - both use pasteurised egg white making for rich, foamy drinks. Unfortunately, there are no vegan alternatives, though there was no noticeable eggy taste, even when left to warm up.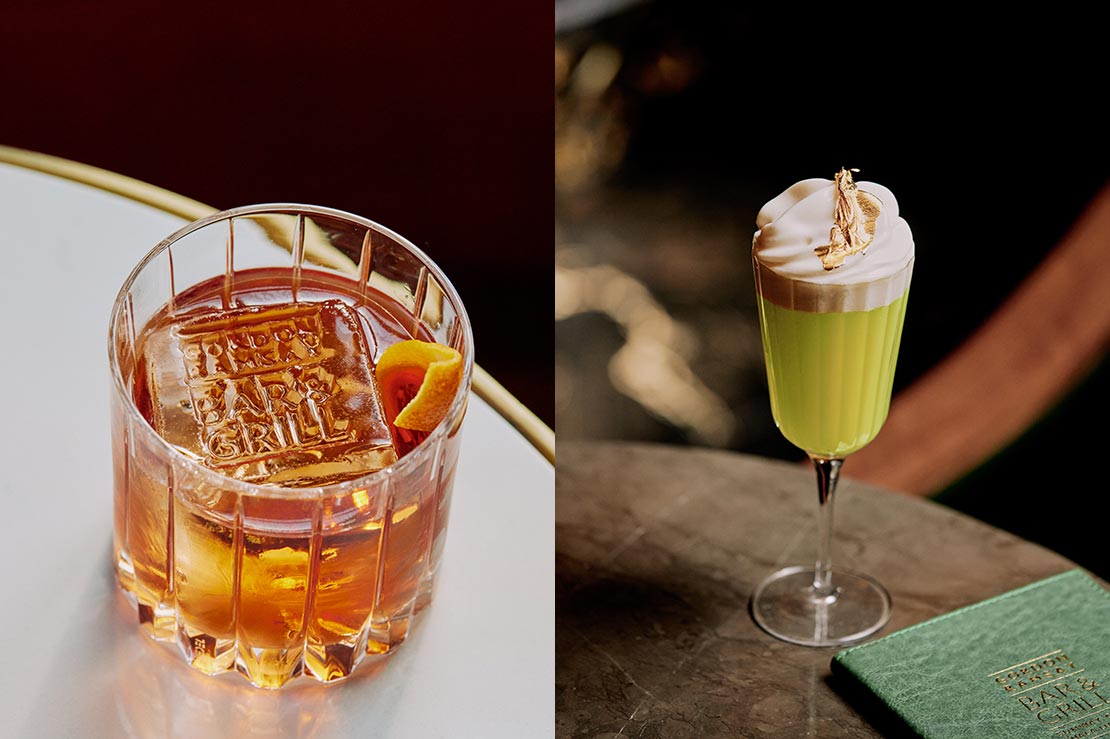 From left: Barrel-Aged Negroni and Chelsea Royal Garden
Those looking for a theatrical drink for their socials, it's a tight race between the Barrel Aged Negroni (RM75) and the Chelsea Royal Garden (RM80). The Negroni is aged at least a month in a charred barrel and to give it that last bit of omph, blasted with a smoke gun and brought to your table encased in a glass dome.
The Chelsea Royal Garden is on the other end of the taste spectrum: sweet botanical and tart, made with St Germain Elderflower, fresh green apple juice, effervescent prosecco and a touch of lemon bitters. It is topped with foam from a NOS whipped cream dispenser and a dehydrated apple.
While the menu is mostly gin and vodka forward, with the Grapefruit Collins (RM75), spicy Ginger Cosmopolitan (RM70), and Bailey's Espresso Martini (RM85), there are more easy going alternatives like the Hibiscus Mojito (RM65) and Chilli Margarita (RM80).
The Chilli Margarita uses Jose Cuervo Tradicional, Cointreau, fresh lime, agave, and chilli tincture for kick. For localisation and extra fire, Klecka makes the tincture out of bird's-eye chilli!
Designated drivers don't need to suffer the indignity of over sweet mocktails, as the zero proof options are thoughtfully made too. The Penicillin 0% (RM35) is made with Lyre's American Malt, fresh ginger for zing, plus honey, and fresh squeezed lemon. There are even two booze-free G&Ts: the pink Strawberry G&T made with Ginzero Strawberry and the standard Zero Proof G&T (both RM35) that uses Ginzero 12 Botanicals. Both use Fevertree tonic water.
Across the board, the branding is on-point: the Angostura Sour has Gordon Ramsay Bar & Grill written into the foam, while the Negroni has it melted into the ice. Even the humble G&T has the brand seared into the citrus peel. Almost wouldn't need to tag the bar, if not for the flex.
The pricing is significantly higher than your typical cocktail bar, even in the KL city centre, but then again, in line with the restaurant's food menu and vibe. While the on menu choices are short, Klecka can whip up or recommend a wide range of classics, thanks to a solid back bar.
- T -
Address:
Lobby Level Sunway Resort, Persiaran Lagoon, Bandar Sunway, 47500 Subang Jaya, Selangor, Malaysia
Telephone No:
+603 7492 8000
Website:
https://www.gordonramsayrestaurants.com
Operation Time:
Daily: 12pm – 12am, 12pm – 3pm for lunch and dinner from 5pm – 10:30pm.