[Photos: Kim Choong]
As a hotel brand, the Four Seasons doesn't do anything by halves – from the buttery soft leather-covered handrails in their lifts, to the epic ceramic art wall installed in their Chinese restaurant, Yun House, no expense is spared to create the most lavish possible experience for guests who come through their doors.
This touch extends to their F&B concepts, but nowhere more visible than in Bar Trigona, their own bar created in collaboration with the masterminds at Proof & Co (who are also behind the regularly awarded Manhattan at The Regent, Singapore). Their aim is to change the concept of drinking in hotel bars, pioneering the change by providing excellent drinks made with high quality ingredients at a reasonable price, all in a nice atmosphere. With that said, it's a fairly discreet joint, located on the sixth floor tucked away at the end of The Lounge – the all-day tea lounge area just off the lobby – behind a set of nondescript tall, skinny panel doors. Inside, the mood is set with bronze fittings, leather accents, mirrored surfaces, and shades of imperial blue and teal, to the height of sophistication and class. Floor to ceiling windows from The Lounge continue over to the bar, letting in light that reflects off the mirrored wall behind the impressive green marble bar, while dusk creates an unmissable sultry golden hour.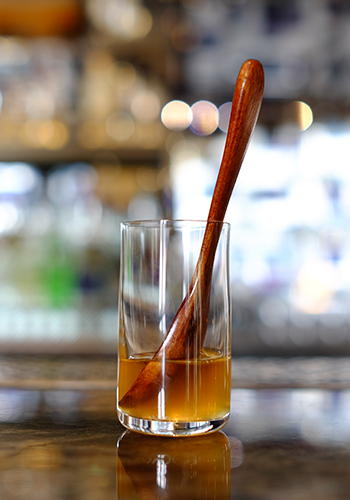 Trigona Honey from Negeri Sembilan
Bar Trigona champions local ingredients and flavours. The name itself is from a local species of stingless bee (kelulut in Malay), which makes the famed trigona honey that is supposedly even better for you than manuka – it's floral, slightly sour, and not too overwhelmingly sweet (as many off the shelf honey from supermarkets tend to be, being topped up sugars and preservatives). The bar sources their namesake honey from Negeri Sembilan where 90 per cent of the nectar comes from coconut trees, and keep it refrigerated to avoid fermentation (and thus any exploding bottles). Even the tiled walls reference local weaving patterns in an homage to Malaysian culture, with quirky Chinese diabolo-shaped lights hanging over the bar for a touch of whimsy.
The knowledgeable Ashish Sharma is Head Bartender, he oversaw all sourcing before the bar started and now guides guests with his expert advice. Ask him about the ingredients or the concept behind the bar, and he'll cheerfully regale you with his stories.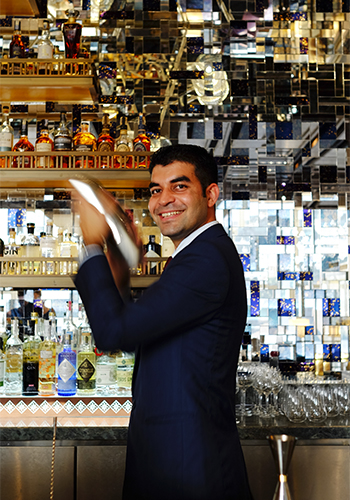 Bar Trigona's Head Bartender, Ashish Sharma
The menu is straightforward, and the cocktails are divided into an exploration of four parts of a plant: fruit (RM50), leaf and flower (RM45), stem and seed (rm50), and root (RM45) – also worth mentioning is that each segment has its own unique mocktail (RM30). Wine, beers, spirits, and Malaysian tapas are also available, but our focus was firmly on the cocktails. It goes without saying that the trigona honey features in several of their creations, most notably:
Kelulut – made with peated whisky, bourbon, Borneo honey, and grapefruit juice, embellished with a formidable grapefruit wedge that makes for a deliciously smoky drink.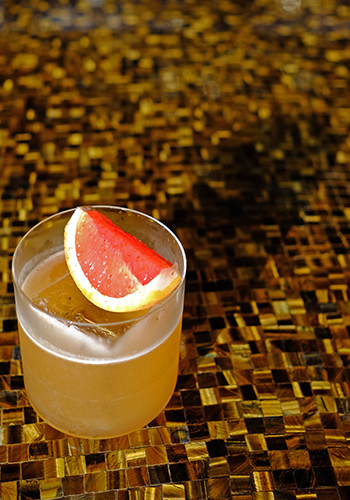 Kelulut
Trigona Old Fashioned – a spin on the classic made with local honey instead of simple syrup, Cynar, bourbon, and a dried piece of cedar wood as a fragrant garnish.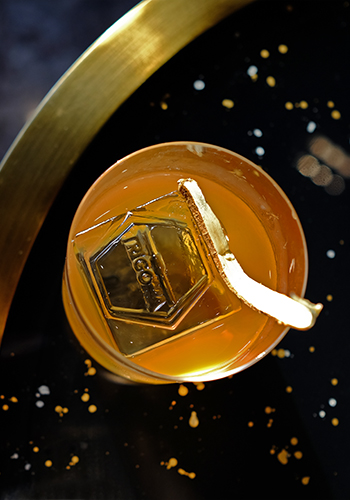 Trigona Old Fashioned
Bolio – not unlike a hot toddy, this is hot spiced apple cider mixed with scotch whisky, sherry trigona honey, and ginger, making a fruity, slightly sour, little glass of Christmas (and served with a small sample of locally grown figs from Shah Alam).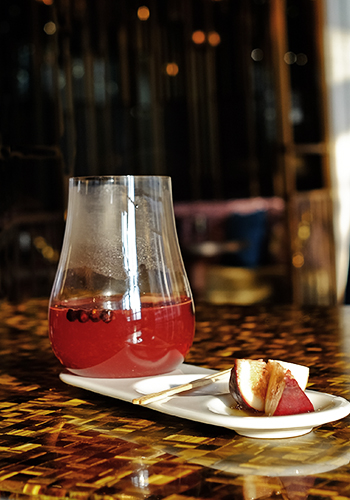 Bolio
Bitters & Smoke – prepare to be amazed by the flask, featuring a sizeable chunk of trigona honeycomb infused in reposado tequila, mezcal, Cynar, fernet, green chartreuse, and ginseng smoke. As it's stored in the fridge, the cocktail is served chilled. It's bitter, but well-rounded thanks to the honey. Flakes of the comb break off into your serve, and give a surprisingly appreciated waxy flavour.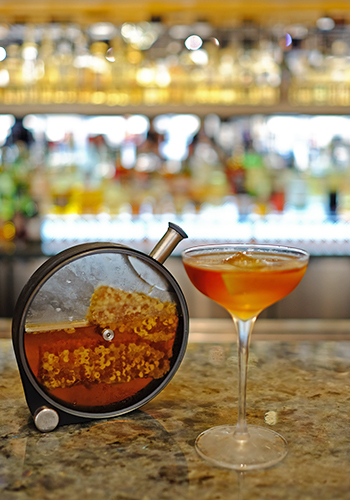 Bitters & Smoke
For vegans who would prefer to abstain from honey, other cocktail options we enjoyed included:
Nectar – an elegant riff on the Jungle Bird, it's a refreshing cocktail made with a light rum, fresh lime, jasmine and torch ginger cordial, and bianco vermouth. We recommend starting your evening with this sweet, approachable drink.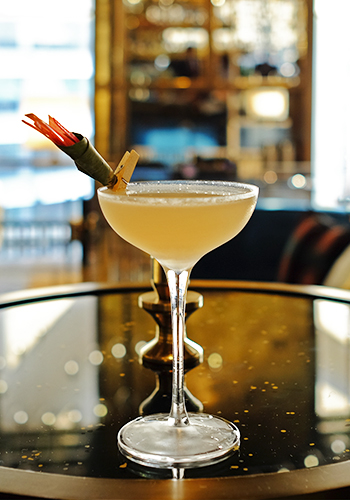 Nektar
Terra – another classic riff on the Gin Fizz, a cool tall drink made with botanical gin (St George Botanivore), fresh lemon and turmeric, bianco vermouth, and dry orange Curaçao.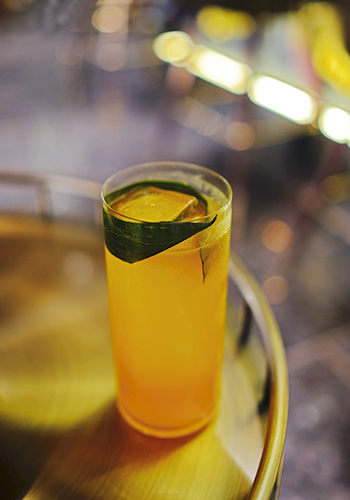 Terra
Do note, Bar Trigona is fully non-smoking.