For CK Kho, life before Coley was about pop-ups, temporary spaces and festivals. They were always fun and different, bringing new ideas by partnering with beverage brands and restaurants. His experimental and unconventional cocktail menus were mostly one-offs, and the veteran bartender was always hands-on.
When the award-winning bar Coley started in 2016, it was also in a form of a temporary pop-up at the back of a café. It became more permanent when the traffic picked up. A year later, Coley started winning awards and has done so every year ever since.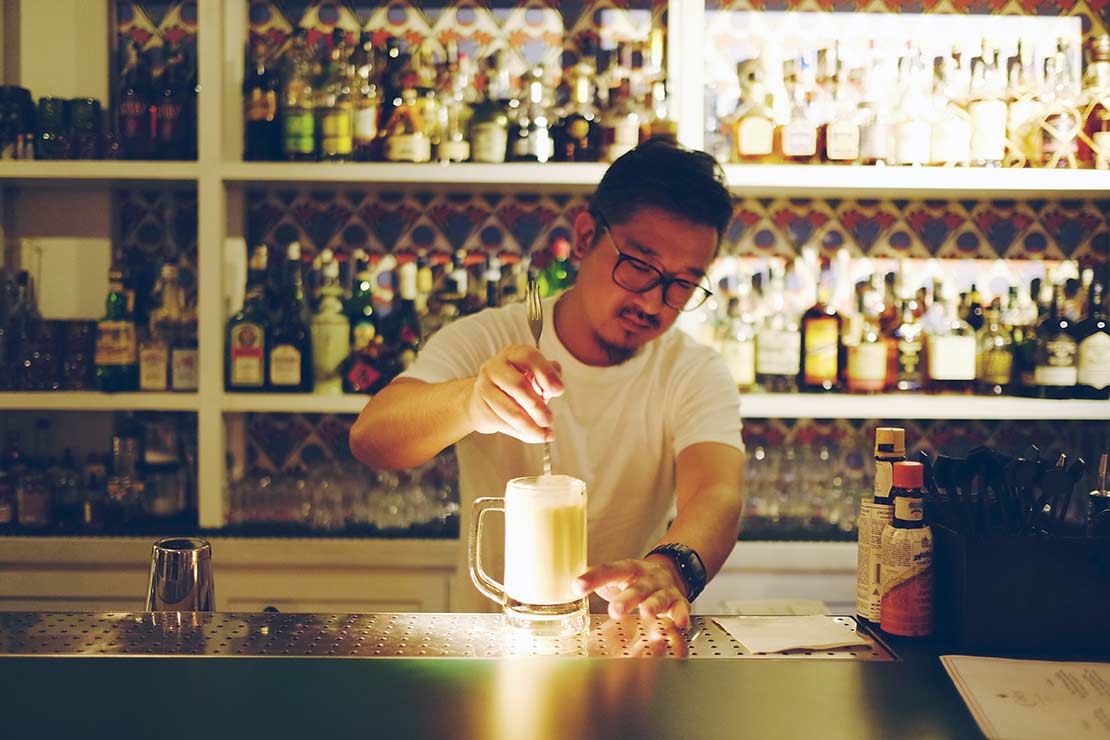 Above: Coley at its first venue
"I have always wanted to do more on food because it is very important, even though we are running a bar," answered CK when asked about Coley's new WFH menu.
Food at their first venue had to come from the café as agreed with the landlord: nasi lemak, sandwiches, snacks… and at specific times. Collaborations with guest chefs helped give more room for creativity.
In March 2018, Coley moved a few doors up the road and expanded the team. The space for a kitchen was small but better than none. Signature Coley food menu items began to take form.
Fast forward to the pandemic, Malaysia has been through 15 months of on and off lockdowns. With more time for R&D and the help of chef friends, Coley has been packaging their cocktails with more substantial food offerings.
"Cocktails are still our focus, but if you want to stay open, you have to run it like a restaurant," said CK.
The constant changes of Standard Operating Procedures (SOPs) during the pandemic has thrown off many F&B outlets. The confusion from having a valid license yet treated like not has made bar owners pivot their businesses towards putting more emphasis on food to save their troubles.
Coley's latest delivery menu is designed for people who work from home, especially those who live alone. There is never a shortage of limited time cocktails and pairings as the bar stays true to their collaborative spirit.
Drinks options
Low proof and non-alcoholic categories receive a good deal of attention from the bar, and Coley was one of the first in KL to do so. Find Gin & Coconut, Vodka & Salted Plum, Tequila & Asam Java Koktels and non-alcoholic Peruvian purple corn beverage Chicha Morada for an afternoon refreshment without overdoing it.
The more potent cocktail selections made for delivery require only stirring into a short glass with ice, which can be purchased in square and rectangular blocks at RM2.40 per piece with a minimum of 12 pieces per order.
CK believes that bottled cocktails will continue to stay relevant even after the lockdown, especially low and no alcohol ready-to-drink (RTD) beverages. As consumers drink from home and make their own, they become more knowledgeable about ingredients. Hence, the requirement for good quality RTDs is on the rise while convenience remains the determining factor for sales.
What will change when dine-in is allowed again?
"Delivery will definitely slow down," said CK, as that was the case when restaurants and bars opened up after the two previous lockdowns. "But people will be selective," continued CK, "quality will win over quantity for consumers choosing to dine-in. We can already see the spending power lowered this time (MCO3.0). People will dine-in less frequently but the quality of our customers will be better."
It is expected that business will pick up at the beginning when dine-in is allowed, but it will hit a plateau and slow down again. "It is positive for us when we re-open because customers can't behave like they used to be when the bar was packed. We can focus on a smaller crowd in the outlet and give better quality service," explained CK.
We can't wait to visit bars and restaurants again. Meanwhile, Coley's Minum and Makan At Home menus lets us enjoy the bar experience at home. Choose any of their six meals and top up RM10 for a bottle of Chicha Morada or RM30 for a bottle of cocktail.
Coley's WFH menu RM18 – RM40: Five Spice Pulled Chicken Sandwich, Mantis Prawn Risotto, Lazy Salmon Pie, Crab Burger, Smoked Wagyu MS4 Brisket Sandwich, Shredded Vietnamese Braised Duck
Order from Coley's Instagram page or WhatsApp them at +6019-2709179
- T -