We may know of the previous Singapore Turf Club in Bukit Timah and the current one in Kranji, but few of us even got the chance to witness the glory of Singapore's first horse-racing venue, Farrer Park Racecourse built in 1843 along Racecourse Road. It was originally a swampy land granted to the Singapore Sporting Club for amateur horse racing. The club was subsequently named Singapore Turf Club and moved to Bukit Timah in 1933.
Farrer Horse is designed to bring patrons down memory lane to Farrer Park Racecourse and the gatherings at the club. Initially a social hub for the Europeans and Malay Royalty, the club became a melting pot for all who took interest in horse racing. The diverse Asian food menu of the gastro-cocktail bar offerings served at The Dining Room reflect such multi-ethnic society gatherings at that time.
Located within The Sultan, Farrer Horse occupies two floors of the building with vintage design cane furniture, gold trimmings on elegant pine green wall paneling, and decorated with paintings of horses and archival photos of the racecourse. The outlet is the brainchild of Ayyakannu Srinivasan (Srini), the second generation of Muthu's Curry, and his wife Malarvizhi, to commemorate the memory of his childhood home along Racecourse Road where Farrer Park Racecourse used to stand.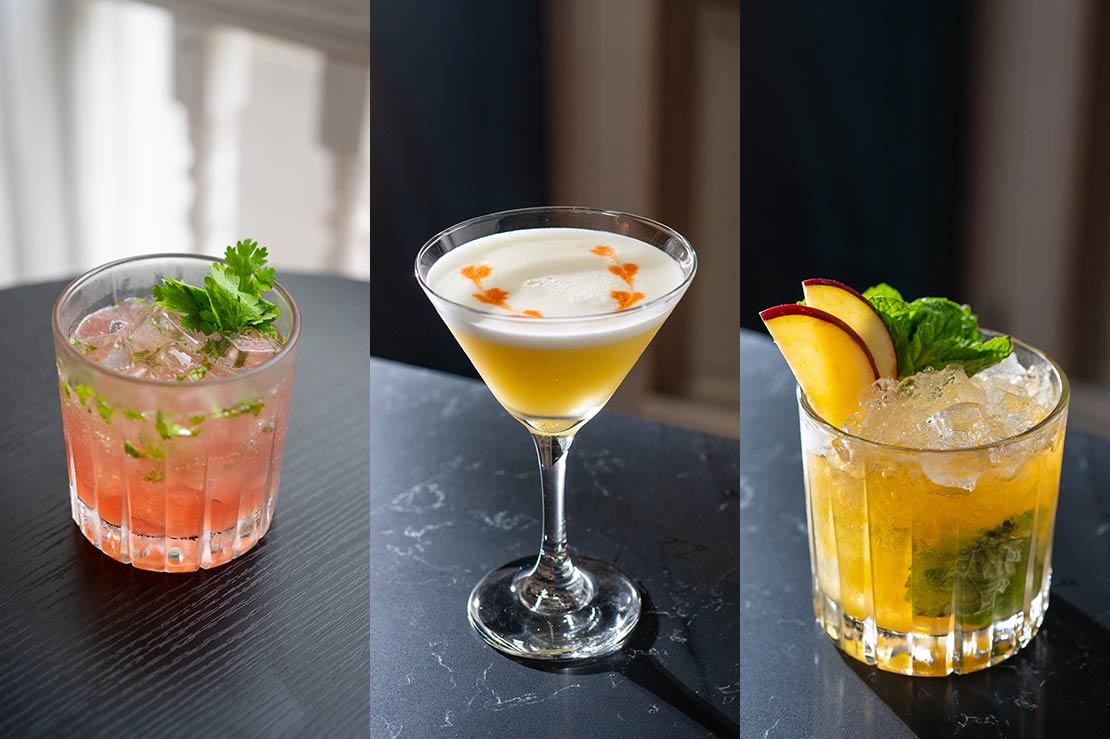 From left: Eclipse, Rocket Man, Secretariat [Image source: Farrer Horse]
At the Stable upstairs, one can order from the cocktail menu designed by Roman Foltan of The Compound Collective, with drinks (all at S$22-$24 each) named after winning horses. The menu was originally launched with 6 cocktails and has now been expanded to 12.
Secretariat, based on a horse's diet, is a hay-infused bourbon cocktail shaken with apple juice and maple syrup, and is said to have been inspired by the Kentucky Derby's official cocktail, the Mint Julep. Kelso takes inspiration from the grass tracks of the old racecourse and is a stirred drink combining Japanese shochu, house-made cucumber cordial, an acid blend and tonic.
Named after Singapore's most famous horse, Rocket Man combines horseradish infused syrup and small-batched grape brandy produced in Ica Valley of Peru, pineapple juice, lime and lemon, resulting in a drink that is sweet, salty and sour. Widely regarded as the greatest racehorse of all time, Man o' War is an Old Fashioned cocktail using Tennessee whiskey sous-vided with coriander, fennel, and cumin seeds for two hours, displaying the spice notes. Eclipse was an undefeated racehorse in the 18th century and is represented by a herbaceous tipple mixing tequila, Fino sherry, lime, pomegranate, celery, and coriander. Inferno, Canada's first great racehorse, is a recipe with rum, lemon, iced peach and passionfruit tea.
Address:
The Sultan Hotel, 101 Jalan Sultan, #01-02/#02-00, Singapore 199002
Telephone No:
+65 8139 8109
Website:
https://www.farrerhorse.com
Operation Time:
Dining Room: Tue to Sun, 12pm to 10:30pm; Stable: Tue & Sun, 4pm to 10:30pm, Wed to Sat, 4pm to 12am