If music is brain food, imagine what it can do to your drinks. Well, you won't know until you try, and the place to do this is at the recently opened Frank's Bar, one of Cinnamon Group's latest ventures.
The beverage program at Frank's Bar highlights its "sonic ageing project". A 2-litre wooden barrel containing a classic cocktail would "listen" to 4 hours of Frank Sinatra's mix through a set of headphones with the tempo between 110-200BPM, starting with an andante tempo at the start of the shift to an upbeat pressto as the night goes on.
Drown in Sound, the result of this project using the classic Boulevardier recipe is a way to demonstrate how the flavour is enhanced through waves of sound.
In their menu, it says that "The sound waves emitted from the songs act to increase the interaction of the liquor with the barrel wall, much more significant than the normal ageing process currently used."
Bar manager, Giovanni Andrea Magliaro's experiential cocktail list follows a sequence of increasing intensity in flavours and mood, integrating a music journey by influential jazz icon Frank Sinatra with Giovanni's own experiences from his travels. Every drink's name has a music connotation and play on words.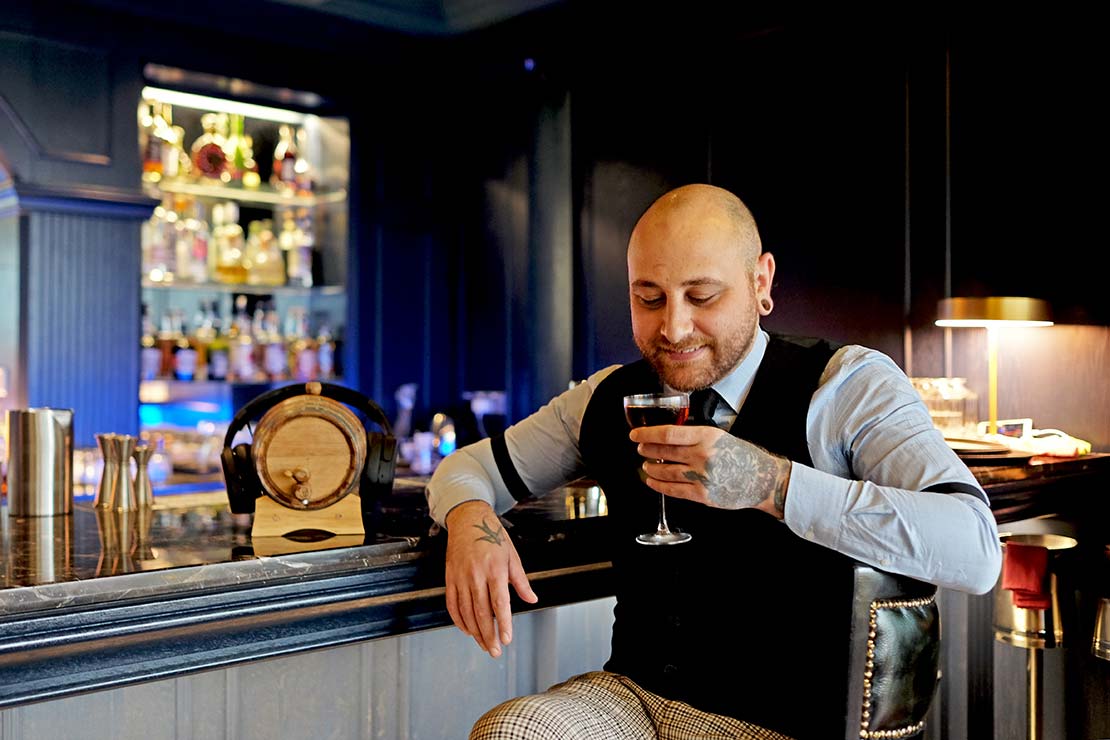 Giovanni Andrea Magliaro hoding his creation, Drown in Sound
Signature Sinatra's Mix
For refreshing and palate opening starters, opt for the Basil Trumpet or Tropical Swing. Both are highballs with fairly gentle alcohol content but long taste profiles. The former is like an Americano with added apricot and basil shrub that gives some tartness, and the latter is a riff of the Pina Colada classic by replacing coconut cream with coconut tea syrup for a lighter body.
From his fond memories of Japan, Giovanni created Ramen Beats, inspired by the Japanese staple noodle dish. His cocktail version is sweet with a combination of gin, sake, umeshu liqueur, sakura tea flower syrup, shiso bitters and ramen strips made out of white chocolate and agar-agar.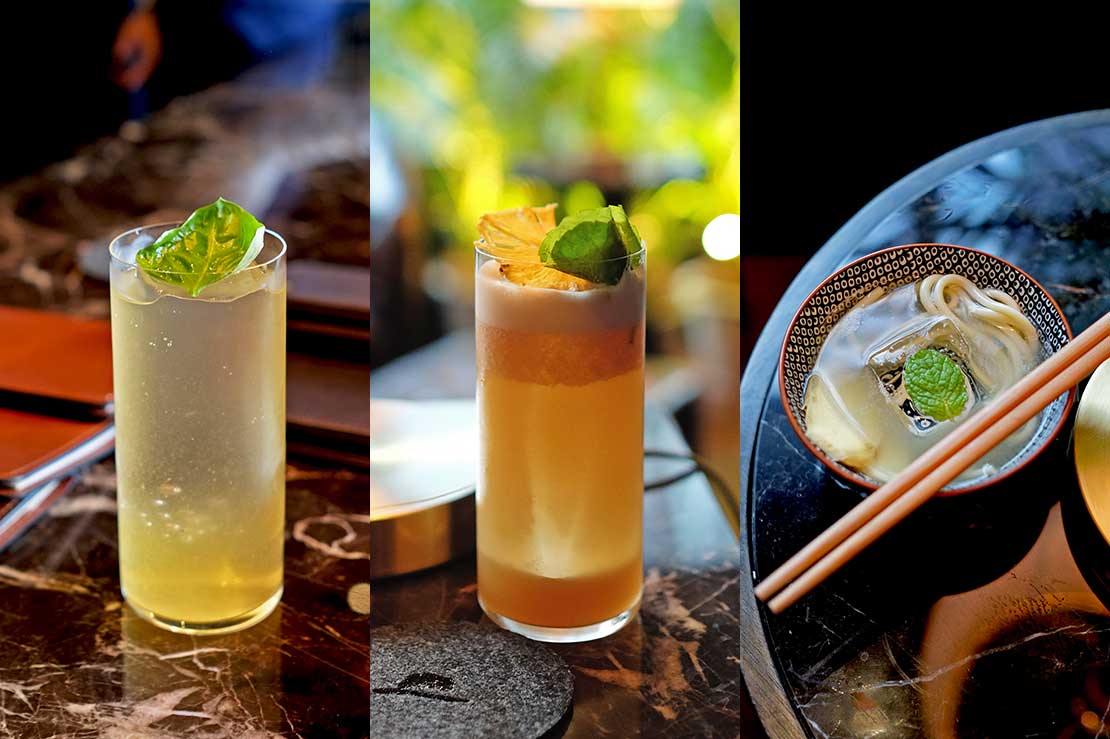 On the floral side, there is the Floral Lah with lavender kombucha and saffron infused vermouth. A play on words from Malaysians' slang that's also the fourth note in the solfège syllables. The surprisingly mellow floral note only presents itself on the finish. On the other hand, Malty Delight presents a hoppy undertone from the IPA masked by a bready malt flavour.
A bar menu always has to include a milk punch recipe, in this case it's the Mash-up Classic, a bitter-sour drink with a creamy texture that ends with a hint of pandan. The opposite of this drink would be Bumpin The Mango, fruity and sweet with a pronounced cardamom spice note.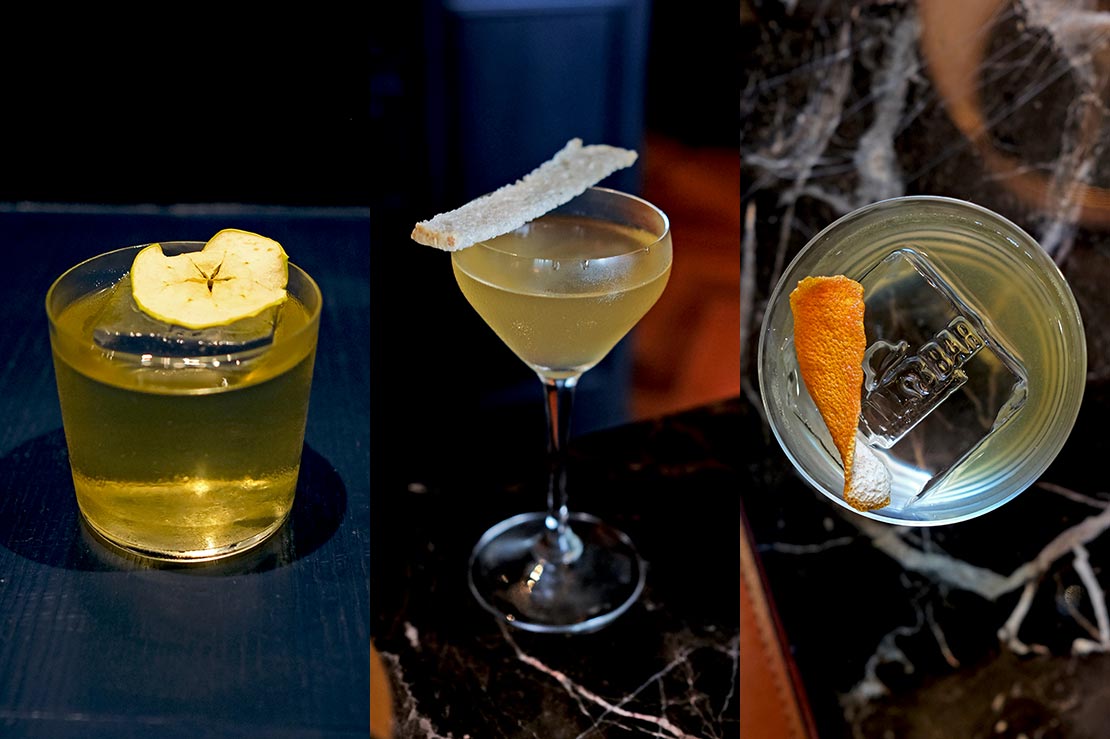 The more fun and playful drinks are The Artist's Mind and P.B.J. The former is served in a ceramic mug of a figure in deep thought with hands under chin (or falling asleep), and a smoke bubble which when broken, releases the scent of burnt wood chips that enhances the taste of this Penicillin twist. The Peanut Butter Jelly has the sweet scent of strawberries, tartness from lemons, subtle spice from the China China and what's a Peanut Butter Jelly without nuttiness from the peanut butter? The drink does not look like what it tastes, that's for sure.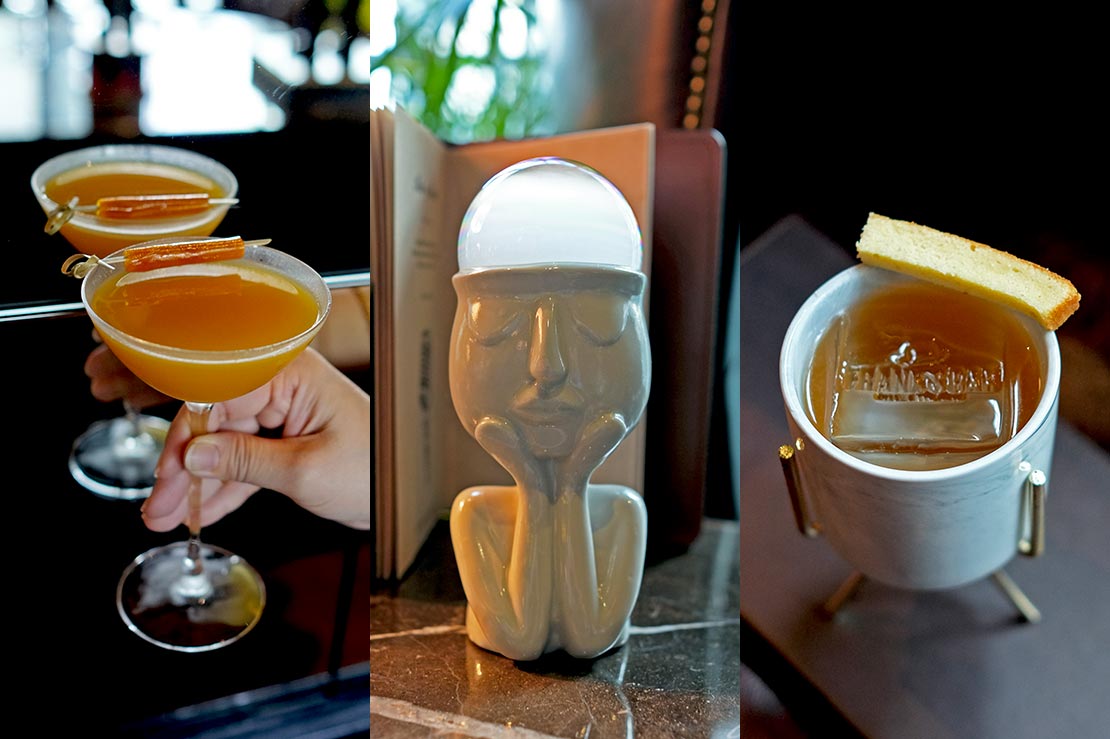 Bar Space
The bar is built for efficiency, it has two workstations and enough space that allows movement without obstruction for anyone working behind the bars.
Collaborations
Collaborations from the sonic ageing project will continue to happen, like the Caribbean Dream with Bacardi's Trade Ambassador Jonas Ax, featuring Dewar's Caribbean Smooth, Martini Rosso Vermouth and Dom Benedictine that listened to Caribbean tunes. One bottle from each collaboration will be kept at the bar for whenever the collaborating partner returns, the only bottles that can be parked at Frank's Bar.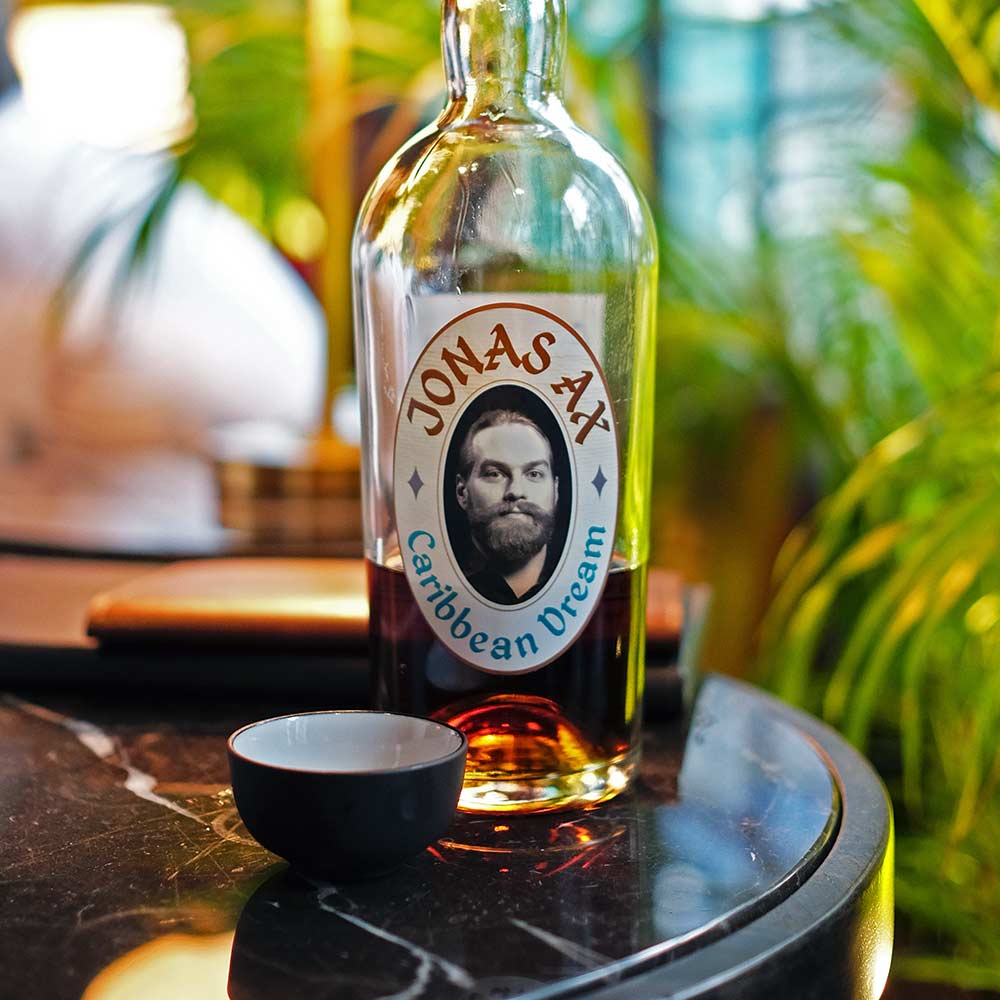 How to find Frank's Bar
There are three ways into Frank's Bar – look for the golden hat above the entrances from the mall, from Natalina and from the Chinese restaurant that has yet to open.
Here you'll be welcomed with blue walls, warm lights, leather seats and a view to Jalan Ampang. If you look up, you may just be able to wave at Bar Trigona in Four Seasons KL, where Frank's Bar did their preview launch.
- T -
Address:
Unit 06 Level 03, Avenue K, 156, Jalan Ampang, 50450 Kuala Lumpur, Malaysia.
Telephone No:
+60126744860
Website:
http://www.frankskl.com/
Operation Time:
Daily 4pm - 11:45pm