Halley at the Mandarin Palace is a Chinese restaurant operated in Federal Hotel in Kuala Lumpur that is still under renovation. It serves pork-free all-day dim sum, cocktails and mocktails.
A place to find the Golden Age of Malaya
The restaurant is styled like an ancient imperial palace with wall-to-ceiling Chinese-style carved wood and gold-painted panels of various sizes and varying intricacy, first installed when the hotel opened in 1957.
For decades, the Federal was one of the fashionable places to be seen with the movers and shakers of society. The hotel has a place in the Golden Age of modern Malayan history but has steered away from looking dated with classic, ageless style.
Having cocktails at Halley's is part of that air of agelessness as we perched ourselves at the bar for the undivided attention of Maimun and Ryan, the bartenders, as they worked their magic with spirits, ice and fruit.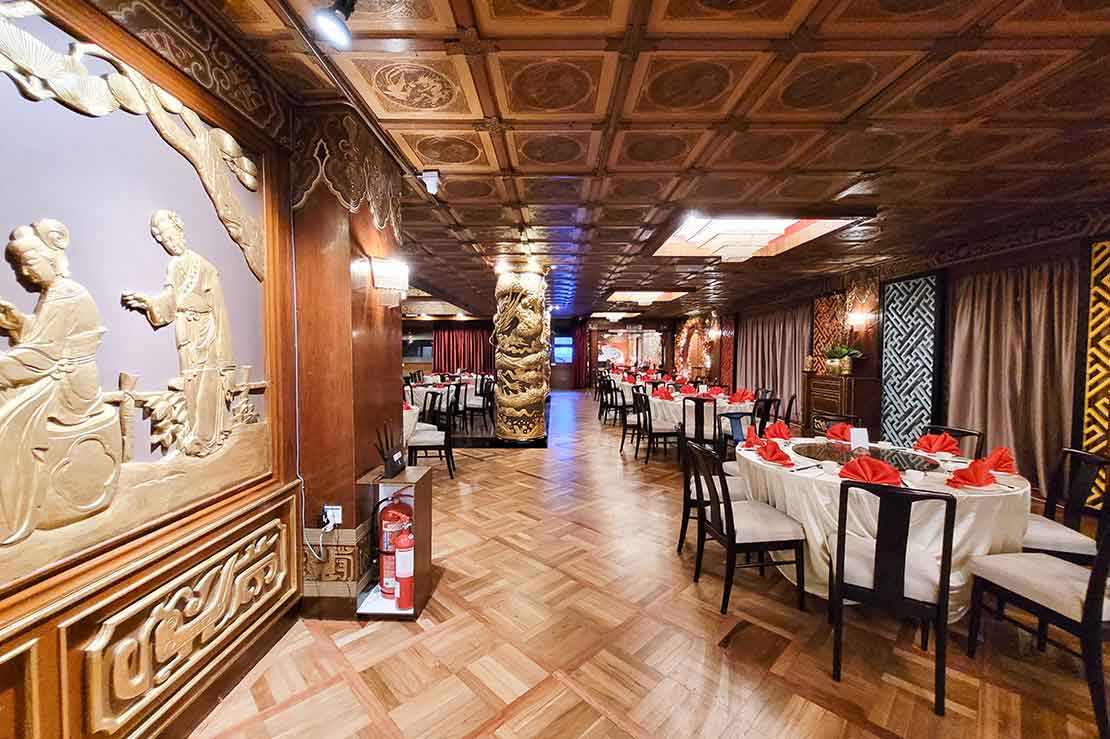 Mandarin Palace retains its original decors from day 1. [Photo: Zac H]
Cocktails
First up was the Halley Chill, a refreshing cocktail to beat the KL heat. The combination of vodka, tangy apple juice, and tropical passion fruit suryp made for an ideal aperitif before the food arrived.
Sparkling Peach Tea was a sweetened black tea with a delicate aftertaste of peach and light fizziness. My next drink is Halley Rose, a red drink of lime juice, sugar syrup, grenadine, soda water and crushed ice, prettily garnished with a chrysanthemum served in a traditional Chinese tea cup.
Expresso Martini (yes, it is spelled this way) is a must-have for coffee and cocktail fans. A addict's twist on the classic martini of vodka, rich espresso, with an added twist of creamy Irish Cream for a truly indulgent flavour experience made for a perfect after-dinner drink, or as a little pick-me-up after a long day at work.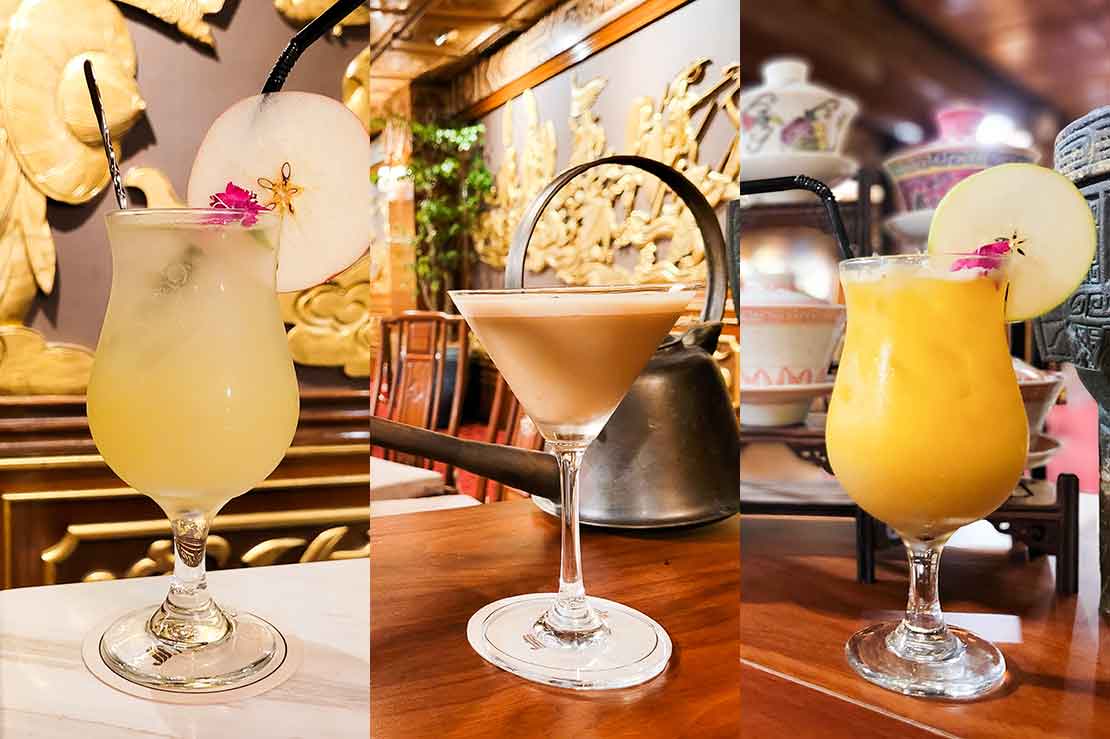 From left: Halley Chill, Expresso Martini, Cinderella [Photo: Zac H]
Mocktails
Halley has a selection of non-alcoholic concoctions for the teetotaler. The Cinderella uses orange juice (replaced with mango for the writer this time), topped with pineapple juice and passionfruit syrup garnished with a green apple fan. If this blend of tropical flavours could be counted towards one of my five-a-day, it would definitely be my daily tipple.
Halley Punch is a sweet and fruity punch bowl of four fruit juices, orange, apple, mango and cranberry, with grenadine syrup like a dessert to end a meal.
The final mocktail was Asian Mango and Coconut Delight which was a delightful finale to the medley of surprises. Garnished with a chilli padi and orange pansy, the cold mango juice, lime juice and grenadine syrup was topped off with creamy coconut milk. The unexpected was popping boba pearls, each pearl bursting in the mouth with intensely floral mango flavours.
Shai Shy, a combination of brandy, triple sec, and lemon juice, is a blend which was sweet yet tangy, with the bold note of brandy. The brandy added a rich depth to the cocktail complemented by the sweet orange note and the contrast of the tartness of the lemon juice.
All-Day Dim Sum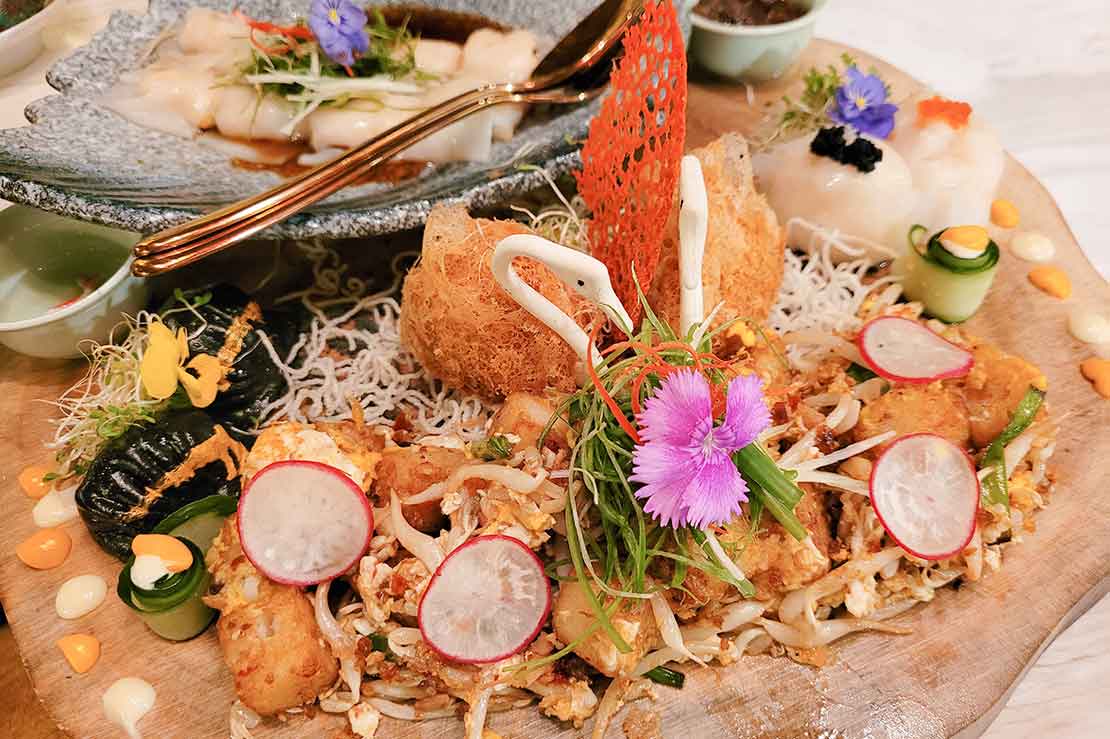 Dim Sum Platter at Mandarin Palace [Photo: Zac H]
In between the drinks, we also had dim sum presented with finesse befitting a Palace. We started with a Halley's Dim Sum Platter of crystal shrimp dumplings in a charcoal skin with truffle oil, prawn cheong fun, prawn and scallop dumplings, fried yam puffs with chili crab and stir fried radish cake with seafood and a dried prawn chili oil - served on a wood slab sprinkled with fresh flowers. This was followed with steamed Szechuan Chicken Dumplings in Hot & Sour Vinegar and Chili Oil which arrived with dramatic flair, a long-stemmed bowl under a glass bell cover, in a swirl of dry ice mist.
The Shrimp & Cheese in Beancurd Wrap was light and crunchy and went deliciously well with the cheese sauce. The Stir Fried Beef Hor Fun was a black-pepper seasoned sliced steak, served on the side of the bed of wok-hei effusing hor fun. The generous sized portion was enough for two or three if had with dim sum.
Halley at Mandarin Palace Restaurant is a quiet, attentive and upscale place which makes it suitable for casual dining, business lunches and celebrations, which they have private rooms for booking.
- T -