Tenants from Republik Damansara has set up a drive through pop up right outside the building, easing the order process for customers during Malaysia third lockdown.
Strategically located on the curb side of the single direction road right across from Huckleberry has made drive-through order possible. One can make contactless payment from their vehicle, drive around the block and the order will be available to pick up. The format has also attracted morning and evening joggers.
"It is a different situation we are in now and people are not as willing to spend money compared to last time (the past two lockdowns). One main issue is in our location, customers have to park to get to us and pay for parking. There is roadside parking but with risk of getting summoned (compounded),which is not ideal," Karl Too, who partnered with VCR last year to open Happy Stan told Thirstmag.
Food
As an express service, Happy Stan has streamlined their menu. For food, they serve only the Malaysian national pride during weekdays, nasi lemak. Their Nasi Lemak Biasa (RM5.50) comes with the usual anchovies and peanuts, sambal, rice and hard boil egg, Nasi Lemak Ayam Goreng (RM13), Nasi Lemak Sambal Sotong (RM11.50) and with the option to top-up Telur Goreng (RM1.50)
On weekends, the kitchen churns out different items to make things interesting. There are Grilled Chicken Quinoa Salad, Meatless Patty Wrap with Mint Yogurt, Nasi Ulam Salmon Percik and more.
Alongside Happy Stan is Blonde, where food is prepared upon order on site. There are the chicken Parma Burger, Duck Taco and Oyster Slider, priced at RM15 each; and refreshing coolers (RM18-RM20) to go with the food. There is the Blonde Blend of coffee beans (200g) at RM40 per bag.
A more extensive menu is available on Grab Food.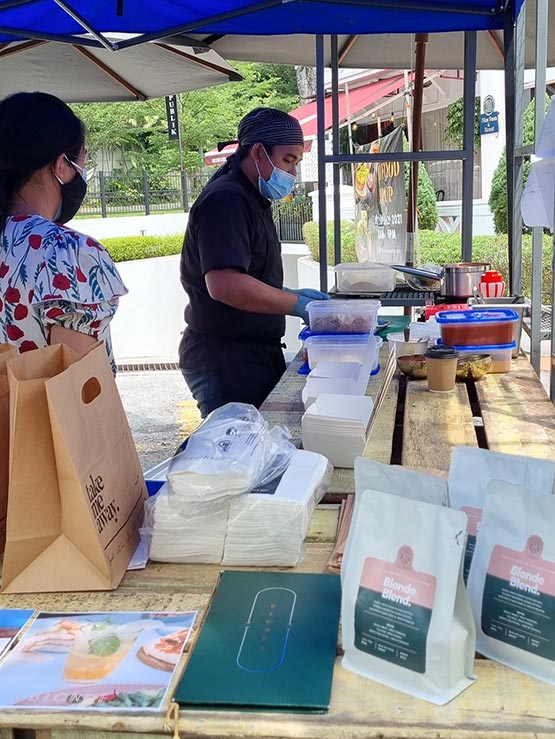 Blonde's on site kitchen at Republik Damansara pop-up
Coffee and tea
VCR is known for their coffee and Karl is for his craft drinks. The beverage menu is the actual highlight of this pop up.
This is not your usual roadside takeaway. Watch the barista make your coffee (RM10 – RM17) with La Marzocco espresso machine, from single and double shot to latte and cappuccino.
In the mini chiller are craft teas (250ml/RM10) Lemon Grass & Earl Grey and Peach & Basil curated by Karl are made with premium Twinning tea.
Quench your thirst after a jog with one of the best Tepache in town (185ml/RM16; 1litre/RM80) and their top seller Yuzu Cold Brew (185ml/RM25). Both are made with a selection of good ingredients and skills, and are time-honoured.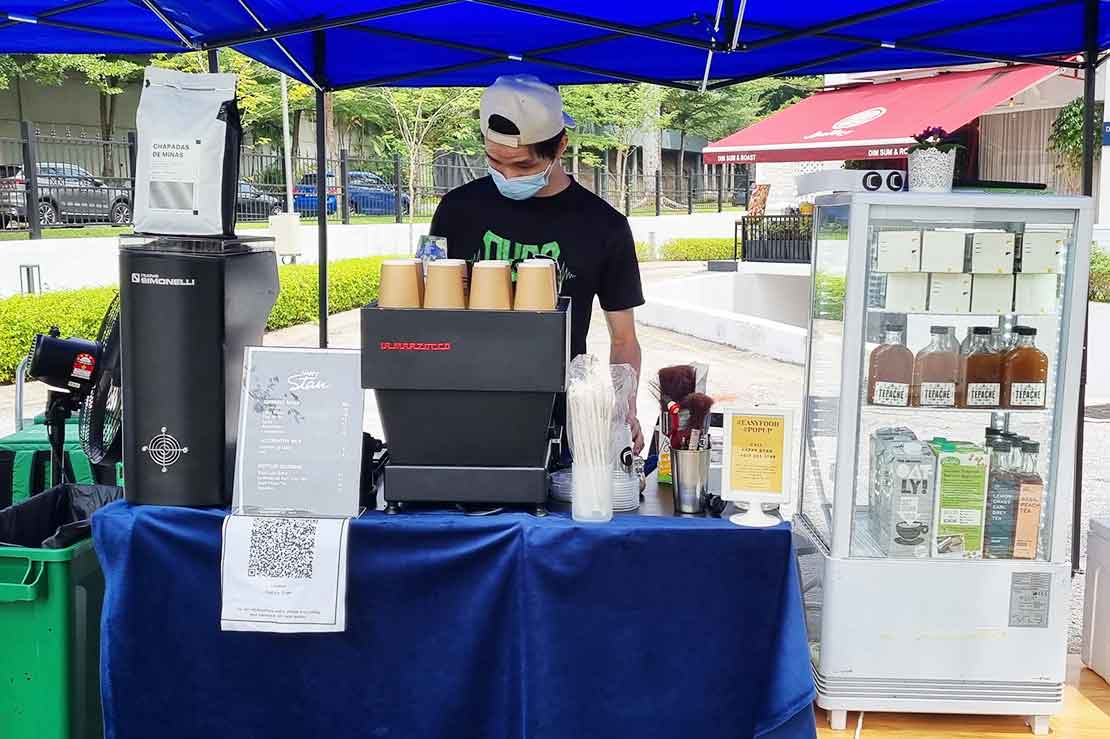 Happy Stan's drive through pop up stall outside of Republik Damansara building
Yuzu Cold Brew
To make the Yuzu Cold Brew, Karl first peel the yuzu which are directly flown in from Japan, sous vide the Utopian coffee and goes through a second infusion in room temperature for 20 hours, which gives the right amount of acidity, fragrance and bitterness to the brew.
Finally, add the right amount of Trigona Honey to hold the drink together. The result is floral, zesty, fruity tea-like brew that is high in caffeine, described as "boozy" by Karl.
We also learn that yuzu comes in different colours at different seasons. Most time of the year, yuzu is green and the size of a limau kasturi (taste is described as a combination of kaffir, kasturi and a bit of pomelo); whereas for 3 months of the year between September and December, yuzu is in yellow and the size of a lemon (the taste is described as a combination of grapefruit, pomelo, orange and lemon). The price for each yuzu is the same regardless of their sizes (around RM30 each fruit) but Yuzu Cold Brew is priced the same throughout the year.
Delivery order is available through Beepit.
The pop-ups are located outside Republik Damansara, Jalan Medan Setia, Damansara Heights, open daily 9am – 6pm.
- T -