Never mind KL's hot and humid weather or the risk of sudden downpours. Here are sixteen rooftop bars to see dazzling city lights from on high with a drink (or two) in hand.
KL City Centre
Kuala Lumpur's latest rooftop addition is Cielo, a dining spot that serves up both good food and a great selection of drinks. The restaurant is home to a good selection of wines (both red and white), champagne, cocktails, liqueur, beers, spirits, coffee, and tea. You'll want to try the Birdy cocktail, a signature of the bar's, that consists of blueberry, gin and Cava. You'll also be given a digestif that tastes like asamboi vodka at the reception before you're welcomed to the restaurant upstairs. Don't worry if there is a downpour, the retractable glass roof cover will block out the strongest wind and rain without losing the view of the city.
Address: VIDA Bukit Ceylon - 23-01, 1D Jalan Ceylon, 50200 Kuala Lumpur, Malaysia.
Telephone: +603 2022 1798 / +6012 3655 059
Website: https://www.facebook.com/cielokualalumpur/
Operating Hours: Closed on Mondays. Tue – Sun: 6pm – 1am; Fri & Sat: 6pm – 2am
Google Map:

[Photo: Cielo KL]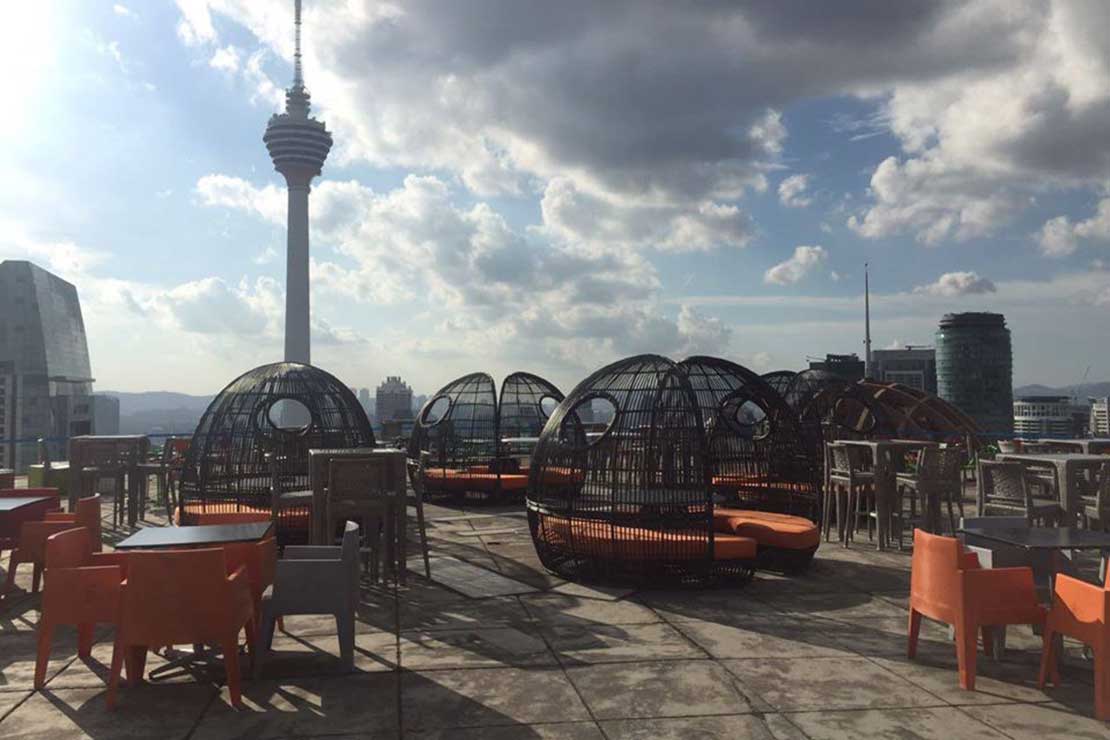 Probably the most dangerous rooftop bar in KL. Located on the helipad of Menara KH (which is among 5 in KL), the rooftop area has no barrier to fend off anyone who wants to attempt a Spiderman act. Not that we encourage it. But this is also one of the best spots to watch the sunset. Drinks are the usual affair of beer, spirits and cocktails. Happy hour(s) is 6-9pm daily and Ladies Night is on Thursdays. Dress code applies.
Address: Level 37, Menara KH, Jalan Sultan Ismail, 50250 Kuala Lumpur, Malaysia.
Telephone: +603 2110 5034
Website: https://www.facebook.com/Heliloungebar
Operating Hours: Mon - Thu: 5pm - 1am; Fri - Sat: 5pm - 3am
Google Map:

[Photo: Heli Lounge]

Luna Bar (Under renovation from 15 February to 31 May 2020)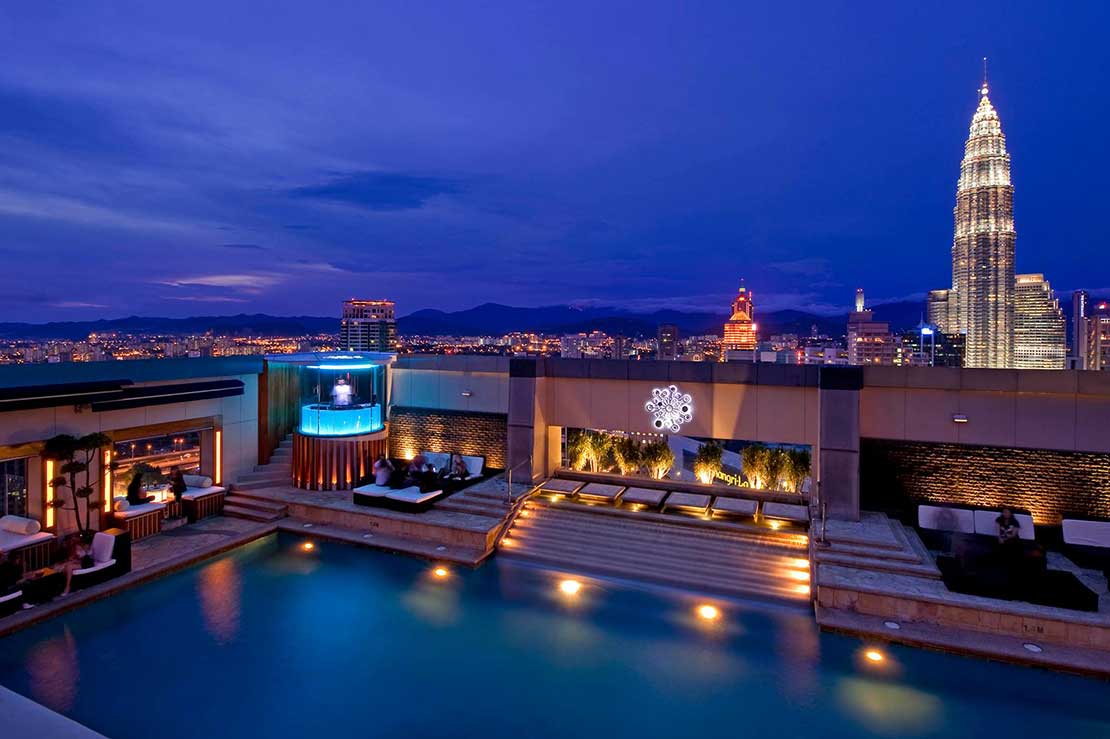 One of the most established rooftop bars in KL, Luna has a bird's eye view of the KL city centre. Hands down, the most comprehensive view of the city. Sitting atop Pacific Regency, the bar is a favourite venue for the fashionable urbanites and well-heeled yuppies drawn to this romantic enclave. There is a huge pool right at the centre; unfortunately you're not allowed to take a dip. The bar is chic and the interior is all around classy. Sure, on a weekend you'll find the space packed with glamorous (read: showy) party-goers but they've got quite a decent drink list and nice nibbles. If you don't want to crash with the masses, make the mission mid-week for a low-key drink and you'll have a much better time admiring the spectacular views.
Address: Pacific Regency Hotel Suites - 34th Floor, Jalan Punchak, Off Jalan P. Ramlee, 50250 Kuala Lumpur, Malaysia.
Telephone: +603 2332 7777
Website: http://www.pacific-regency.com/dining/
Operating Hours: Sun - Thu: 11am - 1am; Fri - Sat: 11am - 3am
Google Map:

[Photo: Pacific Regency Hotel Suites]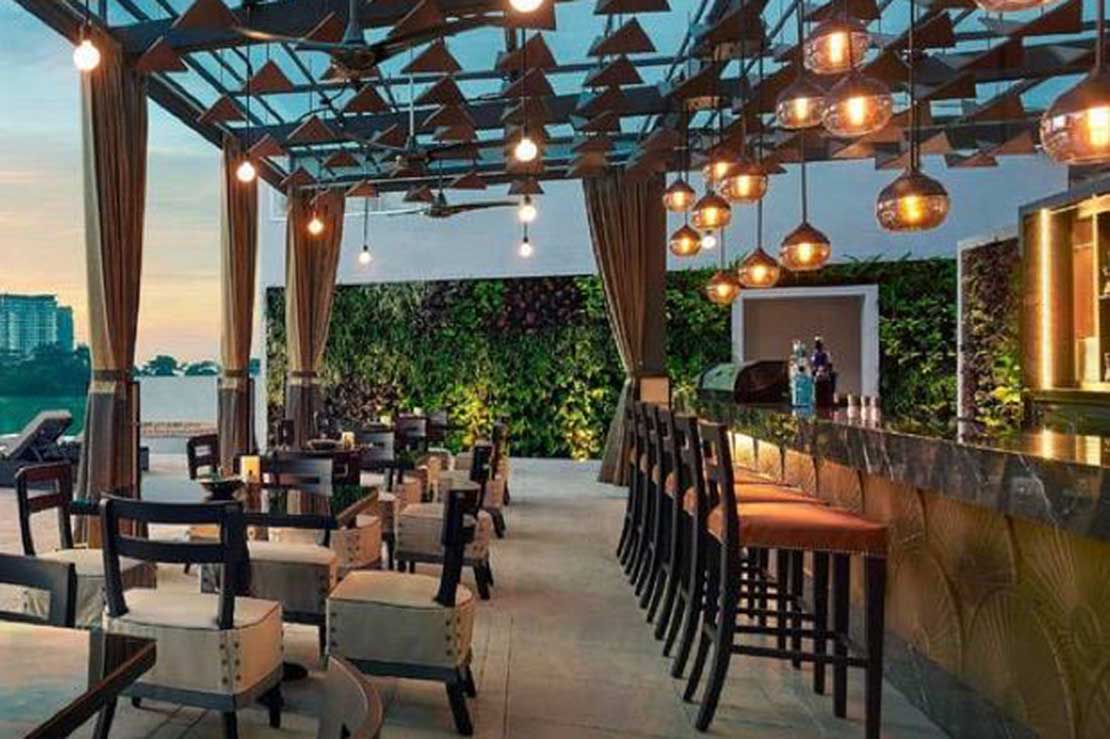 Man Tao Bar is located at the very top of Hotel Stripes KL. It's chic, the upscale vibe is offset by its casual and laid-back cocktail menu that uses tropical ingredients. The bar also offers modern versions of the man tao bun, served in sharing portions or as tid bit snacks. It's the perfect location to sit back, relax and enjoy the gorgeous view of downtown KL.
Address: Hotel Stripes Kuala Lumpur - 25, Jalan Kamunting, Chow Kit, 50300 Kuala Lumpur, Malaysia.
Telephone: +603 2038 0000
Website: http://www.stripeskl.com/man-tao-bar.html
Operating Hours: Tue - Sat: 6pm - 12am
Google Map:

[Photo: Stripes Hotel]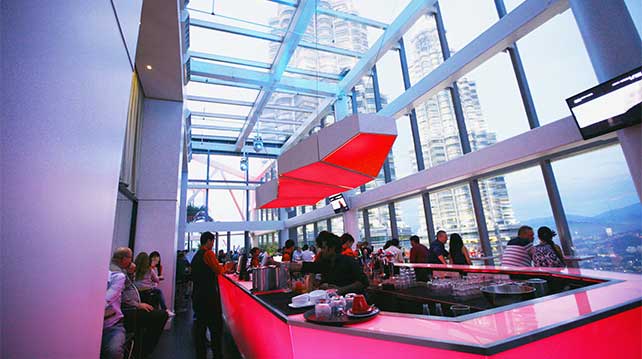 Perched on the 57th floor of Petronas Tower 3, Marini's on 57 is the highest-level bar standing in KL. This KL's sophisticated drinking scene is downright swanky: High-ceiling, spacious seating and floor-to-ceiling glass walls. Entrance to the bar is near Mandarin Oriental Hotel. Arrive at sunset to relish the full experience with a dazzling view of the Twin Towers and breath-taking sunset. The close proximity to the Twin Towers will make you feel rather surreal. While it is not the cheapest place to drink, if you are here early, happy hours go from 4pm to 9pm. A refined spot to chill-out and relax, the elegance of the venue is also perfect to impress your guests.
Address: Menara 3 Petronas - Level 57, Persiaran KLCC 50088 Kuala Lumpur, Malaysia.
Telephone: +603 2161 2880
Website: https://marinis57.com/
Operating Hours: Sun – Thu: 5pm – 1.30am; Fri - Sat: 5pm – 3am
Google Map:

[Photo: Marini's on 57]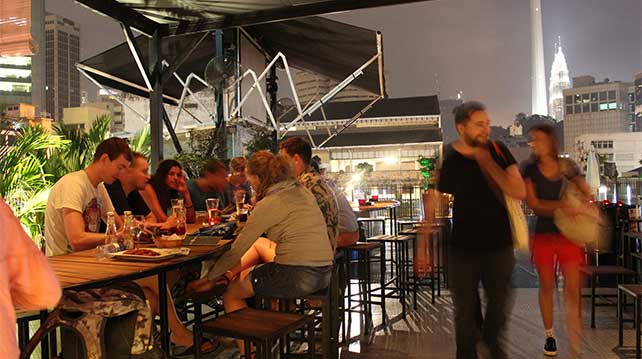 A backpackers haven, the hostel chain runs a rooftop bar for its clientele that serves booze at competitive prices. A place to meet people from all around the world.
Address: 53, Jalan Tun H.S Lee, 50000 Kuala Lumpur, Malaysia.
Telephone: +603 2072 6887
Website: https://www.facebook.com/reggaemansionkualalumpur
Operating Hours: Always
Google Map:

[Photo: Raggae Mansion]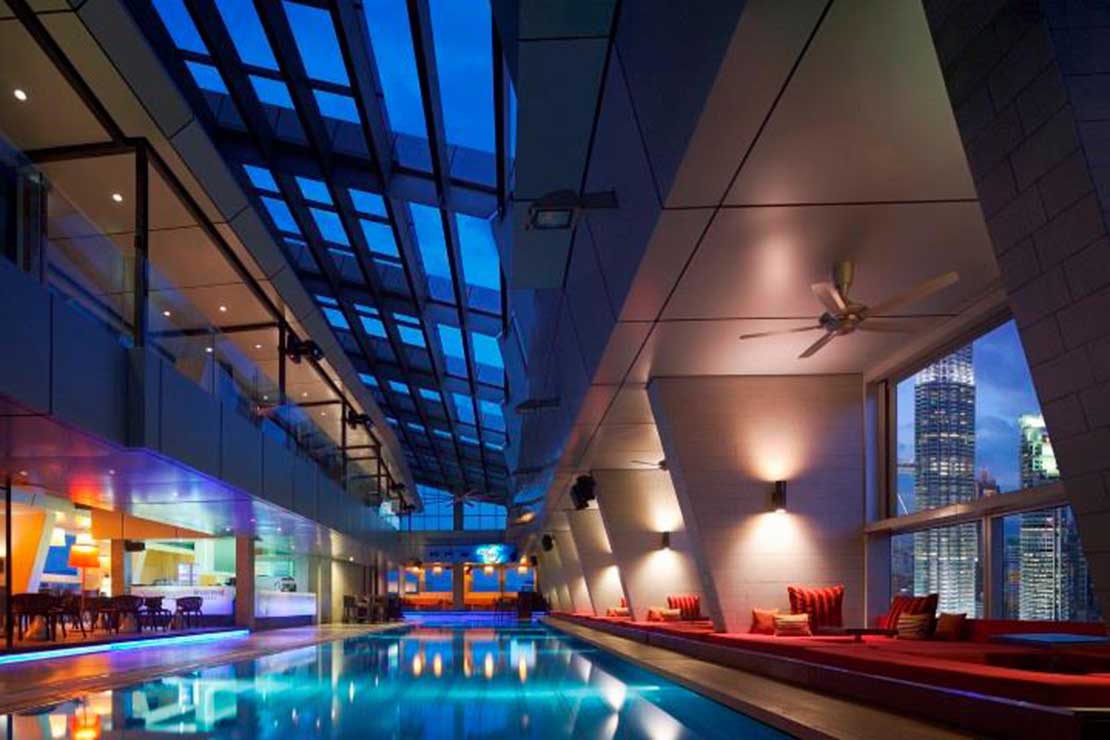 Already a local institution and a solid selection amongst tourists, SkyBar's overwhelming popularity lies in a simple formula: stunning Twin Towers view. Book a cabana and you'll get the perfect view when the towers light up. The sleek bar, lip-smacking cocktails and top-notch DJs enhance the up-scale and trendy ambience here. Come with an open mind as the place is usually swarmed with tourists who are busy taking pictures. Reservations are recommended.
Address: Traders Hotel - Level 33, Traders Hotel KL, 50088 Kuala Lumpur, Malaysia.
Telephone: +603 2332 9911
Website: www.skybar.com.my
Operation Hours: Sun - Thu: 10am - 1 am; Fri - Sat: 10am - 3am
Google Map:

[Photo: Traders KL]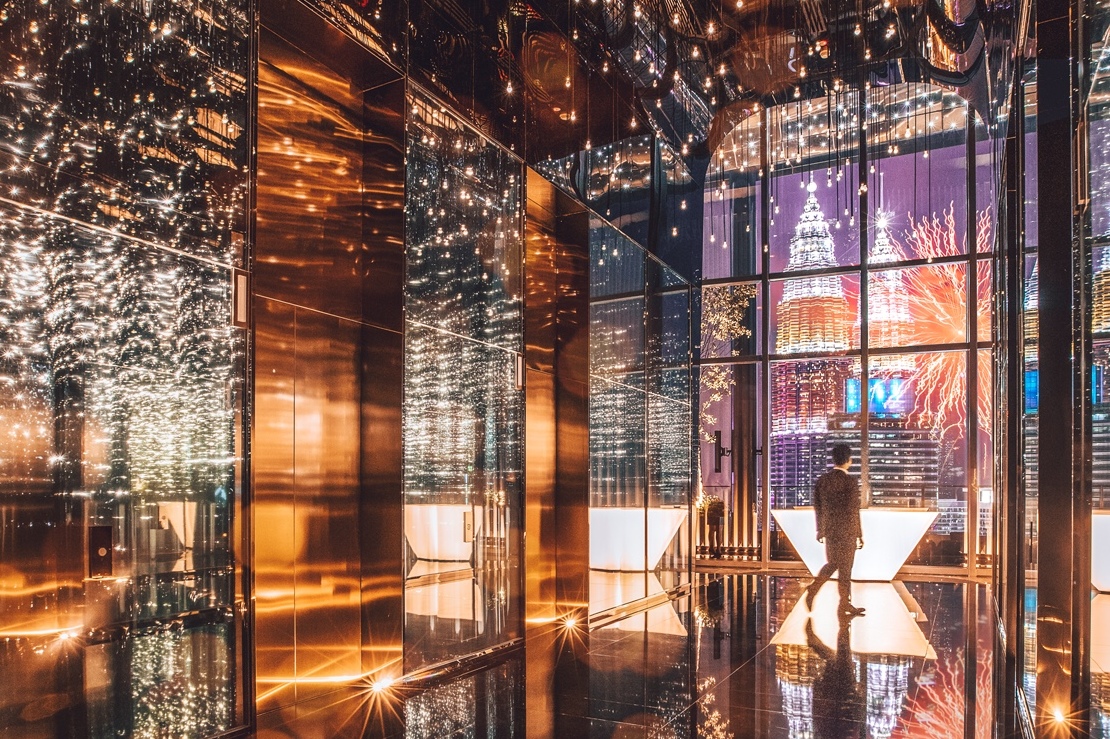 EQ reintroduces the chic and modern Sabayon and Blue (reincarnations of their original stalwarts Chalet and Blue Moon). Sabayon with contemporary European cuisine and an artisanal Malaysian touch; while Blue is a moody speakeasy lounge – one of the highest in KL – with a live band in the indoor bar and a live DJ at the outer deck. The bartenders can create bespoke cocktails, classics, or even the bar's signature Smoked Negroni or the Blue Moon. Reservations are encouraged and the upscale-casual dress code is strongly enforced.
Address: EQ, Equatorial Plaza, Jalan Sultan Ismail, 50250 Kuala Lumpur
Telephone No.: +603 2789 7800
Website: https://www.eqkualalumpur.com/dining-at-eq-kuala-lumpur/
Operation time: BLUE: Mon – Sun: 5pm – 1am; SABAYON: Mon – Sat: 6pm – 11pm (last order 10pm)
Google Map:

Trec KL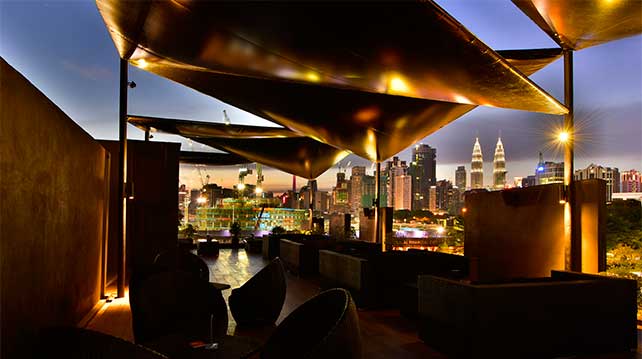 Above a 2-level music and club style entertainment space is the rooftop terrace with 360 degrees view of KL City. Le Noir is a venue in Trec KL that provides multi-level entertainment and live music where you can spend the whole night with different experiences and be satisfied with the options given. Have dinner while listening to live music on the ground floor, adjourn one level up for dancing and DJs, and up to the rooftop for a chill out atmosphere with cocktails.
Address: Unit H-G-07, The Hive, TREC, Jalan Tun Razak, 55000 Kuala Lumpur, Malaysia.
Telephone: +603 2110 4331
Website: https://lenoir.com.my/
Operating Hours: Sun - Thu: 5pm - 3am; Fri - Sat: 5pm - 5am
Google Map:

[Photo: Le Noir]
Sentral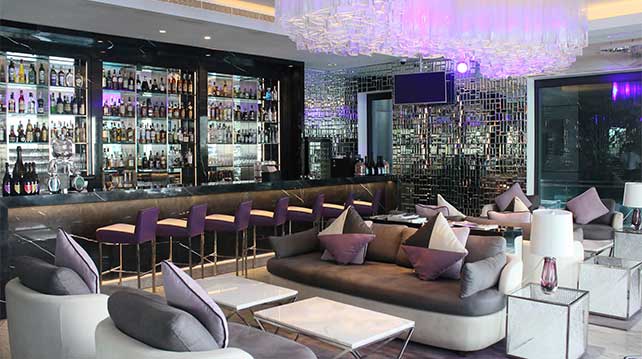 A fancy venue occupying two floors. The rooftop bar and lounge has a state of the art sound system and backdrop aimed at glam events such as fashion show and product launches. Have their signature Bloody Mary by their infinity pool and sink into their poolside cabanas, star gaze with a nightcap or dress to impress in their classy lounge.
Address: St. Regis Kuala Lumpur - No 6 Jalan Stesen Sentral 2, Kuala Lumpur Sentral, 50470 Kuala Lumpur, Malaysia.
Phone: +603 2727 1111
Website: https://www.facebook.com/stregiskl/
Operating Hours: Daily: 11am - Midnight
Google Map:

[Photo: St. Regis KL]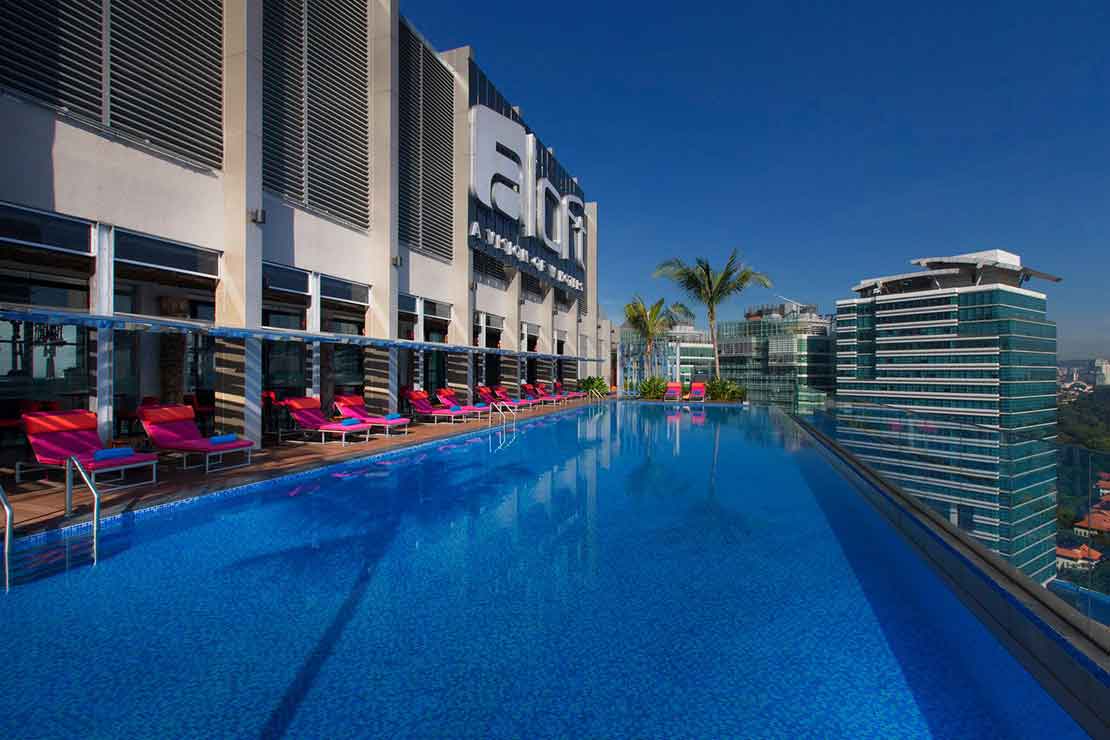 This rooftop bar comes with a pool and is located at the top floor of Aloft Hotel at KL Sentral. Get a view over Brickfields and the new development of hotels and offices below. KLCC Twin Towers are within sight. It's a breezy spot so if your hairstyle is a concern, stay indoors by the bar and where games are available at every table. Expect blue and red neon lights surrounding the bar and a dance floor. The pool is open only to the hotels guests. Happy hour is 5-9pm daily with drinks from RM18++ onwards.
Address: Aloft KL - No. 5 Jalan Stesen Sentral, 50470 Kuala Lumpur, Malaysia.
Telephone: +603 2723 1188
Website: www.aloftkualalumpursentral.com/en/gallery/bar/maibar-4
Operating Hours: Sun - Thu: 12pm - 12am; Fri - Sat: 12pm - 2am
Google Map:

[Photo: Aloft KL]
Bangsar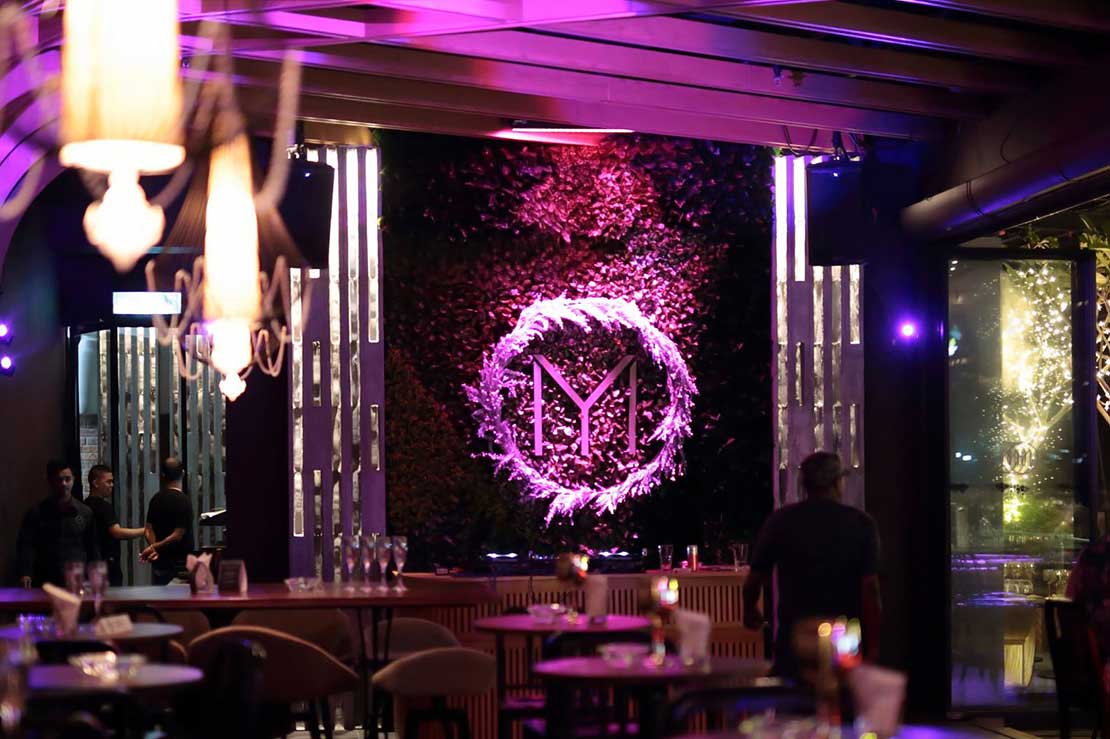 The only space in Bangsar with a view overlooking Bangsar and beyond. It is located on top of Bangsar Village II Shopping Mall and a place to unwind if you want to stay away from the crowds on Telawi Street. The indoor and outdoor areas of the bar provide a variety of seating and standing options. There are tall tables and chairs indoors for food, and lounging sofas for drinks. You can sit at the bar to watch your cocktails being made, lean against the bar top outdoors to take in the skyline, or head over to their comfortable lounging chairs on the alfresco dining deck for the view while sipping your drinks (or for nap, if you wish). Cocktails here are with a local touch. Try their house infused spirits and modern play on the classic favourites.
Address: Bangsar Village II, Jalan Telawi Satu, Bangsar Baru 59100, Kuala Lumpur, Malaysia.
Telephone: +6017 344 8299
Website: http://www.mantrabarkl.com/
Operating Hours: Mon - Thu: 4.30pm - 1.30am; Fri - Sat: 4.30pm - 3am
Google Map:

[Photo: Mantra Bar KL]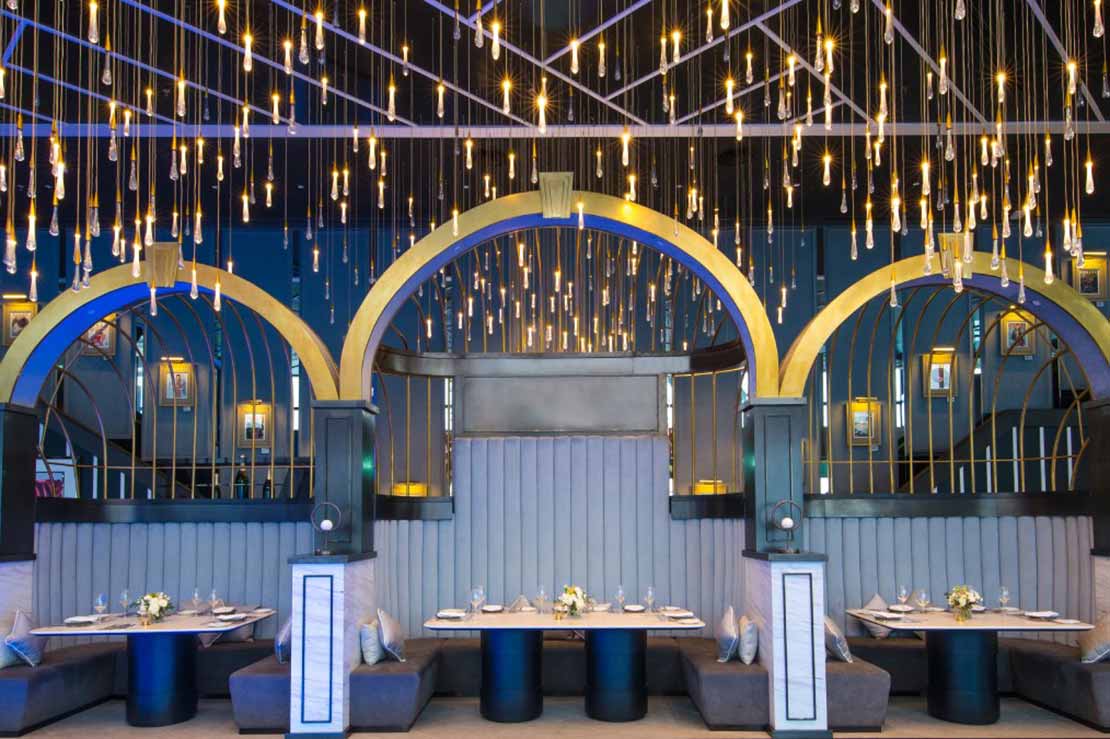 Like stepping into the supremely chic pages of a Vogue magazine, Vogue Lounge is the new place to be seen in. In partnership with Condé Nast, the fashionably sophisticated lounge and bar occupies the 38th floor of Menara SuezCap in Bangsar South. The whole concept includes a main dining area that focuses on a fusion of Japanese and French cuisine, lounge, cocktail bar, wine cave, and rooftop garden. Be expected to dress up to match the surroundings – smart casual and easy glam is the recommended dress code - so throw on that something special you've always wanted to wear, and pay this gem a visit.
Address: Level 38 & Rooftop, Menara SuezCap 1, Jalan Kerinchi Kiri, Pantai Dalam, 59200 Kuala Lumpur, Federal Territory of Kuala Lumpur
Telephone No.: +6016 665 5984, +603 27711530 / 1531
Website: https://voguelounge.my
Operation time: Tues – Thurs, Sun: 5pm – 1am; Fri – Sat: 5pm – 2am; Closed on Monday
Google Map:

Petaling Jaya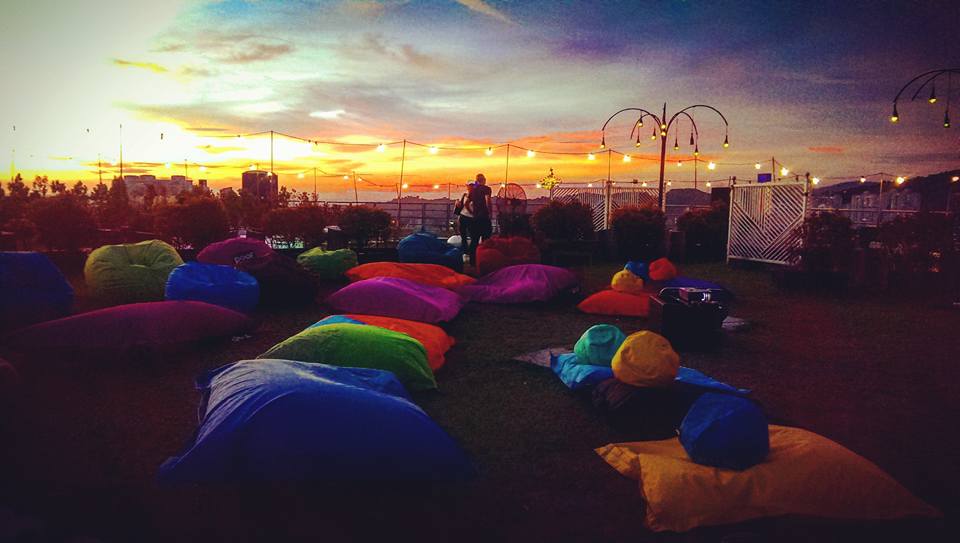 Part of the group of 5 outlets at The Roof, Stratosphere is at the rooftop of First Avenue in Bandar Utama. The helipad turned bar offers an unobstructed 360 degrees view of the Klang Valley. It is decorated with padded grass, modern simplistic outdoor furniture and neon-lit cube chairs. The luxury bar provides a flexible space for props and setups which is popular for weddings, events and launches. When there is no event, patrons can have a tipple and feel on top of the world under the night sky. Stratosphere's website claims that the space is an ideal setting for the affluent and sophisticated trendsetters. Might want to check dress code before going.
[Photo: Stratosphere]
Address:
The Roof - First Avenue, Bandar Utama, 47800 Petaling Jaya, Selangor, Malaysia.
Telephone No:
+603 7726 1588
Website:
http://theroof.com.my/stratosphere/
Operation Time:
Sun - Tue, Thu: 5pm - 2am; Wed, Fri - Sat: 5pm - 3am