There's that famous scene in Casino Royale where 007 puts his own spin on the classic martini during a high-stakes poker game with villain Le Chiffre … but he doesn't veer very far from the classic recipe, a gin base with dry vermouth. Its clean elegance is a sharp contrast to the Sex on the Beach-model, and other overly-fruity, overly-sugary and underwhelming cocktails that sprang from the need to fuel the stag and hens' night scene and tended to dumb down cocktail culture somewhat.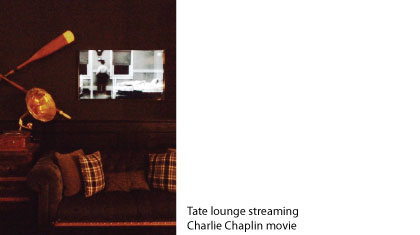 Tate, a discreet hideaway in the Double Tree hotel, wants to take us back to such simple times and pay homage to the classics – but here, homage also means re-invention. And the place is really hidden away, just like a classic speakeasy; finding the door and heading into the dim interior is really like discovering a different world from earlier times.

But with its dark wood interior, trad jazz sound track and silent movies playing on surrounding screens, it's more Al Capone than James Bond. There is lots of comfy seating and space to lounge, as well as booths ideal for late-night liaisons. But the best seats in the house are at the bar, where you can watch mixologists Danny Winter and Karl Too work their craft. And craft it is. They do say you get what you pay for, and while the drinks here are not cheap, they are made with care from well-chosen ingredients, with knowledge of and respect for tradition.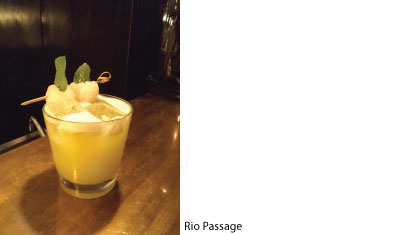 In London, you might have seen the 1920's posters for the Underground 'See the Empire by Tube' tour, inviting passengers to experience the world without leaving the big smoke – by heading to Kew Gardens for exotic flora or the British Museum to view the spoils of Empire. At Tate, you can embark on a journey through the world of cocktails, made just as they would have been back in the day, or near as.
Feeling the immediate hit of a Sazerac, the mind wanders back to the seething atmosphere of 19th Century New Orleans, where the drink was born. A combination of absinthe, Makers Mark, cognac, sugar and Peychaud bitters, it's named after the New Orleans druggist who added a drop of his own brew to drinks for his friends … and so the first American cocktail was born. It's a world away from fruity drinks with pink paper umbrellas and representative of the drinks of its era – low on fruit because that would have required refrigeration and relying more on bitters, etc. for flavour.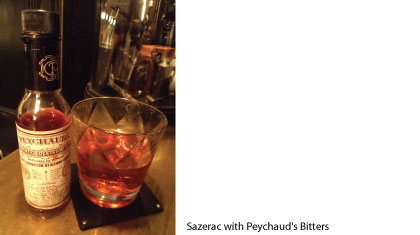 Like the Sazerac, every classic drink has a story, and a journey through Tate's new cocktail menu makes for an inspiring narrative. We depart from 1850s New Orleans en route for Brazil via the Rio Passage – a mix of Thai basil, mint passion fruit, sugar syrup, cachaca and egg white, a concoction with a zingy lime aftertaste. The lime and cachaca flavours hail from Brazil, but the sour body of the drink should appeal to Malaysian tastebuds.

Then it's on to Polynesia, for a Mai Tai made to the original recipe – although that was purportedly invented at Trader Vic's restaurant in Oakland, California in 1944 (so in reality, we might be going back to the US then, rather than an island paradise) as part of the tiki bar scene. Two types of rum mix with Cointreau, orgeat syrup and lime juice to make this relaxing drink. You can almost hear the waves lapping on the beach as you sip it.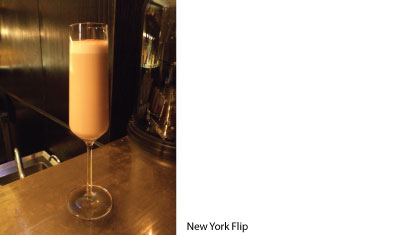 Head to the big apple for a New York Flip. A flip refers to a drink containing a whole egg and originates from the England of the 1700s. The New York variation includes tawny port and Makers Mark, shaken, served in a Champagne glass and garnished with mixed spice. Almost a liquid dessert, its look and taste reminds me of a tiramisu.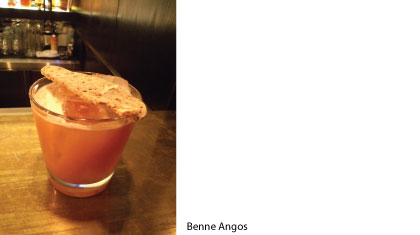 The next destination was unclear, but worth the trip. Take roasted sesame seeds, Angostura bitters, lime juice, pineapple, Angostura rum and shake, then strain over ice. A delicate sprinkling of sesame seeds and a biscotti garnish and voila! … you have the Benne Angos created by Karl for the Angostura Cocktail Challenge 2011. A complex combination of a sesame nose and the flavour of bitters on the palate, it didn't win that competition but is proving a champ with Tate's more adventurous drinkers.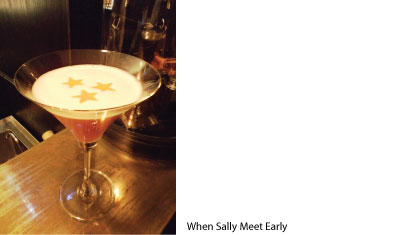 We end up back where we started, at the bar. As well as retelling old stories with a modern twist, Tate have a few of their own new tales. Ally met Early tells of a lady (Ally) who was at the bar until the wee hours, and had this drink created for her – Aperol, egg white and Earl Grey tea-infused Tanqueray.
Matthew Smith
08-02-2012
Address:
Ground Floor, The Intermark, Jalan Tun Razak, Kuala Lumpur, Malaysia.
Telephone No:
+603 2161 2367
Website:
http://www.thebiggroup.co/
Operation Time:
Daily 18:00 til late