Malaysians love their coffees and if you ask, everyone has their own favourite chain. Some are diehard fans of one brand and despise the others; whereas some go to any simply because there are so many options.
In April, one more has been added to the list with its debut outlet launched at Pavilion KL. What sets it apart is its focus on specialty coffee.
What we know
The Coffee Academics (TCA) was established in Hong Kong in 2013 by Jennifer Liu. According to their press release, the brand is ranked No. 1 in Hong Kong's specialty coffee market in 2017 and first in Asia and third worldwide from 2012 – 2015. They currently have outlets in Hong Kong, Singapore, Beijing, Shanghai, and now Kuala Lumpur.
With the brand's strong drive on fair trade, TCA's in-house roasting team sources only the top 5% of global specialty grade coffee beans through auction or sustainable institutions from 50 different farms worldwide, some of which are unique small-scale plantations. Their roasted beans score 85.75 points on average. TCA also claims that 70% of their House Blend gives back to coffee farmer communities through charities and social enterprises worldwide.
The outlet in Pavilion spans across 2,013 sqft with 80 pax seated capacity. As an interior designer herself, Liu sees to the aesthetic and overall experience of each outlet. To match Kuala Lumpur's city lifestyle energy, TCA Pavilion located at the high traffic Connection at Pavilion displays its simple white, gold and brown décor and furnishings through full length glass walls and warm lighting. The music playlist is curated to match the mood of the surroundings, infused with aromas of brewed coffee from the handmade LaMarzocco espresso machine.
The top 5 things to drink and eat
Drinks
Every coffee on the menu comes in both hot and iced and they can taste very different in either version. We have tried the following drinks and recommend them in the selected temperature: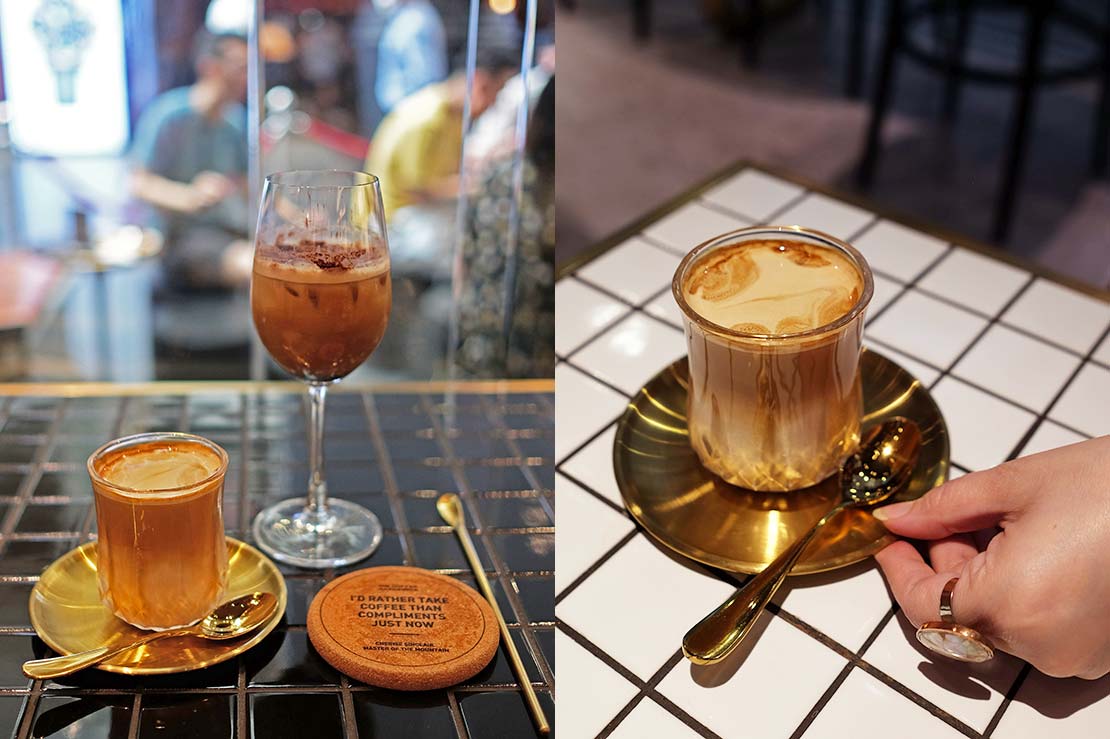 From left: Jawa (Hot), Okinawa (Cold), Jawa (Hot)
Okinawa (Hot) RM19 (Iced) RM21
Cappuccino with Okinawa brown cane sugar
Served in a wine goblet, the iced Okinawa has a creamy texture and light coffee acidity that's accentuated by the cane sugar sweetness.
Jawa (Hot) RM19 (Iced) RM21
Latte Macchiato with gula Jawa from Indonesia, exuding hints of coconut and pandan
Basically palm sugar (like our Gula Melaka), the sugar's nuttiness strengthens the body of the hot Jawa with a longer finish.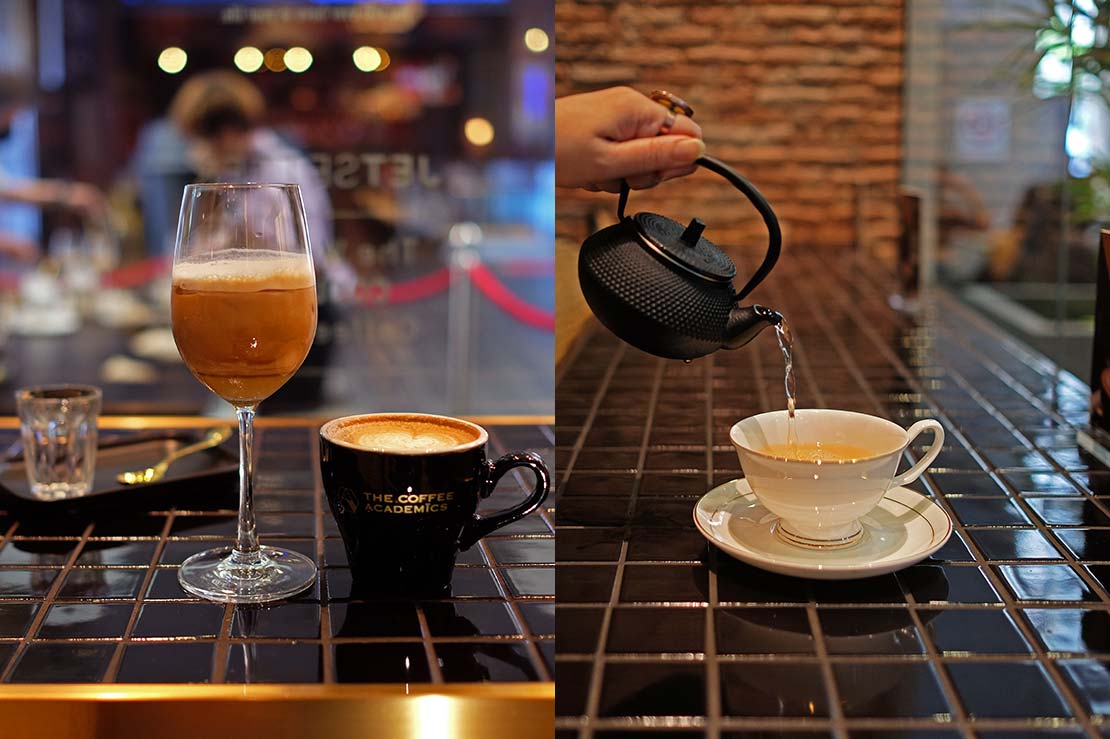 From left: Jawa (Cold), Manuka (Hot), Bush and Grass (Hot)
Manuka (Hot) RM26 (Iced) RM28
Latte drizzled with natural and raw honey from New Zealand
Honey and milk works in a wonderful way, a hot Manuka is wholesome when drank warm and also creamier without dilution from the ice.
Classic Tea – Bush and Grass (Hot) RM18 (Iced) RM20
Sweet and soothing theine-free honeybush from Africa with lemongrass
Carries a surprisingly creamy mouthfeel for tea when served hot. The taste has hints of rose and vanilla that ends with a minty finish.
Eats
TCA is open from 10am-10pm daily and their menu is catered as such. Find hearty meals and sharing bites to sweets all day long. We tried the following and recommend them.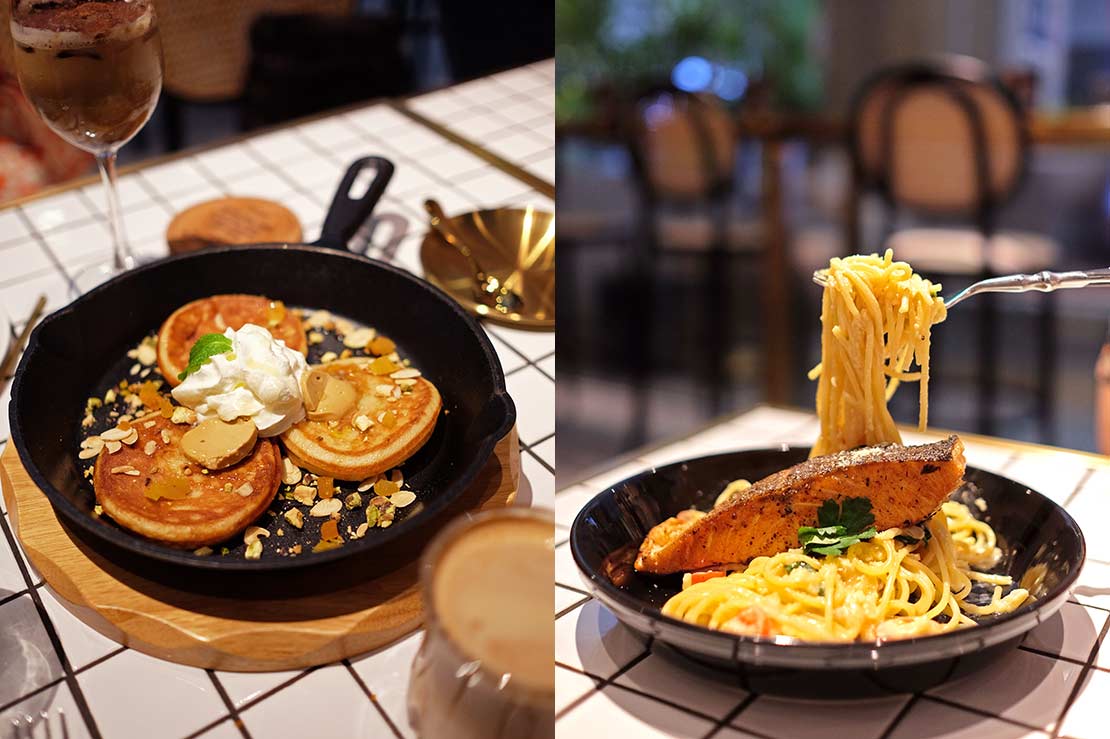 From left: Espresso Butter on Fluffy Pancake, Miso Salmon Pasta
Espresso Butter on Fluffy Pancake RM38
A sprinkle of almonds, pistachios, sun-dried apricots on layered pancakes with a dollop of homemade espresso butter
A must-have at TCA, whether to go with the coffee or after a meal. The pancake is light and fluffy, which is complemented by the nuts and dried fruits that give additional texture to the whole dish. The espresso butter is literally "icing on the cake".
Miso Salmon Pasta RM48
Spaghetti tossed in miso cream sauce and baby spinach served with grilled fresh salmon, topped with cherry tomatoes, Japanese nori and fresh parsley
A salmon pasta to us is the baseline in testing the kitchen and TCA passed our test. Al-dente pasta and crispy skin salmon with its juicy steak is a dish that is so filling that one serving is enough for both lunch and dinner because of its portion.
- T -
Address:
The Coffee Academics Pavillion KL - Lot C3.02.00, Pavilion, 55100 Kuala Lumpur, Wilayah Persekutuan Kuala Lumpur, Malaysia.
Telephone No:
+60397790788
Website:
https://www.instagram.com/thecoffeeacademicsmy/
Operation Time:
Daily: 10am – 10pm