Tucked away in a hidden spot within a The Farm Foodcraft, farm-to-table restaurant, The Curious Gardener serves drinks made from garden ingredients, while bringing us on a gardener's journey through tastes.
Find the green shovel and lift it to make a light knock, and a thick wooden door will open up to a shed decorated with plants in pots and wooden furniture bathed in natural sunlight shining through a gazebo.
As it is part of a restaurant, the attached bar makes a convenient spot for pre- and post- dinner drinks. Most drinks are twist on classics and some are Bar Manager Alvin Au Yong's unique creations derived from his own garden inspiration.
"Everyone can be the gardener and The Curious Gardener is our way to introduce our homegrown harvest and other garden ingredients to our guests," explained Au Yong while easing us into the pictorial bar menu.
A play of names that remind us of the dominant ingredient of each drink adds a fun element to the whole experience, and that's what Au Yong wants to focus on.
"We are not so much about techniques and all the geeky ways of making drinks, here, it is about hospitality. We want you to feel like you are entering an actual gardener's bar, who spends all day planting and at the end of the day, coming back to the bar and making drinks with his harvest," added Au Yong, looking composed and friendly in his checked shirt and cap.
Other than inside the bar, greens and garden produce surround the restaurant. With a constant need to care for the plants, three gardeners are hired to look after the whole nursery round the clock.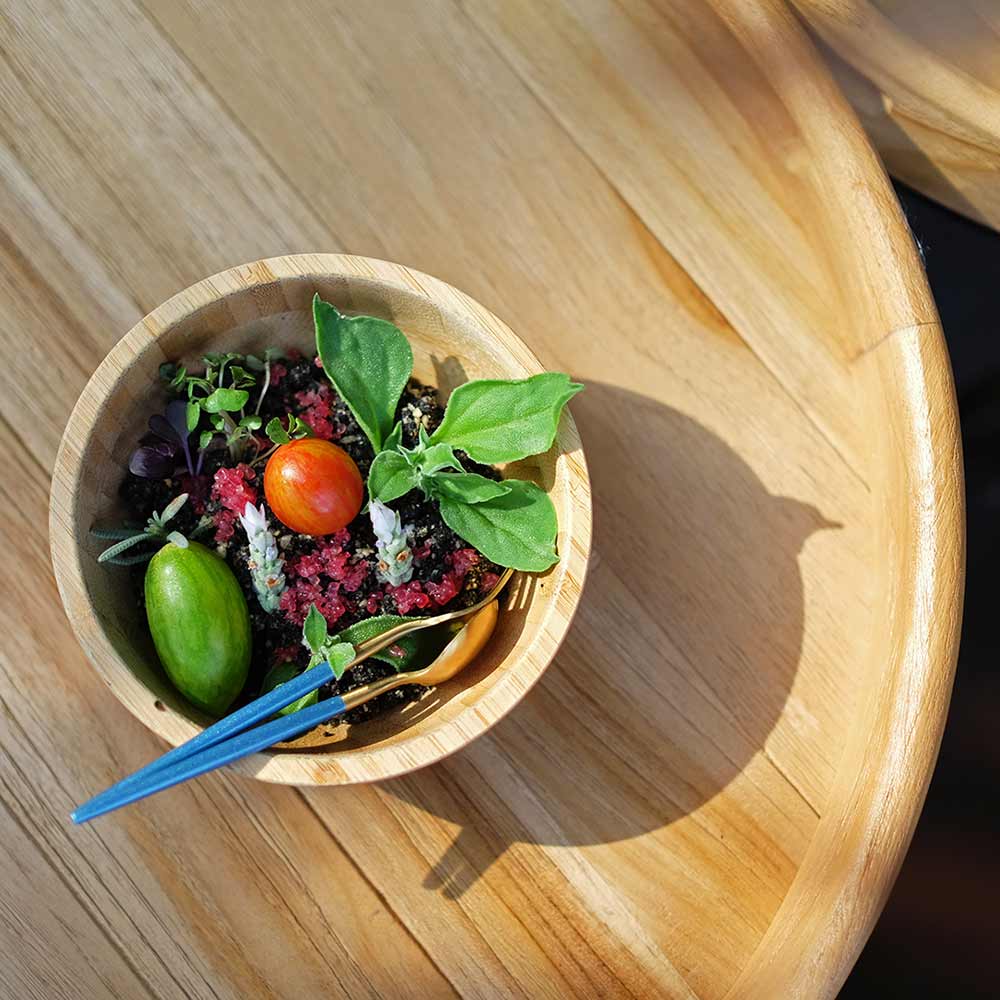 Salad bowl that looks like a mini garden
The drinks are pretty and colourful, and the bar makes an effortless natural backdrop for Insta-worthy photos.
Here is the list of drinks prepared by Au Yong from the "gardener's notebook" divided into three segments: Seeds, Plants and Crops.
As we watch Au Yong skilfully assemble each drink while occasionally cut fresh leaves from the pots located on the bar top to garnish the drinks, we jotted down notes in our own funky journal: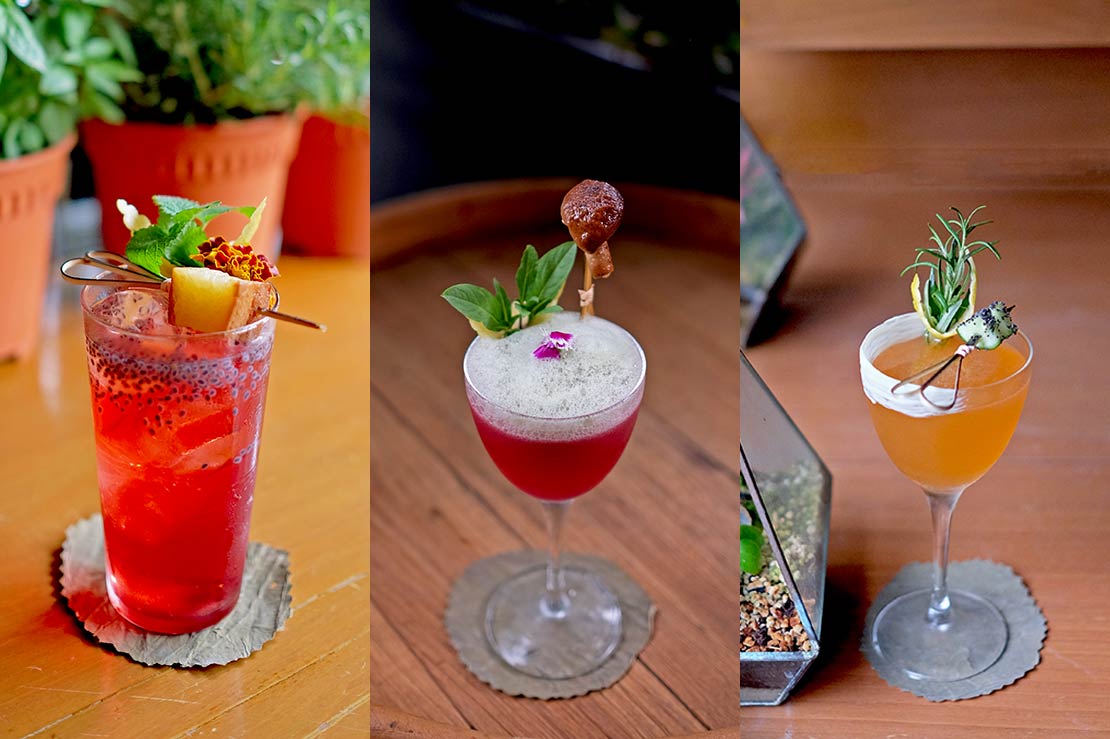 From left: Getting Caught in the Rain, Holly Shiitake and Ring My Bell
Twisting My Melons
Just like a Gin & Tonic, this is a good starter as the fragrant honey dew infused gin topped with carbonated fig leaf tonic is enhanced by Osmanthus vermouth. It's a pretty purple colour as well. Other than the leafy garnish, it comes with a coconut sago cake to give extra texture. Take a wholesome bite before sipping the drink.
Getting Caught in the Rain
Fruits from the tropics like pineapple and coconut when combine can never go wrong. This is a riff of the popular Piña Colada and takes its name from the cheesey 80's hit "Escape" by Rupert Holmes. The highball is in a deceiving red from the roselle infused tonic. Don't be fooled by its taste, the drink that contains both rum and gin is a buzz escalator.
"If you like piña coladas, and gettin' caught in the rain
If you're not into yoga, If you have half a brain
…
Then I'm the love that you've looked for, write to me and escape~"
Holly Shiitake
Shaken with mushroom infused gin, basil infused fortified wine, lemon juice and blueberry jam, it has a mild umami taste supported by berry fruitiness. A slight herbal note on the nose when the nose hits the wheatgrass foam. Just like the previous drink, this comes with an edible garnish of a leftover mushroom from the infusion.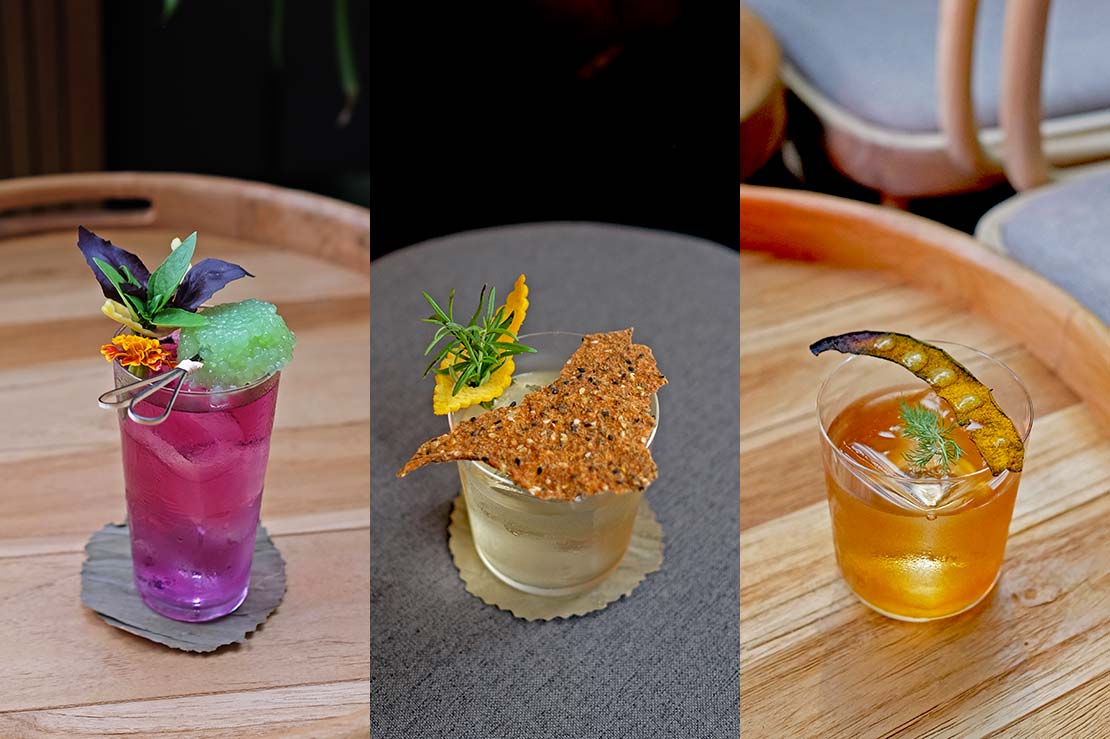 From left: Twisting My Melons, Milky Whey and Going Banana
Milk Whey
A clarified milk punch using soy milk and carrot. Reminds us of the carrot juice with added milk that used to be a trend in local kopitiams. As Genmaicha is mixed in the drink through sherry infusion, the toasty umami taste came through in a funky note. Combined with the sweet and sour balance built in with cherry brandy and gin, the drink has a unique roundness to it.
Ring My Bell
The one drink on the list that uses mezcal and also apple brandy. It's peppery with a slight smoke, like your bell pepper tossed into the fire and rescued, juiced then stirred with some lemon, poppy seeds cordial and habanero tincture, garnished with cucumber sprinkled with poppy seeds for texture... Didn't they say it's not about geeking it out?
Going Banana
Bananas are let sit in some rum, filtered and the mixed with another infusion of dill in fortified wine that gives the bitterness, and some pimento berries to spice it up. You can't go banana without being a nutta and hazelnut volunteered.
There were three more drinks, but we stopped taking notes. Can't you tell how much fun we had?
All drinks are priced at RM39++