Built on a natural cave 14 metres above the Indian Ocean, Rock Bar in Bali has combined the wild natural surroundings of rock and sea with beautifully designed glass that makes the bar top and the walls. The rock where the bar is built is an outcrop on Ayana's 1.3 metres coastline Kisik Beach.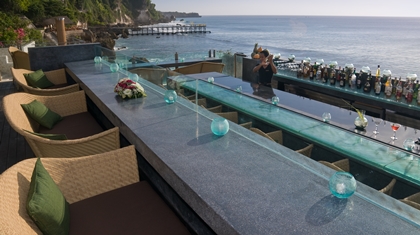 Rock Bar belongs to Ayana Resort & Spa, which is a 77-hectare property that features 78 private luxury villas and a 290-room hotel. The award winning luxury resort had Japanese designer Yasuhiro Koichi of Japan's Design Studio SPIN use of his signature style - traditional materials, motifs and colours, which give a minimalist contemporary design that emphasizes the natural beauty of the landscape.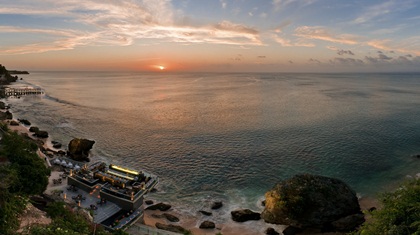 In compliment of the design, Seiki Torige was also invited to be part of the project in designing the bar top for Rock Bar. The bar top was made out of thousands of paper-thin glass 'canes', produced one by one and layered one on top of the other for a sparkling effect. This effect is enhanced by the illumination from beneath the bar. The inspiration came from the wild beauty of the ocean's energy. Seiki described that the waves that breaks upon the rock during high tide is like 'aquatic fireworks' while during low tide, the 100 metre long coral reef can be seen from the bar.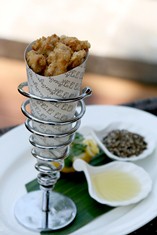 The most enchanting experience for being at the bar is the 360 degrees view of every vantage point without any interruption. It is the best place for party as the DJ booth is built among the rocks in front of the bar and the venue is surrounded by Bose outdoor stereo system.

A beautiful venue is always a plus for great drinks. At Rock Bar, the menu's focus is of liquid variety, with a comprehensive list of classic and contemporary cocktails that makes it popular for a pre- or post-dinner visit. Guests are offered a delectable selection of tapas served on natural stone 'plates', to go with the theme of the bar.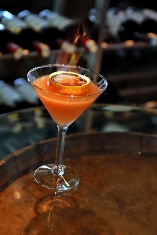 Rock Bar has its own signature drinks and specially designed drinks menu that you will sure not run out of choices. Their most expensive range of cocktails is their house creation of The Rock Star, which comprises of Rock My World, Rockito and Spiced Rock and Rock Favourites. They are at Rph140,000 (RM45) each which are Rph5,000 (RM1.60) more expensive than the classics.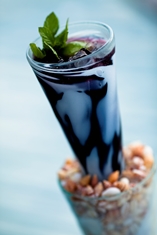 Their spirits are prized between Rph130,000-Rph550,000 (RM42-RM176) per shot at 40ml which comes with a mixer. Try a Bartender Rock Shot at Rph250,000 (RM80) which is served in a specially designed rock glass. There is also a small selection of champagne and wine served in glass or by the bottle. Above all, prices are subject to 10% service charge and 11% government tax.

The bar only serves bite sized food and desserts so if you are hungry, do visit their extensive range of restaurants selection from French to Japanese in the resort.

Premium experience comes with a premium price, but we assure you it will be memory of a lifetime.
Address:
AYANA Resort and Spa Bali - Jalan Karang Mas Sejahtera, Jimbaran, Bali 80364 Indonesia
Telephone No:
+62 361 702222
Website:
http://www.ayanaresort.com/rockbarbali/wp/
Operation Time:
16:00 - 01:00 daily (until 01:00 on Friday – Sunday)