Your show pays tribute by pioneering spirit of Sir Alexander Walker II and his company John Walker & Sons. What personally inspired you about making this show?
What really inspired me is to try a new adventure. It's something that I don't mind trying. My father has a great expression –"You never try, you never know". It's a philosophy that I live by. If it's not something that I enjoy then I'll never do it again.
Tell us about the yacht – The John Walker & Sons Voyager.
The boat is 187 ft. It's a massive, beautiful boat. The boat is the vehicle by which this story is built around. It's a beautiful yacht with multiple bars and a beautiful map room. It's a gorgeous ocean building vessel.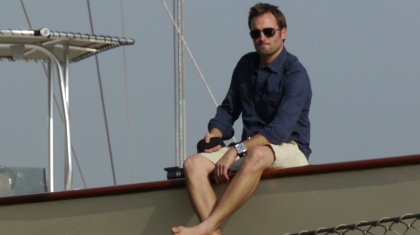 What about the premise of the show?
Well in the 1900s, John Walker & Sons created a book called Around the World, a travel journal. It's a book about the different cities and ports around the world. It's a travel guide book and there are only a handful of them around the world. The real inspiration for this journey is to retrace the step of the great pioneering people back a hundred years ago that made their way around the world in boats and ships.

We're pretty sure there's a lot more destinations in that John Walker & Sons' travel journal, perhaps we'll see more in that second season?
I'm not sure to be honest. Ultimately it's up History (Channel) to confirm. It was a wonderful experience. My photography is rooted on people and I love exploring places with them so yeah, if there is a choice, I'm definitely looking forward to another season.
Around the World in Voyager: Jodphur (new episode) premieres 11 Feb, Monday at 11pm exclusively on HISTORY (Astro Channel 555 / Beyond Package 575)