Black Tap Craft Burgers & Beer from New York is making its debut in Asia with the opening of their ninth location, Black Tap Singapore in Marina Bay Sands. The venture between Michelin starred Joe Isidori and restauranteur and nightclub developer Chris Barish, is also located in Las Vegas, Dubai, Geneva, and Disneyland Resort in California.
The restaurant in Singapore, due to welcome its first guest in September 2018, pays homage to the American luncheonette experience and is famous for its classic craft burgers, craft beers and CrazyShake milkshakes.
We talked to 41-year-old Chef Isidori about the cute ginormous anti-gravity milkshakes and what to expect in the menu for the Singapore outlet.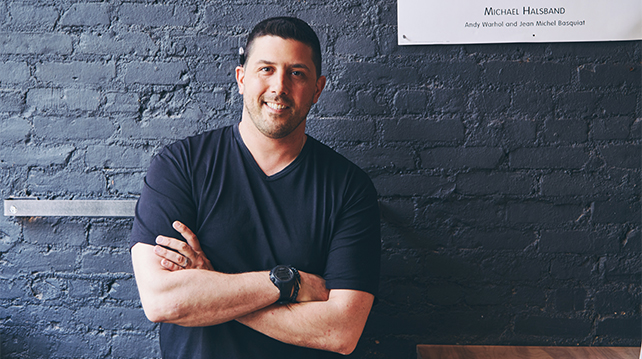 [Photo: Alek Michaud]
1) What would your no-no ingredient be to put in a milkshake?
Flavored ice cream. We only use vanilla ice cream in all of our shakes and add the flavoring, whether it's syrup, cereal, cake batter, you name it! Vanilla ice cream balances out the flavors of the shake better than say a chocolate or strawberry ice cream.
2) Are the milkshakes meant to be a meal on their own? They look ginormous!
Most of our guests get a burger and some snacks and then share a shake or two for dessert. We do have many customers that finish one on their own! You can also get more than one shake if you share, and get to try many of our crazy creations. My favourite is the Cookies 'N Cream Supreme, but the Bam Bam is so colorful and fun with the fruity cereal mixed in. You can't go wrong with that!
3) Do you design the cocktail menu in the restaurant as well? What can we expect to see on the list for the Singapore outlet?
We do! We're super excited about the upcoming cocktail menu at Black Tap Singapore. We're currently testing out new cocktails, so you'll have to come by and try one when we open! One of our new favourite cocktails here in New York is the beer float, made with a stout beer and a scoop of vanilla ice cream. It's perfect for summer!
4) Is the menu in the Singapore outlet a full adaptation of the New York branch? Or will we see some local integration?
We will definitely have some locally inspired menus and are currently testing out some new flavours and dishes. Black Tap Singapore will certainly offer all of our signature burgers from New York as well, including our award-winning Greg Norman burger, made with wagyu beef, blue cheese, and a buttermilk dill sauce.