You cooked and served your last meal at El Bulli on July 30, 2011. Tell us after all those years, what is the one moment you will never forget from the last meal there?
To be honest, there wasn't just one moment in particular. The happiness we all felt during the last 24 hours is indescribable. El Bulli has transformed into the El Bulli Foundation and for us it is very emotional to celebrate this change together with our companions who have previously shared their passion for cooking with us.
In terms of cuisine, where do you think Spanish cooking is headed, given the challenges of the economy and of changing tastes?
I think that Spanish cooking will continue to be loyal to the legacy it has constructed in the last decade. Led by the creativity of high gastronomy, the traditional and above all the concept of tapas—which is still new to many places— I think that without a doubt that it will provide us with much joy in the immediate future.
What about world cuisine? What are some things foodies should look out for in the coming years?
It is a reality which comes from globalization, world cooking lives in a constant process of intense fusion. Nowadays cookery, in all parts of the world, is born from many influences of different styles, products and foreign cultures. Cooking will increase qualitatively in all corners of the planet due to human evolution and the evolution of knowledge in general. It's a fact that has been produced in all disciplines. Through the advances of mankind, all the disciplines advance together.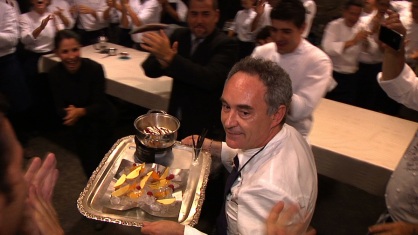 Together with your team, you have created over 1,864 dishes. Is there one dish in particular that resounds the most with you?
Of all the dishes, there are about 20 which hold significance to our cooking. The list just one I would pick La Espuma de Humo (foam of smoke). With this dish we showed that cookery has no limits, and that a touch of humour in high cuisine is possible, although we have been greatly criticized for this.
Which flavour combinations have you discovered to be unexpectedly good?
Many. One of the most curious is veal marrow and caviar.
Tell us someone that not many people know about you.
I despise red peppers.
Watch Ferran Adrià as he cooks up the final meal in El Bulli-The Last Waltz on Sunday, 27th of January at 9pm on Life Inspired, channel 728 on Astro B.yond.