You're originally from Malaysia and you started your bartending career here. What led you to Hong Kong?
A culmination of many reasons finally led me to Hong Kong. Firstly, I never knew bartending could be a career that provided for me in so many ways. The friends, family, travels, and growth that I've been blessed with have been nothing short of incredible. It all started with coffee, wine, and ultimately the love of making drinks for people, which still is my core motivation today.
Secondly, my early mentor, Frankie Anthony (of Soul Society), had always urged me to venture out of my home city (KL) to see more and learn more.
Finally, Diageo World Class gave me the opportunity to meet many amazingly talented people in this industry, and one of them is my current boss, Antonio Lai. That grit and determination to do his best against the odds are values that resonate strongly with me. So when he asked if I would like to consider working for him and moving to Hong Kong, I immediately said yes.
How beneficial has it been for you there?
Immensely. Simply put, I've found somewhere I belong; somewhere I can make a contribution, and perhaps one day, even make a difference. It isn't so much as what is beneficial for me, but how beneficial to others I can be. The last two years I have learned how to be humble and more flexible, and these have taught me way more than I have learned in the last 10 years. Stubbornness has no place in such a competitive environment as Hong Kong, where the best approach is to welcome every new challenge with finding the best solution. In that process with an open heart and open mind, much knowledge and wisdom is gained.
Last year you ranked in Drinks World's Top 25 bartenders of Hong Kong and Macau, and also this year too. Has this changed your perception on bartending? Do you take it more seriously now that you have these awards, or will you take more risks?
No one should really take life all that seriously, much less ourselves! The recognition from Drinks World is a big honour, but it doesn't trump what we do and who we are on a daily basis. I love what I do, and I can't help but feel that joy when I'm making drinks and serving them.
Where will you go from here?
Where do you think I'm going? I'm still staying here! Kidding aside, I have told many people that finding a good job isn't hard, but finding a good boss is. With six venues now, I am excited to see what the next plans are for our group and dive right into it!
If you could do a stint behind a bar anywhere else in the world, where would it be and why?
The Arthur Guinness Bar at the Guinness Storehouse! My dad worked for Guinness for 23 years and I had my first sip of Guinness when I was five years old (a fresh pint is still my beverage of choice today), and our family dog was smooth, beautifully black and an excellent snake hunter named Guinness. For once in my lifetime I would love to make drinks behind that bar, for sure!
---
Amanda is in the running for Bacardi Legacy 2016, and currently in the top eight for Hong Kong – she's kindly shared with us her cocktail entry and the inspiration behind it.
This season is very special for me, going into the next year. Loyalty and perseverance mean a lot to me, and I've finally found the courage to share a small part of this journey in my first cocktail competition in five years. Constance is a call to inspire a revolution among bartenders, young and old, to see the beauty of constancy in their craft and service; to declare that competitions are more than platforms to fame and fortune, but an arena where you are tested to your limits; where after all is said and won, to go back to where it all began and start each shift all over again, day by day, with the utmost pride and passion.
Think loyalty, think endurance, think for the rest of the race. #thinkconstance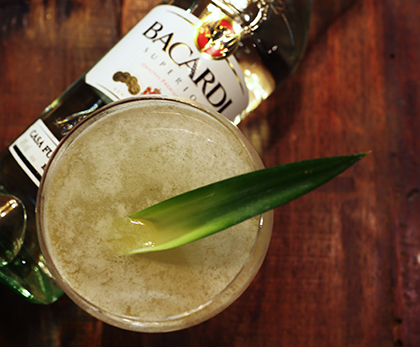 Recipe for Constance
60ml Bacardi Superior
30ml Jasmine Tea Syrup
10ml Lemon Juice
1 demitasse spoon of Wasabi
1 pinch of Salt
Shaken and strained into a coupe glass, garnished with a pineapple leaf.