Warpigs Brewpub in Copenhagen is a collaboration between Mikkeller in Copenhagen and Three Floyds from Munster, Indiana. The concept is to serve craft beers with the characters of these two breweries and authentic Texan barbecue cuisine. The famous brewpub attracts craft beer lovers from all around the world and serves some quirky recipes that you can't get anywhere else.
Mikkeller was founded by Mikkel Borg Bjergsø and Kristian Klarup Keller in 2006 (Keller has since left the company and is no longer involved). Mikkeller is famously known for their gypsy brewing, creating recipes and producing them at various breweries in several countries. They have also been opening up outlets in different cities to make their brews available.
Three Floyds Brewing Co. started in 1996, you just can't get their highly sought after beers outside of the US and even there, available locations are limited. So you can see how excited craft beer lovers were when they heard about Warpigs. Warpigs is the first Mikkeller collaboration that consists of an onsite brewpub that not only supplies to the restaurant-bar, but also produces bottles to be shipped internationally.
Singaporean Lan-Xin Foo represents Mikkeller and is Assistant Brewer in the 2 year-old brewhouse alongside Head Brewer Kyle Wolak from Three Floyds. 4 years ago when Lan-Xin was introduced to the first Mikkeller bar in Copenhagen, she knew she wanted to work there.
That dream materialised when Warpigs opened in 2015 and needed one brewer from each side of the partnership. Although Lan-Xin had never brewed professionally, she had attended a 9-month course at the Research and Tech Institute for Brewing in Berlin or VLB (Versuchs- und Lehranstalt fur Brauerei in Berlin e.V.) and most importantly, she brewed a pretty damn good cream ale that won the competition opened to Mikkeller's staff a year prior. But the idea of working to make beer was never in the 37-year-old's career plan when she set off to study in Baltimore 13 years ago.
It Wasn't Supposed to be Beer
Lan-Xin's father had always wanted one of his children to become an engineer. As the eldest daughter, Lan-Xin was automatically made to study the profession when it was time for her to enter university. Half a year into the course, she knew engineering was not for her because she wanted to be a chef. "I told my parents that becoming a food scientist is kind of like an engineer but in the food segment. Somehow they accepted it and let me go to culinary school."
After graduating in 2004, she stayed on in Baltimore and worked as a product developer for a dietary company. But the job was industrialising food and not actually working with real food. Four years later, she quit the job, sold everything, packed up and went travelling in South America and Asia before returning home. Along the way, she found she was fascinated with gin distilling and started looking at alcohol production. A friend introduced her to James River of Stone Brewery in Vancouver, who had built his brewery from parts bought in auctions as a side hobby while working as a mycologist.
When Lan-Xin saw James' "Frankenstein" brewery, she was captivated by the process of making beer. "The mash smells like really nice porridge," was how she described it, and she noted how similar the brewing process was to cooking - mixing raw ingredients to create different results every time, much like being a chef. She was hooked and stayed on to learn brewing from James. After two months, Lan-Xin returned home to Singapore, where she would start brewing her own beer at home.
The only place to source home-brewing equipment and ingredients in Singapore was iBrew, where owner Raymond Lee offered Lan-Xin the use of his brewing equipment and ingredients for experiments while she helped out in his shop. As her desire to learn to brew professionally grew, she enrolled herself at VLB in Berlin.
While in Singapore, Lan-Xin met Sandra who then moved to Berlin with her during her study there. During a vacation to Copenhagen where Sandra had previously lived for 10 years, Lan-Xin went to the original Mikkeller bar where a friend of Sandra's worked. "Sh*t, I have to work here!" was Lan-Xin's expression after a drink at the bar. Around the same time, Mikkeller & Friends was opened and Lan-Xin took the chance and applied for a job as a bartender there. In 2013, they moved to Copenhagen.
By 2015, Warpigs was opening and Lan-Xin asked to be transferred there. Using her brewing experience and certificate from the school, she applied for the position as Assistant Brewer. When they gave her the job, Sandra thought one of the reasons must be because Lan-Xin had proved herself in the staff home brew competition while she was in Mikkeller & Friends.
Lan-Xin's Raspberry & Cream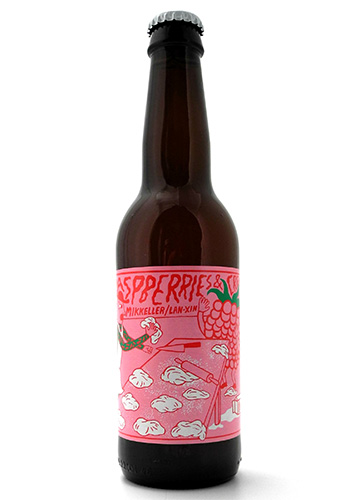 For the competition, Lan-Xin chose to brew a cream ale because she felt that it was a misunderstood style and wanted to present her version of it. She created the ale with taste that's right up her alley - low alcohol, dry, easy going, but interesting. She then fermented the beer a second time with real raspberry fruit in 2 ways: one just with raspberries and the other to mimic barrel-aged beer using oak chips that contributed to the creamy vanilla flavour. The one with oak chips stood out and the deal for the winning beer was 5000 litres would be brewed, kegged and bottled. That beer made Lan-Xin a star in the homebrew community and news travelled back home, with friends and family wanting to get their hands on a bottle. Some even flew to Copenhagen to try that winning beer when it was kegged in 2016.
Family
Naturally, she told her parents about the new position. "My mum had a bigger reaction. She thought I was going to be a hard-core alcoholic working in a brewery! I had to explain to her that I taste the beer I brew but I don't drink everyday or stay back at work to drink." Now, Lan-Xin would hear news about the Singapore craft beer scene from her parents, a change she didn't expect but was very proud of.
The first year at Warpigs was very tough for the young brewers. Kyle and Lan-Xin would work 10 hours a day, seven days a week to keep up with the demands in the brewpub. That took a toll on the relationship side of things but Lan-Xin was very grateful for an understanding partner who still stands by her side today.
Work Culture
Lan-Xin thinks that people in Mikkeller work very hard and that's the work culture. It's a fast growing company and she suspects her boss, Mikkel doesn't actually sleep because she'd get emails from him at 5am in the morning. "This guy has a family and a big business in many countries. It gives you that motivation when you see a boss who cares. The Three Floyds guys visit 2-3 times a year and are one of few American companies that let employees have 4-5 weeks' vacation." She would feel bad to take that amount of time off, even though she has left over vacations because there are only 3 of them in the brewing team. For one person to take off, the other 2 will have to cover, which means a bigger workload and longer hours. The others would feel the same and there is a sense of treating your co-workers like family members.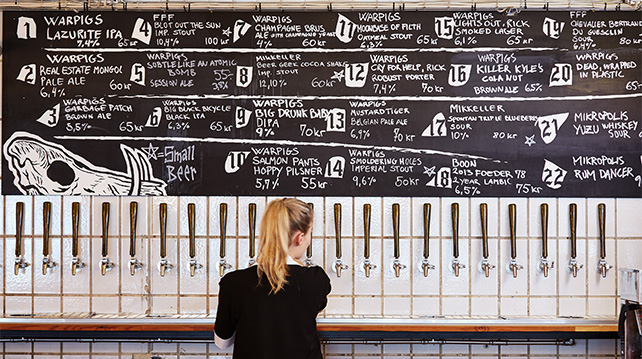 "20 BEERS ON TAP; 6 HOUSE BEERS AND 14 THAT WILL KEEP ON SURPRISING."
The Magic of this Collaboration
Mikkel would treat the brewing team like an R&D lab. When he has an idea of a recipe, he'd send it to the team to let them experiment with it. Then he'd be on top of the tasting and tweak the recipe until he is satisfied with the result. Recently, there is a global trend following the hazy New England style beer and Mikkel wanted to have a go at it. It took the 4th tweak to refine the recipe to his satisfaction. That's how inspiring it is to the people who work for the brand. "It's refreshing to know that even after 10 years in this business, he still has that flame."
Beer Styles
Warpigs has a reputation for very experimental brews that use ingredients that no one else will use. One of them is the Beetroot Liquorice IPA recognised by its pink colour. It is said that the Scandinavians are obsessed with liquorice and having it with beetroot is normal. Not so much for the Singaporean, yaiks!
Favourite Beer in Warpigs
Lazurite half IPA 7.4% ABV – Though not her favourite style, this is something Lan-Xin would drink in between or back and forth with another beer, such as a sour. The light pale colour ale is dry, citrusy and packed with hops.
Lan-Xin's recommended bars for anyone visiting Copenhagen:
1. Warpigs for beer
Flæsketorvet 25, 1711 København V, Denmark
http://warpigs.dk
2. Barking Dog for cocktails
Sankt Hans Gade 19, 2200 København N, Denmark
http://thebarkingdog.dk/
3. Kihoskh for bottle selection provision shop
Sønder Blvd. 53, 1720 København V, Denmark
https://www.kihoskh.dk/
Lan-Xin's Recommended Food and Beer Pairing in Warpigs:
Chicken wings
Head Chef Andrew Hroza marinates the buffalo wings and freezes them before deep frying them and then freezes them again. They are deep fried again right before serving with house blue cheese dressing. The slightly smoked mini drumlets are then divided from the wings which are used to make soup.
Pair with: Power Move Session IPA with flaked oats for body, 5% ABV.