The walls of a small art space in a shop were lined up with prints of cute cartoons which play around words. The solo exhibitor's art is visible from the entrance along the staircase wall, leading up to main exhibition area. Stacked-up cats on an ice cream cone, coffee cups blaming the latte style for being "late", a hippo diving into a slice of watermelon… the imagination has no boundaries and each one of them makes you think about little things in life.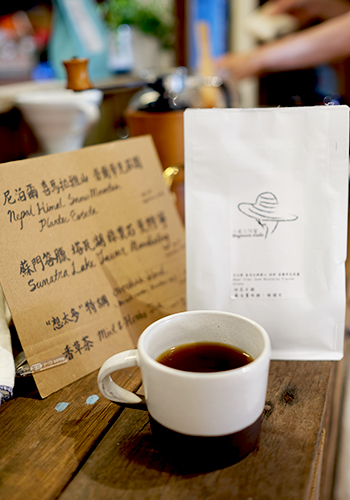 Coffee specially blended for the Overthink Exhibition
If you are a fan of mission statement t-shirts and have been a regular to Threadless, you'd have come across Lim Heng Swee's artwork, or I Love Doodle. I met the artist at his solo exhibition at Iron River Studio where he displayed his work. A corner where the coffee and food is served is a display of an artist's workshop, like the mind of a painter/illustrator/designer, full of stuff but organised.
The exhibition also attracted a group of artists including photographers, designers, coffee roasters and performers. Everyone contributed a little of everything. Someone brought her freshly roasted coffee beans from Nepal, someone else made food in the kitchen and some help direct guests to take pictures at the wall mural.
Lim likes to have a cup of something when he works, it can be a coffee or tea. Some friends introduced him to single origin coffee that tastes just like tea and now he's hooked. Some of his prints involve beverages and desserts, like this melting cup, Oreo cookie with a hidden scary face for Halloween and Brainstorming Coffee. He's recently started to get into craft beers, especially stout, where the complex of flavours in craft beer intrigues him.
Lim's exhibited art pieces over several weekends were Giclée prints, specially selected by the artist himself for it is his favourite material to present his work. The museum quality prints were made with an ultra-high resolution fine art printer with archival inks and papers that will last well over 100 years. The artist printed, signed and framed the pieces himself, and are only available during exhibitions and special events. Follow the artist on Instagram so that you don't miss his next exhibition.