Image: Wikipedia
We caught up with Murray Campbell again a year later to get some insight into the development of Bruichladdich after it was taken over by Remy Cointreau. You can read part 1 of the interview with him here.
Bruichladdich is a much sought after whisky label in Malaysia by connoisseurs. The distribution was available just two years ago at the time of writing but dropped off to only sold in travel retail.
I had a chat with Murray Campbell, Asia Regional Brand Ambassador for Bruichladdich, at a café a year ago before the distillery was bought over by Remy Cointreau. It was a journey of how this young chap has travelled to Asia, learned Mandarin and decided to work in China. A big move from a small town in Scotland, but Murray's heart stays with home.
The brand has been quiet the past year. I want to find out what's in the plan for this brand so an email to Murray is the right time while I dig out our conversation last year in Singapore. You can read Murray's interview a year ago here.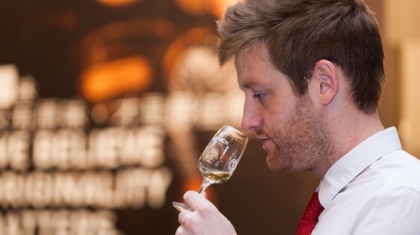 1) The brand was taken over by Remy Cointreau mid last year. What's the development since? Has anything changed?
It's true that Bruichladdich have been much quieter than usual since being bought by Remy Cointreau last year, but there has been a lot going on behind the scenes. From restructuring the Bruichladdich range, the completion of a new warehouse, increasing production, and for me personally, making the move from Shanghai to Taipei.
Regarding changes at the distillery, we have doubled our production (although double, it is still very small at 1.5million liters a year). All stages of the whisky production process remain the same, the only difference being we are operating more hours than before. This has led to us to employing more people at the distillery, which of course is a good thing.
We are very fortunate that Remy Cointreau share the same philosophy and values as Bruichladdich. Quality is of the upmost importance. They made it very clear from the beginning that they had purchased Bruichladdich because it was Bruichladdich, and had no intention of changing the way things worked at the distillery.
2) What's in the pipeline for the Asia market?
Anyone who has kept an eye on Bruichladdich over the last few years will know that our range was not always the easiest to follow! We have now restructured our range and separated it in to 3 distinct brands.
Bruichladdich – this will now only be our unpeated whisky (in the past we had several peated Bruichladdich whiskies).
Port Charlotte – Bruichladdich's heavily peated whisky.
Octomore – Bruichladdich's super heavily peated whisky, and in fact the most heavily peated whisky in the world.
Seven core products will be available in our domestic markets (4 x Bruichladdich expressions, 2 x Port Charlotte expressions, 1 x Octomore), as well as four Travel Retail exclusive products (2 x Bruichladdich, 1 x Port Charlotte, 1 x Octomore).
3) Anything planned for Malaysia?
There are no major plans for Bruichladdich in Malaysia at the moment, but small amounts of the updated range will be available in certain selected outlets in the near future.
4) How does China market look in terms of sales and taste compared to the Taiwanese market?
That's a big question to answer!! Single malt whisky entered Taiwan far earlier than China and as a result the market is much more mature. The most obvious differences would be that there is a much larger selection of single malt brands in Taiwan for consumers to choose from. The pricing is also a lot more competitive than in China, especially around the entry level range. I personally think this is a good thing as it allows younger consumers a chance to try different whiskies without breaking the bank!
Regarding China and Taiwan liking a certain taste, sherry cask matured whiskies have been traditionally favoured in Taiwan. Tastes continue to change though, and as consumers become more curious they are bound to want to explore a number of different whisky styles. I have held a number of tastings over the last few months and even noticed a growing fondness for peated whisky, something that maybe did not exist in previous years.
In China they say "东甜、西酸、南咸、北辣"1. I think it's very difficult to make a sweeping statement and say that the Chinese consumer likes a certain type of single malt whisky, especially at such an early stage in the development of the market.
5) In Malaysia, it is still a strong trend to see people buy bottles in clubs and bars instead of by the dram. Is that the same in China and Taiwan?
Yes, this is also common in China and Taiwan. It's not something we do in the UK but I have to admit I have become a fan of this particular custom.
It helps that you have the option to keep the unfinished bottle behind the bar for the next time you visit. Though I have noticed in many places in Taiwan that when a bottle has been opened it is usually finished the same evening!
1. The Chinese phrase literally is translated to "east is sweet, west is sour, south is salty and north is spicy". It refers to the taste preference in different part of China and also round up the variety of flavours of the Chinese palate.