(Photographer: Cliff Choong)
Diageo World Class Malaysia 2014 Bartender

Full Name: Chan Lee Mei
Nickname: Shirmy Chan
D.O.B.: 22 October 1988
Hometown: Pantai Remis, Perak
Something funny:
In Omakase + Appreciate, we use double size shooter glass as water glass and normally served to customer after presenting the bar menu.
Most of the first time customers are curious as to whether it is vodka in the shot glass. When they ask, I would tell them it is vodka or just simply agree with their assumption, until they found out that it's just plain water.
What kind of customers do you like?
Customers who come to the bar alone.
This kind of customers mostly have story and life experience to tell behind their lonely eyes. When they have more interaction with the bartender then it is time to make a new friend and loyal customer.
Which part of your job do you enjoy the most?
Matching a balance drink.
Every bottle has different content of alcohol percentage and flavour. A slightly wrong measurement of ingredient poured into the shaker might overpower one another in its alcohol and taste. Dilution can change every ingredient differently inside a shaker. Keep trying to reach expectation.
What do you usually drink when you are not working?
Gin and tonic.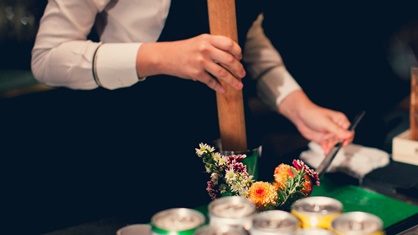 Career history:
2013 - Omakase + Appreciate - Bartender
2012 - Skybar of Trader's Hotel Kuala Lumpur - Waitress, Hostess, Cashier
2009 - Shang Palace, Arthur's Bar and Grill of Shangri-la Hotel Kuala Lumpur - Waitress
2009 - Farquhar's Bar, Sarkies Corner, The 1885 of Eastern & Oriental Hotel, Penang – Trainee

World Class Recipes

First Challenge - 1st place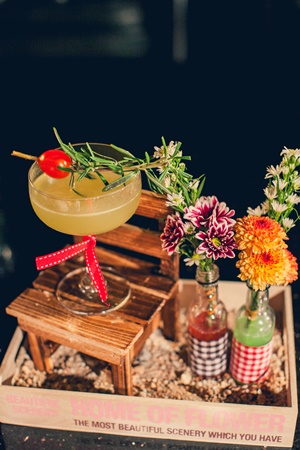 Olivia's Serenity
Ingredients
Tanqueray no. 10
Solerno
lemon juice
sugar syrup
Kalamata Olives
Japanese cucumber
sweet basil

Garnish:
basil
tomato
Method:
Muddle Kalamata Olives, cucumber and sweet basil
Add additional ingredients
Shake well
Double strain into a Coupe
Garnish