How have you seen World Class impact global bartending since 2006?
Massively. In 2006 we started World Class just in the UK, and it was really just to increase the credibility of bartending and to make it a profession once again – because up until then it was something the majority would do while they were at university, or if they were a failed actor or actress. Since then bartending has become a credible profession again; bartenders are travelling around the world, earning decent money, and now people are growing up wanting to be bartenders because it's seen as a really good job. And World Class has done that by putting it on that pedestal.
We educate bartenders as well, so it's about increasing their capabilities as bartenders and showing them off to the world.
In all your travels, where have you seen the most interesting cocktail scene, and what was it that made it stand out to you?
Recently I was in Bangkok – I was there seven years ago, and there were probably only a few cocktail bars then and the cocktails were quite basic (like Cosmopolitan and Sex on the Beach) – and I went to some of the best bars I have ever been in, in a long time. You can always tell a good bar by how well they deliver the classic cocktails, things like a Boulevardier – first of all that they know it, and secondly that they use the correct ingredients, and correct ice. And they were on it. Really good bartenders, really fast, and professional. World Class has helped massively there.
What could Malaysia learn from there to improve their cocktail scene?
I'd say they're at the same stage. Maybe a couple of years behind. Malaysia will grow. So what I say they should do this year is that everyone get behind and help the finalists who will be in South Africa.
So what sort of trends are you expecting for 2015?
Definitely savoury cocktails. Especially in London where I've seen them using carrot, pea, celery cold-pressed juices. Some of them are amazing – I had a really nice beetroot Margarita in Portugal.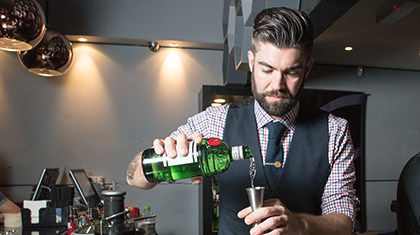 What is the next frontier in bartending? There were centrifuges and sous-vides behind the bar recently, what will be next?
For me it's creating multisensorial experiences. That's something World Class teaches you, and we test them on it as well. Like how does the lighting affect the drink, the music, how does it look, how you can touch it – that's exciting. And there's quite a lot of people doing that now.
I was in Athens last year, and we were going around bars judging cocktails for World Class – over two weeks we had to visit 300 bars and sample the cocktails, meet the bartenders, and score them. In the second week this guy says "I'm not going to meet you at my bar, come to this address", so we drove to this brick wall with an entrance-way by the side of the ocean. There was a guy standing there who sent us down some steps to a pebble beach, when we got there we saw in the corner on a rock about 50 meters into the ocean a guy beating a drum, and there were these guys who were not moving pretending to play chess, an empty door, and cabinets. Then the bartender came through the door from out of nowhere, and said "Welcome to my dream!" We sat at a table, and he starts making his drink: a Tanqueray Ten Martini. And then he says, "You know what this drink needs? A 1970s Madeira. And the good thing is, because this is a dream, this can happen." So he turns around, walks out into the sea (the drum still beating in the distance), and this hand pops up from the sea with the bottle of Madeira. He walks slowly back, pours it in, and makes the drink. The name of the cocktail was Inception, like the movie. He even had the spinning top that kept spinning the whole length of it. That's not just a cocktail, that's an experience. Obviously it can't be replicated in a bar, but that's an example of the levels we've seen. I'll never forget that.
What's in store for the finals in South Africa?
It keeps getting bigger and better, and we're in the process of designing the competition to raise the bar even more. There're 57 bartenders (last year there was 48), so there's extra countries and bartenders coming in. This year there will be that African fusion as well, bringing in the local flavours and ingredients. The scene in Cape Town now has some of the best young photographers and designers, and taking the craft of the bartender to fuse with these guys will just be incredible. We're going to be doing something that we've never done before.
---
TEACH ME TO TANQUERAY
After delivering a rousing speech to this year's hopefuls, Barrie Wilson rolled up his sleeves and demonstrated how to make five classic gin cocktails using Tanqueray.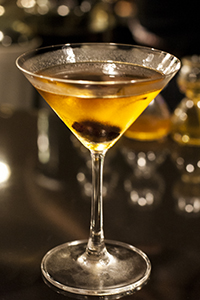 The Martinez
50 ml Tanqueray no 10
25 ml Sweet Vermouth
Half shot of Maraschino liqueur
Couple drops of orange bitters
Strain into a chilled martini glass
Garnish with maraschino cherry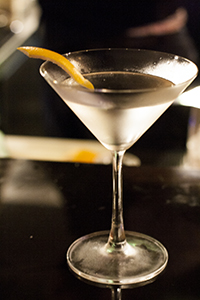 The Martini
50 ml Tanqueray no 10
10 ml Dry Vermouth
Strain into a chilled martini glass
Garnish with pink grapefruit peel
Angel Face Martini
25 ml Tanqueray no 10
25 ml Calvados
25 ml apricot liqueur or brandy
Strain into chilled martini glass
Spray an orange zest over the top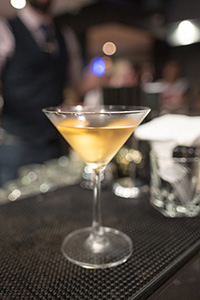 Angel Face Martini
25 ml Tanqueray no 10
25 ml Calvados
25 ml apricot liqueur or brandy
Strain into chilled martini glass
Spray an orange zest over the top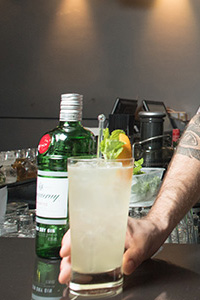 Silver Fizz
50 ml Tanqueray London Dry
25 ml lemon juice
Half shot of sugar syrup
5 ml Maraschino liqueur
(add egg white if you'd like)
Shake a few times, double strain to keep out fine ice
Garnish with maraschino cherry and a lemon slice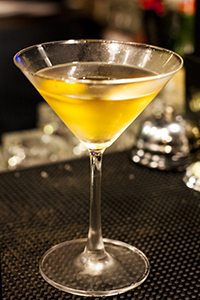 Tiny Ten
Squeeze 1/4 of a grapefruit into a shaker
Shot of sugar syrup
50 ml Tanqueray no 10
Shake together with ice
Strain into a chilled martini glass
Garnish with a grapefruit twist