Carefully tucked away on the rooftop of the National Gallery Singapore, Smoke & Mirrors boasts an impressive view of the Marina Bay Sands. On most nights the seats overlooking the Padang pack up with people who want to watch that magic hour when dusk settles over the city, and Singapore's famous city line lights up to sparkle in the night. But little do they know about the magic that goes on behind the bar.
Newly appointed Head Bartender Jorge Conde has taken Smoke & Mirrors' cocktail menu to new heights with Illusion of Flavours – it's a departure from the regular fare of contemporary cocktail bars, and treading new grounds by exploring the slowly but steadily emerging minimalist cocktail trend. The cocktails bear names that nod to the art gallery below, like The Heart of Vincent, Dali's Self Portrait, Picasso's Pencil, and the slightly cheeky Robbery at the Museum, but are elegantly simple in appearance.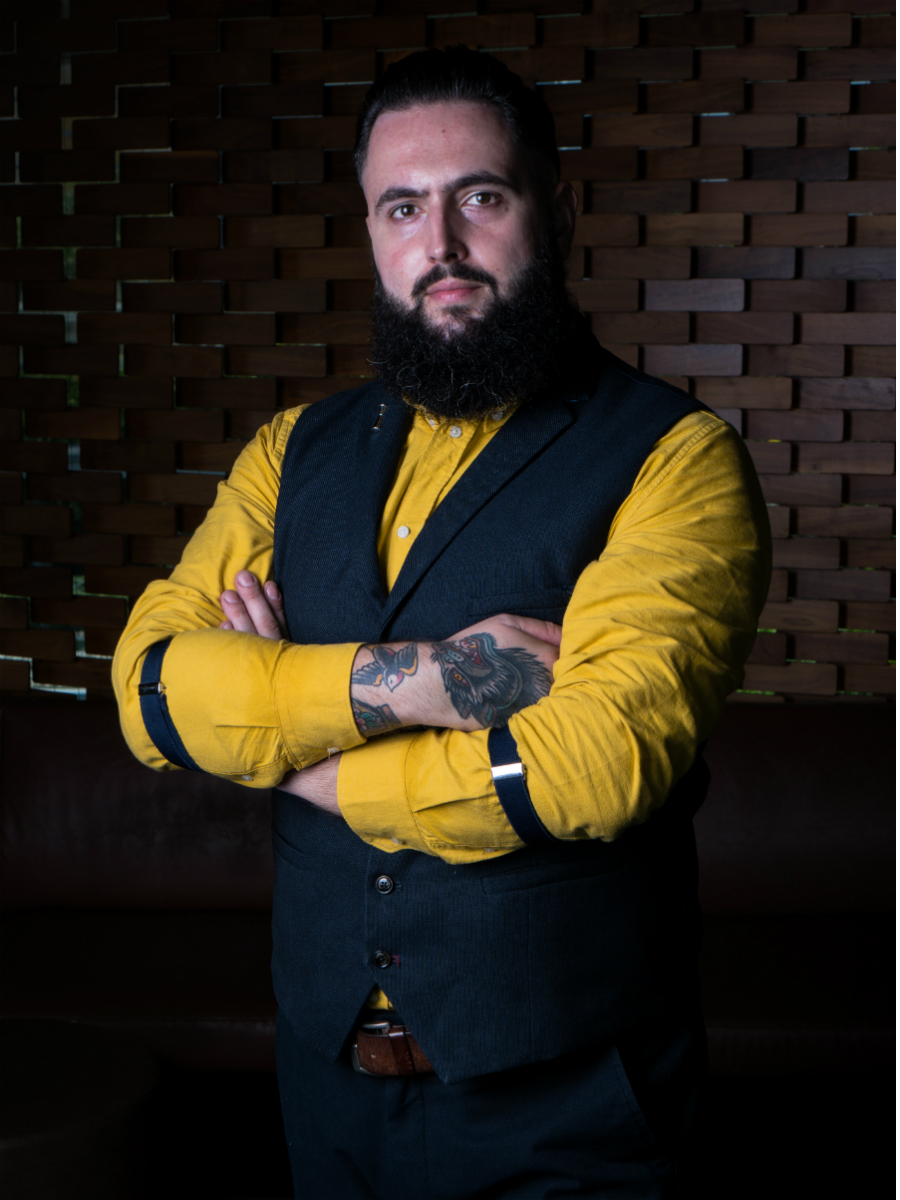 Jorge Conde, Head Bartender of Smoke & Mirrors
"For this menu, my goal was to reimagine classic cocktails, focusing on traditional flavour profiles and exploring new ways to create them," says Conde, "By using techniques such as distillation, preservation and fermentation, we are able to create unconventional combinations that will surprise and intrigue our guests. I find that people often have preconceptions about how a drink will taste, and I wanted to challenge those expectations with our drinks. While the presentation may appear to be simple, the flavour profiles are quite complex and layered, evolving as you enjoy the drink. As you may expect from the name, there is more than meets the eye."
He's been very daring with his experimentation, previously distilling a cigar in vodka to extract the aroma to use as a perfume as a complement to a cocktail, and then doing the same with a pencil to create a specific aroma for Picasso's Pencil (pictured above) – made by macerating pure cedar wood pencils (without the lead) in grain vodka, prepared in a sous vide. Mixed with Tobalá, Sherry wine, apple vinegar, olea saccharum, and tonic, the result is described in the menu as "fruity and oaky", and perfectly matched with a quote from Picasso himself, "The hidden harmony is better than the obvious". As an aside, because of complicated techniques like that, the average drink technically takes Conde between two and three days to make. Having said that, the cocktails range in price from SGD22 to SGD28.
Before coming to Singapore – which he has called home for almost a year now – Conde worked in London, as well as his native Spain, and was making things like preservations, shrubs, macerated spirits, and pickling, but only started distilling since being in Singapore. He works with a local farmer to get his hands on rare and unusual produce, saying "I'm surprised with all the herbs and plants they can grow here, because unfortunately finding local ingredients in Singapore is pretty tough. I'm happy that I'm working with these guys [the farmers]. But maybe because of this, the difficulty of the local resources, that's why I've started distilling pencils and cigars," he says with a laugh. "In the end it's about having fun, and it's about passion also. I got bored of doing classic cocktails, twists on classics, it's all the same, that's why I want to take the risk with something new."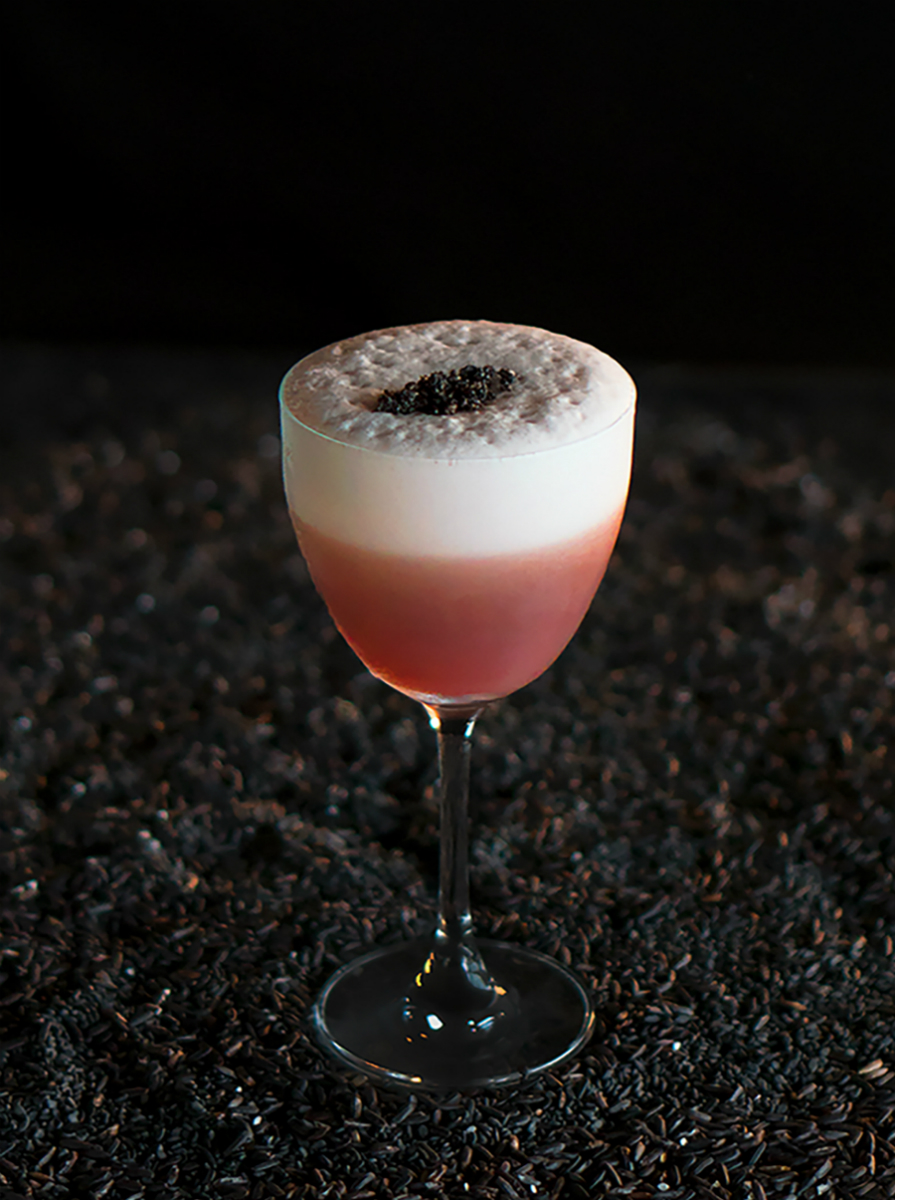 The Japanese Gang is Still Alive
Other menu favourites that have emerged since the menu was launched in April are She Uses Cilantro For Everything, which has been described as chicken rice in a glass, thanks to the use of Pechuga, cilantro, tepache (a fermented pineapple brew), and chili oil, for a slick, nuanced approach to the hawker food favourite; and The Japanese Gang is Still Alive, described as an experimental twist on the Whisky Sour, made with a blend of malts, black sesame, black rice, rice vinegar, butter, and aquafaba, which creates an incredibly spectacular frothy drink that's sour, earthy, and rich.
With Conde's 14 plus years of experience, he brings to the bar a willing (and refreshing) attitude to try something new and turn convention on its head. The final page of Illusion of Flavours says To Be Continued..., leaving room for evolution and experimentation, as far as his imagination can take him. Who knows what object he'll try to distil next. Only time will tell.
- T -