It all started with a book. Ashley Sutton was 17 years old, working in the mines of Western Australia, and to pass the time he wrote stories about an underground world of grumpy miners making fairies from iron, and illustrated them himself. "They're stupid books, don't ever read them, but the drawings are ok," Sutton says, now 45, without a hint of hubris.
One book became three, which led to the first Iron Fairies factory being built in Bangkok, Thailand, and has now become numerous F&B outlets across Asia stamped with the Sutton design signature: luscious attention to detail with a romantic, fantastical, maximalist tone; stained glass, wrought iron, and hand-hewn timber; rich colour palettes of crimson, bronze, and jade; and a general more-is-more attitude in a world where we're KonMari-ing everything we can get our hands on.
"There's a lot more detail, there's also a different approach on a typical bar," he says, "Everyone wants something different. An experience, not just for drinking." The irony here is that Sutton himself doesn't drink, and the first bar was conceptualised not by his choice, saying "I designed a factory which looked like a good place to drink, and then other landlords used to hire me – I remember after I did that first factory the landlord said 'I've got a space like this, can you do something with it', and I said sure, no worries, it's easy for me to design something. Then I got a mixologist from New York who I knew, and he did the drinks for me. I didn't know a thing about cocktails."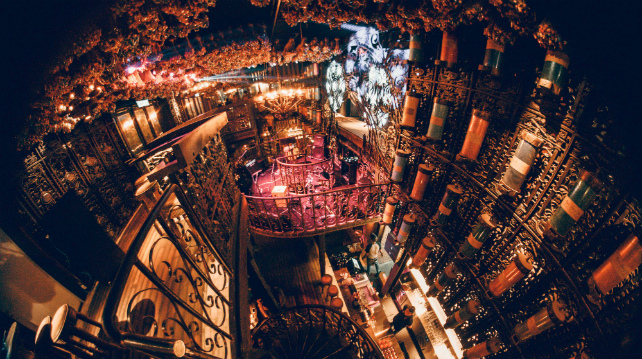 The Fairy Dust Factory, Iron Fairies KL
Despite that, he has a formula that works. With four Iron Fairies bars in Bangkok, Tokyo, Hong Kong, and KL, Dear Lily, J. Boroski, Ophelia, Dragonfly, and a number of other F&B outlets, Sutton scoops up awards for his imaginative designs that are unlike anything else in the world.
But he doesn't get the hype. "It's just a f*cking bar. It's not like I did a nuclear bomb or something." Is he being humble, or genuine? He replies, "I'm just being how I see it. I've grown up a lot in nature, and…I don't know, I'm trying to see what all the fuss is about. I suppose when you live in the city it's all about going out for dinner and going to new restaurants, and doing all that sort of stuff, right? So that makes the news."
He brushes off any praise and answers frankly "Everyone's good at something, everyone's got a natural talent. It's whether you want to do it. I know plenty of better designers than me. That's why I'm like, what's the fuss about."
It's a funny sequence of events that led Sutton to becoming one of the most sought after designers in Asia, but his vision doesn't seem to translate over to his native Australia – since moving back to Perth two years ago he has bid for a couple of projects and been turned down, "My ideas are too eccentric for them…they said "your mind is too out there, customers aren't going to like it, it's too much, we're not ready for it.'" Australia is too small, he grumbles, and Asia's F&B scene is far ahead.
There's an escapism that propels Sutton's style, a trait that personally appeals to him because, as he puts it, he hates cities. "I like to take people into another world. My outlets are in big, developing Southeast Asian cities. I suppose it's good to take you to another place rather than traffic and concrete." His childhood was spent building treehouses and underground cubbies, and now they've only grown in size.
At the time of the interview, Sutton was taking a break from doing exploration work around Papua New Guinea with a BBC crew onboard his vessel, Infamis. He'll then continue with a crew from the Discovery Channel to explore Micronesia and the Solomon Islands. He much prefers to be at sea, like an unofficial pirate, and aside from a long-standing dream to build a boutique hotel or a resort, he'd like to design boats.
But until then, he'll be spending his days on the waves. "The goal or the dream now is just to explore the ocean for me. I'll be doing that and building submarines and stuff, and exploring the last bit of earth. That's what I'll be doing."
- T -