[Photos: Kim Choong]
It was a humid afternoon, I ascended to level 33 of Traders Hotel KL and was welcomed by bright red cabanas surrounding the occupied pool, all under a glass roof. I couldn't help but admire the unobstructed view from across the pool to the shiny Petronas Twin Towers. The venue was uncomfortably bright, which reminded me, I don't normally come to Skybar during the day.
I took a sip of the Gin & Tonic served to me while waiting for my interviewee to show up. Hafiz greeted me with a smile. He is lean, you won't find an inch of fat on him but you do notice his right arm is covered in tattoos. He wore a batik shirt and, with his hair combed back, looked very smart.
Just before we spoke to him for this interview, the 35-year-old Head Bartender of Skybar had won first runner-up in the AHRA ASEAN Bartender Championship 2018 in Singapore. The following month, Hafiz flew to Kaohsiung for the 22nd Taiwan Golden Cup International Cocktail Competition, where he subsequently won a silver medal.
1) Where he got the name for his competition cocktail
I asked him about the drink he was going to make for the competition, called "Vad Tror Du", meaning "What do you think" in Swedish. Skybar is frequented by tourists, usually the first bar to visit in the city, partly for the view, partly because it's right in the heart of the city and easy to get to. "This Swedish tourist told me he'd never had a gin cocktail before, he normally only drinks vodka cocktails. I thought that can't be, so I decided to make him a gin cocktail and asked him to try. He ordered three of the same drink after that," the bartender chuckled. "And because he (the Swede) liked it so much, I named it after the first line I said when I served him." Whenever a European visitor doesn't know what to order from the menu, Hafiz would just fix the Vad Tror Du for them. It's become a conversation starter for the bartender and his guests.
2) How he became a bartender
Hafiz is from Kluang, Johor and been raise most of the time in KL. He started working in a club on Jalan P. Ramlee about 18 years ago as a barman, doing whatever bar backs do nowadays, and more. "Don't laugh, my favourite movie is Cocktail & Dreams. I like the New York lifestyle and I like to travel. From the movie, I know bartending is not just a job but a career that you can make a living out of," he went straight to work in hospitality after high school.
Almost 20 years ago, the most happening nightlife was on one stretch of Jalan P. Ramlee in downtown Kuala Lumpur. The famous nightlife entertainment spot is a short road with several clubs such as Beach Club, Thai Club, Nouvo, Aloha, Rum Jungle, some pubs and massage parlours. Hafiz's first job was in Nouvo. For 1-2 years, the most he was allowed to make was the G&T. He got to move around the group that owned Beach Club, filling different positions as needed and became a bartender only 4 years later. By then, he was already very skilled in the backend work for running a bar in a busy club.
3) What you should order from Hafiz
Vad Tror Du, his winning cocktail in AHRA ASEAN Bartender Championship 2018
Recipe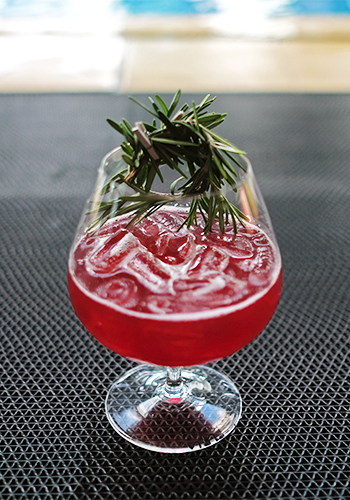 Vad Tror Du (What do you think ?)

- T -