Malaysian designer Rico Rinaldi, who's from Kajang, is the very first local designer to have collaborated with coffee chain Starbucks. Out of the partnership came a curated collection of exclusive merchandise that was inspired by Rico's fascination and love for nature. It was released in conjunction with our 61st Merdeka.
Rico's designs feature three distinct animals: the tiger, turtle and hornbill. Rico explains that the three animals represent the different states of Malaysia as well as the urgent need to protect their dwindling numbers.
The Bangi-based designer is no stranger to the fashion scene in Malaysia. You'd have seen him taking his designer's bow at Kuala Lumpur Fashion Week or heard of him through the numerous accolades he's gathered throughout the years. "I never knew I wanted to be a fashion designer until I entered Limkokwing University because doing fashion courses is the only way I could become a tailor," Rico told us. "I love sewing a lot, when I was young my mum used to have a sewing machine in my room – I would use it to create small patchworks and clothes for dolls."
During his time in university, he participated in many designing competitions and won plenty of prizes. "That's how my business started. I built it with all the cash prizes I won and opened a small studio in Kajang," he said. "Then I began to take in orders for custom pieces – people knew me from the media coverage of the competitions. From there, I slowly got in touch with more people in the fashion industry."
When asked about the Starbucks collaboration, Rico admitted that it had been in the works since 2016. "I actually approached the company to sponsor my shows," he said. "Then we were discussing how Starbucks always collaborated with American or foreign designers on their merchandise. So, I was like 'Why don't we bring something local to the table instead? Something Malaysian-made.'"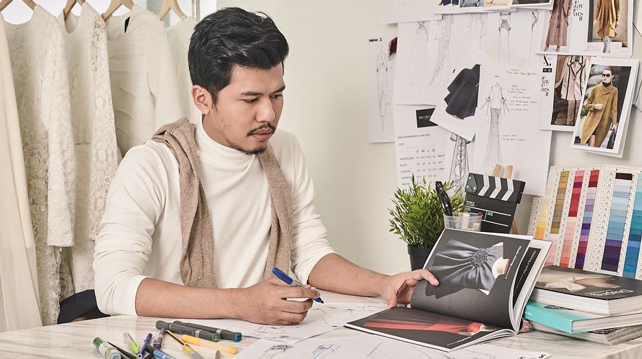 [Photo: lenswork_production/Instagram]
"My followers have been very supportive of this collaboration," Rico said. "I went all around Malaysia to promote the collection and I'm kind of surprised by how many Starbucks collectors went crazy for this. It helps that this is the first-ever local collaboration too. It was really, really great. The feeling I get when I see the merchandise in Starbucks stores is really great."
He also told us how this partnership was a personal one as he valued nature very much. "I decided to focus on three elements: the earth, sea and air," Rico explained. "The idea was inspired by the first competition I ever won which was related to nature. Through this collaboration, I hope my message of these animals going extinct will come across to the consumers."
It's a big deal; to be the first-ever Malaysian collaborator with Starbucks as well as promoting awareness on the endangered creatures. "Hopefully, you'll see more collaborations of this sort in the future," he said. "Because fashion is versatile like that, we don't always have to work with just fashion brands, we could always branch out to beverages, coffee and whatnot."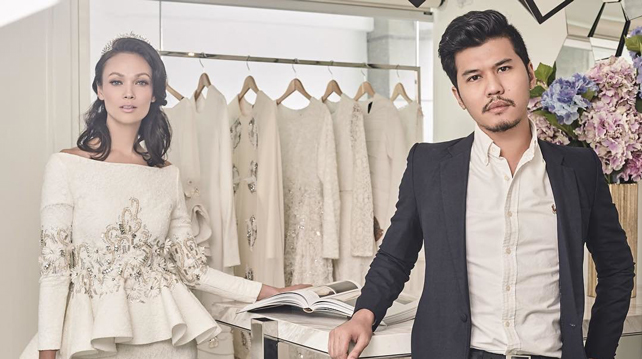 [Photo: thericorinaldi/Instagram]
But fashion isn't all about glamour, fun and rubbing shoulders with celebrities. It's about lots of hard work. "Staying in this line is really difficult, it's very competitive. I have to travel, I have to stay on top of trends, I have to source for good materials and all that," Rico said. "It's all about business and anything related to the economy affects fashion as well. Since my signature style is very couture, handmade or beaded, it can be very expensive to get these materials."
Don't be disheartened though, Rico's also got some useful tips for aspiring designers "Don't waste any time," Rico said firmly. "When I was in university, during my semester breaks I'd be working part-time with other designers – even without any wages because I just wanted the experience."
"My advice is to just try to gain as much experience as possible. Try to look for designers that you like and from there you can identify your style and work on it," he offered.
The collection includes a set of mugs and thermos tumblers in three designs. They're available to cop in-stores across Malaysia while stocks last.