There couldn't be a more perfect person for the role of brand ambassador for Jameson Irish Whiskey in KL than the half Irish, half Malaysian, Ann Eng.
It was all completely by chance, as Eng had applied for the job as part of the Jameson Graduate Program, and Jameson would ultimately be responsible for organising where she would get sent. "They do the puzzle work, and you are the pieces," she says. Originally she was interviewed for a placement in China (her ability to speak Mandarin being a great asset), but at the last minute, plans were changed and Eng found herself on a flight back to Malaysia, the country where she grew up.
Until the age of 11, Eng lived in Penang (a place she has a self-confessed soft spot for, even to this day), before moving to Meath in Ireland with her family, a village 20 minutes outside of Dublin. Growing up mixed race in Ireland was something she was always aware of, saying "No matter which country you're in, you're going to look like you don't really belong. That was definitely the case in Ireland, they didn't know what I was. Over there I would look completely Chinese, and over here I'd look completely European. But it provides that layer of conversation I suppose, especially in Ireland, because either you're [fully] Chinese, or African – they don't really understand that Malaysians could be Malay, Indian, Chinese. So for me being from the Chinese side of Malaysians they thought 'you must be from China'. They just didn't really get it."
This return to Malaysia, working from the Pernod Ricard Malaysia office in Petaling Jaya, has her overseeing everything Jameson-related from Penang to Johor Baru, which includes the Jameson Live parties, that showcase Malaysian musicians and artists against the Jameson brand. Malaysia is a stage 1 market according to them, so for now Eng's main mission is increasing brand awareness. "We're just trying to be involved in events that would get our name out there. Simply to get people to know that Jameson is an Irish whiskey," she says, "Every event we're doing, we're just getting more and more eyes."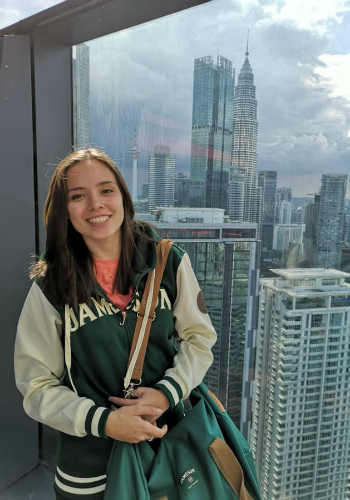 One of the slogans that Jameson is working with here in Malaysia is "It's a serious whiskey, that doesn't take itself too seriously", an expression that reflects the unpretentious, approachable identity of the company, and to an extent the character of Irish people as well – being laid back and unstuffy. This is something Eng likewise recognises among her fellow Malaysians, saying "Irish people are known to be lively, friendly, kind of chilled (the common phrase is 'it'll be grand', as in 'everything will be absolutely fine, stop worrying'). Malaysians have that too, I think. I see that in Malaysians, 'it's ok la', like nobody takes themselves too seriously. Everybody's pretty laid back, pretty friendly."
But what about whiskey consumption? Do the Irish drink more than Malaysians? Eng makes a surprising revelation: "Irish people are known for it. But Malaysians…I think Malaysians have a higher drinking tolerance." She explains that in Ireland people would normally have pints or a tall drink (like a Jameson Ginger and Lime, which is one shot of whiskey topped off with ginger ale in a tall glass filled with ice) when they go out, but here in Malaysia you'll find the whole Jameson bottle on the table, served out of short glasses.
"Buying by the bottle in Ireland just doesn't exist [in bars as a concept]," she says, explaining that regulations on alcohol sales in Ireland are such that the amount of alcohol in a shot is strictly controlled. Even free pouring is illegal. "Whereas here you have your own bottle and free pour however much you want to."
Having spent half her life in Penang, and half her life in Ireland, it seems like a beautifully fated full-circle moment for the 22 year old Eng. But the one thing she appreciates the most now that she's back is the weather. "Irish weather is diabolical, it's disgusting, it's rainy, wet, nationwide we can all say that," she says with a laugh. "I like Malaysia. Even walking around at night I actually linger outside for 10 seconds more than I ever need to, just to appreciate that I can stand outside and I'm not cold."
- T -