Every month, Thirst Magazine highlights the backbone members of the food and beverage industry in Malaysia and gets to know them all, including industry professionals, bartenders, sommeliers and chefs. In this month's column, meet Aida Hani, the up-for-anything, bubbly chef at La Cave Mont Kiara.
La Cave at Mont Kiara has been open for only a couple of months and it houses a very special member: Chef Aida Hani from Kuantan, Pahang who goes by the moniker Skinny Chef. If you've visited, you'd have tasted her delicious chicken liver pâté or her amazing passionfruit panna cotta.
For someone who's just delving into French cuisine, Chef Aida is already mastering it – just look at the reviews raving about her food. However, she didn't always want to be a chef. She never did, in fact. She wanted to be a veterinarian instead, but her parents, who happened to be cooks themselves, saw potential in her and enrolled her into culinary courses.
"I still didn't want to become a chef though, and then my dad put me in a confectionery school in Langkawi," she said laughing. "I studied there for two years and I was good at it. I was a top student. I knew I had the skills to do it but I never knew I would become a chef."
Aida was also interested in teaching English but that didn't happen. Instead, she studied culinary arts for three years at UITM. She figured that since she wouldn't be a chef, she'd at least study hospitality. "So that maybe I could own a restaurant and not work in a kitchen – it's a lot of work!" Aida said.
She first started out at Tai Thong, a family business of restaurants, when she was 18 years old. In six months, she rose through the ranks going from waitress to assistant manager. She then tried kitchen work for a year but didn't agree with how it didn't let her have a life. "I worked for 16 hours a day with only one or two hours break," she added. "I cut my hands so many times because I had to be fast so I knew I didn't want to do this kind of work."
In 2008, she found herself jobless for two months so she opened a small stall in Hartamas Square selling noodles. The stint lasted for 10 months and she didn't make much money. But luckily, a friend got her a job as a marketing manager at an interior design company. "I had no experience whatsoever but I enjoyed taking up the challenge," Aida said. Within three months, she managed to close a huge deal worth half a million and the company signed her on a full-time contract. Later in 2015, in 2015 she left and became a freelance interior designer.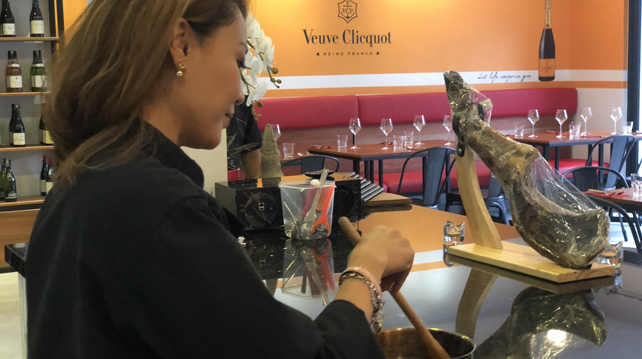 Then in 2016 she was offered a job as head chef at a French bistro called The Pass in Singapore which she accepted. "I was still deciding whether to continue interior design or become a chef because everybody seemed to love my food. But I took the job because the pay was really good. I figured it was time for a change of career."
Shortly after she started her job in Singapore, Aida received an offer to be a private chef for the Audi R8 MLS Cup. "Apparently, people had been talking about my food so they decided to try me out and they asked me to come up with a menu for the whole year," she said. There are six races in a year that take place all over Asia. A race can go on for up to seven days. When she took on the offer, Aida became the only female chef in motorsport.
It was a tough gig but she embraced it. "I cooked for 60 people at first and then the number kept increasing," she said. "The first race went on for two weeks instead of one because they had preliminary rounds; it was just me and my assistant. We were practically dying on our second week cooking for 120 people."
"But at the end of the race, everyone came to us and applauded us. They loved the food!" she said smiling at the memory. "That's how it all started." In the same year, Aida was also busy establishing her own brand. She'd finally caved into the idea of being a chef so she went all out and started her own catering company called Skinny Chef on Board. She also tried her hand at hosting travellers and foreigners on the platform WithLocals.com, a project she's since put on hold when she started at La Cave.
Between all the amazing gigs she juggled, Aida still found time to do what she loved: writing, reading literature and blogging on her now-deleted platform 365 Days Mencari Cinta. She revealed that the blog came about after she ended a 7-year relationship with an ex-boyfriend. "I learned so many things when I was 28 and single. I was chasing my dreams and whatnot. Then when I turned 30 in 2012, I decided to leave everything," she said. "I sold my apartment, my car, my shoes (all 200 pairs), my clothes and just backpacked around the world for two years."
Aida also touched on the perception that people seem to have about how female chefs should look. "But what is a chef supposed to look like? You get plenty of skinny chefs like Padma Lakshmi or Giada De Laurentiis or Katie Lee. They're all chefs who are hot and sexy. They do what I do. All this perception about chefs having to be fat is so in the past," Aida told us.
Although the demand for female chefs in Malaysia is not high, Aida wants to encourage young women to pursue their culinary dreams. "Be willing to work hard and always have a great attitude," she advised. "There are many challenges and one of them is that sometimes you have to deal with assholes. But it's how you handle them that makes people respect you."
QUICKFIRE ROUND
Favourite cuisine
Spicy Aglio Olio and sambal belacan fried rice.
Cocktail or wine?
Cocktail.
Go-to cocktail
Cosmopolitan.
Favourite dessert
Crème brulee at YEAST Bangsar.
Favourite movie
Good Will Hunting.
Favourite TV show
Californication.
Favourite travel destination
Croatia.
Best dish you had there?
Seafood.
Her inspirations
Giada De Laurentiis, Katie Lee, Isadora Chai, Marcela Luz Valladolid, Taylor Erickson.
Chef Aida Hani's recipe for Passionfruit Panna Cotta
Ingredients:
250g fresh milk
50g sugar
Cinnamon sticks
Grated orange peel
1 teaspoon vanilla essence
1 packet of gelatin
Passionfruit
What to do:
1. Put the milk, sugar, cinnamon sticks, orange peel and vanilla essence in a pot and simmer until hot. Then add the gelatin in, stir until it dissolves.
2. Strain the mixture and pour it into a martini glass.
3. Leave it in the fridge for an hour to chill.
4. Cut 2 slices of passionfruit and scoop the fruit onto the panna cotta before serving.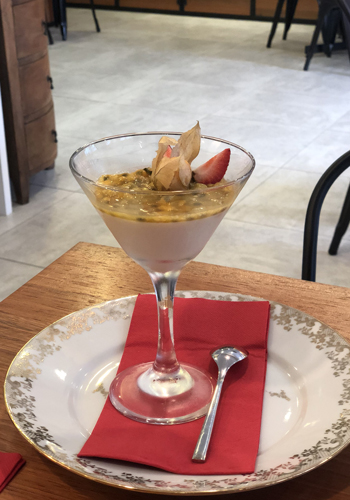 -T-