[Main image: Mandy Chin nosing some wine at a recent media event on Chilean wine at Gallo Wine Bar. ]
It was a journey 10 years in the making – starting from working in an Italian restaurant in Changkat, to opening Gallo Wine Bar, to becoming the first Winner of Cepas de Chile Champion in Malaysia Best Wine Sommelier 2021, Mandy Chin's trajectory has been steadily on the up and up. Beginning with a very basic understanding of wine, she shared it was the customers at the restaurant that spurred her on to learning more, "At that time I was just like a blank paper for wines – in my knowledge there's only acidity and tannins, wine is sour, all wines are the same," she says. "Along the way customers taught me a lot, and it appeared to me that customers were smarter than me. They educated me. Being in the service line, I had to brush up to move forward, to gain more knowledge, to at least know more than the customers so we can explain, and we can pick the right wine for the customer."
She has since become a sommelier in her own right, and six years ago co-founded Gallo Wine Bar where she has been able to successfully put her skills to work. With an extensive selection of wines (she cites 120 labels) from over 10 countries around the world, she says there's something here for everybody – ranging from what she calls classics to discovering the 'unusuals'.
After winning the Cepas de Chile in Malaysia last year – a competition for sommeliers to test their knowledge on Chilean wines, and an initiative supported by the Embassy of Chile in Malaysia – Chin has worked on bringing in 18 new labels from Chile to Gallo, including the six that were previewed by media in July: Seña 2015, Clos Apalta 2016, TerraMater Altum 2013, TerraMater Mater 2017, Luis Felipe Edward 100 Clen Carignan 2013, and Cono Sur Single Vineyard 8 Grapes 2019. All proudly handpicked by her, and featuring in Gallo's new menu.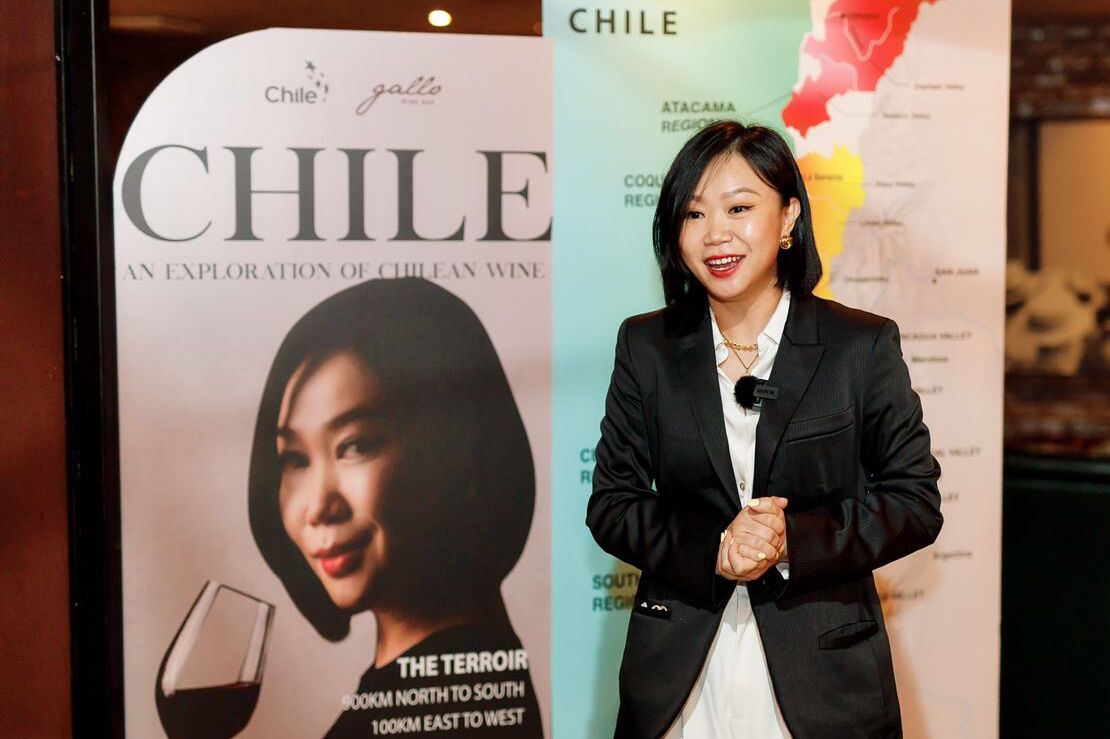 While typically known for more accessible, mid-market wines, Chilean wines have not been as popular in Malaysia as those from Italy, France, Australia, or the US. This particular selection by Chin, however, has some world class standouts. She highlights "Clos Apalta is a classic Carménère blend; Seña is iconic, elegant; while the Marea Pinot Noir is from Valle de Leyda which is very famous for cooler grape varietals like Pinot Noir and Sauvignon Blanc". She also notes that Seña has beat many 100-pointer wines on the global stage as well.
In particular, her focus is set on educating customers about the Carménère. "It was thought to be extinct, but then Chile saved it. You rarely find it elsewhere," she says enthusiastically. The grape was originally misidentified as a Merlot, and only in 1994 was recognised as its own varietal. Understandably, it is of great national pride for Chile.
"Carménère was a supporting grape [used in very small percentages in blends or as fillers] in France, it never became a dominant grape due to the environment and terroir. But when it went to Chile it became so good and could stand alone and shine by itself. Of course, it goes into blends [in Chilean wines] as well." Another special mention goes to the TerraMater Mater 2017, which was developed from a secret and rare grape blend to let the wine express the terroir of Maipo Valley in central Chile, just outside of Santiago.
Chin also shares she will be working more with the Chilean embassy and ambassador, His Excellency Diego Velasco, to spread the word of Chilean wines further and not lose any momentum on this mission. "I was telling the ambassador let's form a Chilean club. We get all the [Cepas de Chile] champions in so we have more to share with everyone, and bring in what is lacking in Malaysia from Chile," she says, enthusiastically, which should come as good news to any committed fans of the South American country's vineyards, and even those who might be curious to dip their toes into something new (so keep your eyes trained on Gallo's Facebook page for any future updates).
Ultimately, that is what Chin hopes people retain: a sense of curiosity and an openness to try new things. "I think consumers can be a little bit more open, not necessarily just to Chilean wines – today we're talking about Chilean wines because we always have a themed event to educate," she explains. "I always encourage the end user to be a little bit more open, try something unusual, try something you haven't tried before. If you haven't tried, you'll never know if you like it or not." So do yourself a favour and treat yourself to a glass of Clos Apalta 2016 at Gallo Wine Bar on a Friday night after work, and try something different.
- T -