It feels like everybody in the industry knows Shareen Yew. The owner and director of Single and Available specialty stores, she's been on this path since founding the business in 2001 – and from the store's regular Whisky Fling nights, to large scale events like Whisky Live, Yew is always there with a smile on her face and an expertly chosen dram in her hand, passionately talking about the water of life with industry veterans and whisky newbies alike.
So it's no surprise that Yew would come to be nominated as a Keeper of the Quaich in April this year, a society that, according to their website, "recognises outstanding achievement in those who work, write or evangelise about Scotch Whisky" – an honour that is entirely well-deserved.
"It's a nice feeling," Yew says, "When I heard I was being nominated, I was very honoured, but what was significant for me was when I was at the event and I was looking at [possibly] 300-400 people, I thought, actually I know a lot of people here."
Yew's nomination was put forward by a representative from Glenfarclas, a distillery she has a close relationship with, and also, interestingly enough, the brand that started it all – as a "grotty student" at university in Nottingham, England, with a bit of cash to splash at the beginning of term, Yew opted for a Glenfarclas 10 year old at a bar on the recommendation of a friend. "I thought 'my God this is really good'…That's what got really me hooked onto single malts," she shared. It was a striking twist of fate that a bottle of Glenfarclas would be in Nottingham at all, as the brand was not well-distributed in the UK in the 90s. But as Yew would later come to learn by speaking with Glenfarclas owner John Grant, an avid classic car racer, he would drive down once a year from Scotland to Nottingham to have his cars serviced – the only place in the country to do it, as it would happen – and conduct a bit of sales while he was there, hence ending up in the bar Yew would later come to drink in. "Glenfarclas always will have a special place, because it was the first one," she says proudly.
Flash forward to a beautiful spring morning in April 2019, and Yew and her husband are standing on a red carpet leading into Blair Castle – residence of the Duke of Atholl and his wife in Perthshire, Scotland – greeted by a Highland Regimen playing bagpipes. Yew is wearing a tartan sash specific to the Keepers of the Quaich, something she is entitled to wear from now on as an official Keeper (male Keepers wear a kilt in this tartan to the ceremony).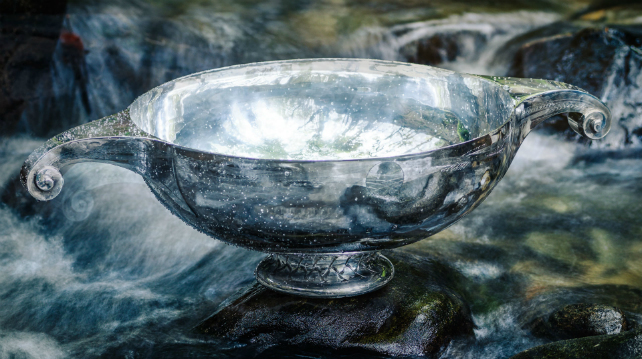 The ceremonial quaich.
The nominees file alphabetically into a hall decorated with rifles on the walls and coats of armour, and are individually called to the stage to swear an oath to the Grand Master of the Quaich, with their right hand on a giant quaich – the significance of the quaich (pronounced 'quake'), a small bowl with two handles on either side, harks back to the days of warring Scottish Highland chieftains. When they would try to forge a pact they would do so while drinking whisky from a quaich; the bowl is wide and meant to banged against your partner's so the whisky from your quaich and theirs mixes together, in case either party unknowingly had poison slipped into their dram. All Keepers receive a medal and a small silver quaich to mark their nomination.
Each Keeper has a citation read about them, who they are, what they have done for the industry, and the reason why they have been nominated. Yew's citation began with 'Everybody knows Shareen in Malaysia…', "I thought it was such a nice thing to say. I felt good," she says.
The rest of the evening continued with great pomp and ceremony, as a haggis was marched into the room and regaled with the Robert Burns poem, more bagpiping from the Highland Regimen, a mini orchestra playing during dinner, and so many toasts that all guests were eventually standing on chairs with one leg on the tables – "thank God I took my heels off!" Yew says with a laugh.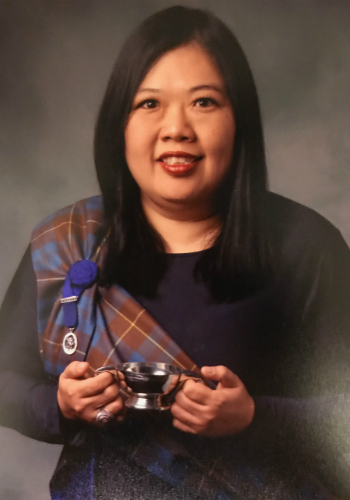 Yew wearing the Keeper's tartan, pinned with a medal, and her quaich.
Other than Yew, Kenneth Soh of Luen Heng was present at the same ceremony to become a Keeper, nominated by Dalmore. At the time of writing there are six Malaysian Keepers, and Yew is the only female. After 10 years, Keepers are eligible to become a Master of the Quaich (this year included Ian Millar, former Global Brand Ambassador of Glenfiddich, and Martin Reimann, Head of APAC for Edrington), but Yew seems to be happy enough with this honour for now. "I never set out to be a Keeper, I set out to do what I do," she says, "The history of the people who are [Masters], I feel nowhere near. I don't know if it's a goal. If I'm going to do this to get awards, it makes no sense. I didn't go out to make this a life goal…I mean it's very, very nice to have, definitely a big honour. But I enjoy it [the work]. You do it because you like it. It comes back to that."
As Yew splits her time between Singapore and KL for work and her family, her quaich and medal stay proudly in the family home in Singapore.
- T -