Appeared in our recent big party in Penang - the Johnnie Walker Black Circuit Great Britain in August, Tim Judge tells Kim Choong his inspiration about his creation for the party. Tim is the brand ambassador for Johnnie Walker in India, he speaks to Kim about what he is doing now in India with what he knows best - making cocktails.
1. What got you into bartending?
In 2005 I was managing a beach resort in Cornwall, England (believe it or not there are golden sand beaches in England!) and as a development to the restaurant's menu we decided to add a small cocktail list as what is better than cocktails on the beach in the summer. I put together a very basic list and quickly discovered that the more I read about cocktails; their history, the stories behind them and the characters, the more I fell in love with the whole idea of the cocktail.
Christmas that year I tragically lost my mother and it was the inspiration for me to turn my life around and chase my dreams. Within a month I had quit my job and booked a 1 way plane ticket to New Zealand with the intention of getting a job in as a cocktail bartender. The rest, as they say, is history.

2. You used to have a blog Ginger Bitters, what happened to it?
The blog is still alive. I was lazy and let the domain name registration renewal slip by a week and some sneaky bugger bought it up and then tried to charge me $3000 for it. My blog can now be found at: http://gingerbitters.blogspot.com
It's a bit more varied these days including travel, fashion and all the things I love as well as alcohol and cocktails but I struggle to find time to add content at the moment. There are plans to change this in the near future tho so keep checking.

3. Do you still write about drinks?
Frequently. I contribute to several publications in India and also have the great honour of being a contributing writer to the recently launched Digital Bar Mag, the first international digital only bar magazine. If you've got an iPhone and haven't downloaded it yet get to the App Store and check it out.

4. We were looking at your bio written a few years back on the website, you seem to have lost a bit of weight there. What happened to you?
Haha! Thanks for noticing. Working in a late night cocktail bar that closes at 5am and pizza being the only thing on the menu, it's all too easy to forsake your health a little bit and put on a few extra kg's thanks to the overly cheesy pizza and regular drinking.
Recently I have changed my diet thanks to my girlfriend and have been hitting the gym hard so am feeling much healthier and fitter. In fact I've just signed up to run the Mumbai Marathon!!! I think I might be a little crazy. (Kim: Love can do that to you sometimes.)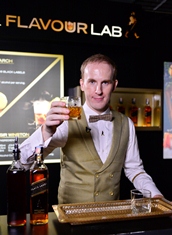 5. We are very curious about the drink you made in the recent Johnnie Walker Black Circuit Great Britain event in Penang, can you tell us what's in the drink and what inspired the creation?
The inspiration for the drink was England and the flavours that I associated with Johnnie Walker Black Label. The theme was the Johnnie Walker Black Circuit Lounge: Great Britain and the brief was that all the cocktails had to contain tea in some form, hence the English Breakfast Tea and vanilla syrup: a flavour that is found in all Johnnie Walker whiskies due to the vanillin present in the ex American whiskey casks that most Scotch is aged in. I paired that with a couple of dashes of chocolate bitters - another wonderful flavour I find in Johnnie Walker Black Label. Finally I garnished the drink with an aromatic vanilla and cigar smoke as Johnnie Walker Black Label is renowned for its smoky under notes which are a big part of the bold flavours of the house style for Johnnie Walker

6. What do you have to do as Diageo Brand Ambassador in India?
I run the World Class India program, mentoring over 1000 bartenders across the country through the world's leading cocktail program. I also write menus for hotels, bars and restaurants across India (over 200 to date) as well as hosting exclusive events such as Johnnie Walker Blue Label parties, CIROC1 Uncommon nights and a variety of whisky dinners. Being the face of the Diageo Reserve Brands in India is also a big part of my role and I am regularly interviewed by magazine and have recently started being an online ambassador through social media such as Facebook and Twitter.

7. Why India?
I have always been fascinated by India. As a child my grandfather would sit and tell my brother and I stories of his time spent there during the war. When an opportunity arose to consult for the Taj Mahal Palace Hotel in Mumbai I couldn't turn it down. I had watched, as most of the world had, the terrible images of the terror attacks on Mumbai and the stories of courage from the staff who risked their lives to save those of their guest was inspirational. Truly taking the art of hospitality to it's ultimate extreme. It was extremely humbling and amazing to meet some of the staff present during those 3 days.

8. You founded #BombayCocktailClub, what is it?
The #BombayCocktailClub is something I started to encourage consumers to engage more with the world of cocktails and fine spirits. I realised that I was doing so much training for bartenders and hospitality staff but there was nothing being done to educate the consumer. So I gathered a few people who I knew were interested in cocktails over to my apartment, opened up my personal liquor collection and taught them a few basic steps to creating and enjoying good cocktails. It was all organise through Twitter and that first night we generated so much interest that I was hounded for weeks by people wanting to be involved. It has now turned into a successful program and we have even run a couple of pop-up bars at a small local cocktail bar so that more people can join the party. (Kim: Oh, bring that to Malaysia please Diageo!)

9. Can you tell us your most favourite Indian food and what drink would you pair with it?
I'm vegetarian so India is a great country for me to eat in, roughly half the population is vegetarian and it's the only country I've ever been to where you are described as either: Veg or Non-Veg.
I love dishes such as Dal Mahkani, a spicy lentil preparation that I love to have with a robust single malt such as Talisker.
India also gave me a love for coconut water, the greatest liquid in the world and best hangover cure.

10. Tell us two personalities in the industry who have impacted your profession the most.
Without a doubt the biggest influence on me has been Jacob Briars, former 42Below Vodka Professor who is currently heading up the Brand Ambassador program for Bacardi. As the 6th most famous bartender from New Zealand, Jacob is a true industry legend and his humbleness, humour and infectious laugh taught me that good bartending is about much more than just making good drinks. He also knows everything, about everything. If you ever meet him, put him to the test.
On the drinks making side the biggest influence would be a bartender from New Zealand by the name of Jamie Lawton. When I first stepped foot behind the bar of my first serious cocktail bar, Jamie took my under his, slightly sweaty and smelly, wing and taught me everything he knew about crafting a great drink. He's a phenomenally talented drinks maker with a incredible palate and fertile imagination and continues to write some of the most interesting cocktail lists I've come across.

11. Other than bartending, what else are you good at doing?
I once got a medal for cross country running at school.
1. A super premium vodka brand under Diageo.