Becoming A Brewer
The first time I met Winnie Hsu Juo Wei, she came across as lively yet composed, but the moment we talked about craft beer, you could see the sheer delight in her face. However, brewing craft beer wasn't always her career goal. In fact, Winnie spent 7 years studying Agriculture, Economics and Entomology. It was her part-time bartending job that gave her the opportunity to become a brewer. Her boss at Gordon Biersch, an American chain restaurant, convinced her that it takes a special person to become a brewer and that she should give it a go, so in 2007 she was "selected" to be the brewer for Gordon Biersch in Taiwan.
Having no idea about brewing and not even drinking beer recreationally, she had a lot of studying to do. She was given two books: one on home-brewing and a comic book about brewing, neither of which were helpful as brewing at home is completely different from brewing commercially. But Winnie was up for new experiences and challenges so she took up the position and the company sent her to their US HQ for 6 months to learn how to brew. Upon her return, the company had her start brewing to supply the restaurant chain.
After four years of hands-on brewing, Winnie left the job in 2011 to study for the International Brewers Certificate in Berlin, where she and Lan-Xin Foo became friends. She was fortunate to have been sponsored by Le Blé D'or brewpub. After graduating, Winnie was appointed as the Head of Operations and R&D at Le Blé D'or, a position equivalent to Head Brewer.
Winnie's Career Thrives
Winnie's two years at Le Blé D'or changed her career. Working in an important position in the biggest craft brewing company in Taiwan and winning medals for her beers, built her reputation among the craft brewing community. However, at the height of her career there, Winnie was more involved in the PR and marketing side of work when instead she much preferred to be brewing. She was still young and strong and could handle the manual aspect of the work, carrying heavy sacks of ingredients and spending time in the lab.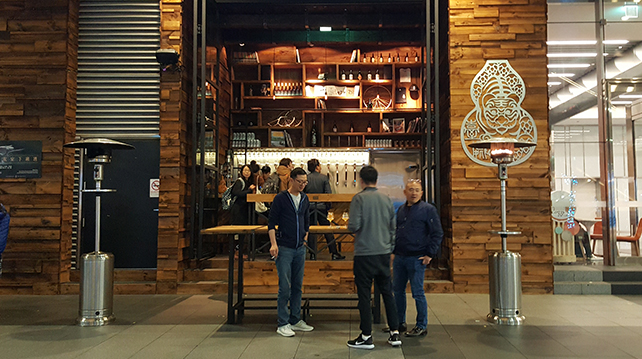 Taihu's Da'an outlet
So in 2015, Winnie travelled to the US for 3 months to look for opportunities to brew again. She particularly wanted to work with breweries with bigger and more sophisticated facilities. She travelled to San Diego, Seattle, San Francisco and to the Brewers' Conference and told everyone in the industry that she was looking for a job. But after talking to people in the country, she felt that there was a cultural and work ethic difference between the Taiwanese and Americans and she didn't know if she could get used to it. Deciding that she would enjoy her work more in Taiwan, she moved back home where she felt she belonged.
Joining Taihu
Taihu was founded in 2013 by 5 Taiwanese Americans who met at school and who wanted to bring good quality craft beer served in a professional way to Taiwan. Like other Asian countries, craft beer was new to the drinks industry in Taiwan. As there weren't many options at the time, they started by importing craft beers such as Japan's Yoho Brewing and Stone Brewing from the US, and serving them at their first taproom which opened in 2014. The aim of the bar was to do things the "American way". Taihu has now expanded to 6 outlets in Taipei.
While all this was taking place, Winnie who was still very much in touch with Taihu, found out about their plans to focus on developing and brewing quality craft beers. Winnie saw from their planning that they were very serious about the business so when she returned from the US, she met with Taihu to talk about working for them. To her surprise, all five partners attended the meeting and they shared with her their plans for the brewery. That's when she thought that this was the company with the right people and sincerity.
She joined in May 2015 before the brewery opened.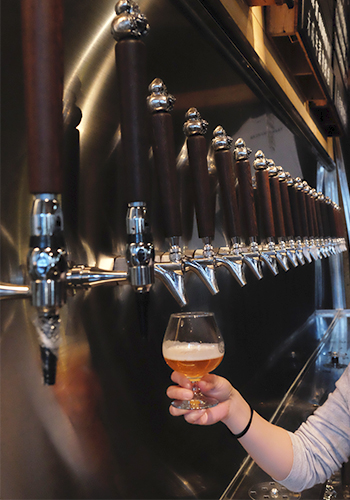 Taihu brewery where Winnie heads the brewing team
Taihu's brewing operations are currently 6 months old at the time of writing. Following decades of serving mainstream commercial beers, Taiwan finally passed the law allowing independent microbrewery in 2000. Before this, brewing, like all other alcohol and tobacco production in Taiwan, was solely controlled by the government. For a relatively young brewery, Taihu has already gained much attention and an enviable reputation within Taiwan and internationally for delivering quality beers.
The Freedom to Create
In Taiwan, one can't brew onsite so Taihu's taprooms are only for serving beer. There are many different stages in the application for brewing beer and a brewery must set shop in an industrial area. Whilst Taihu was waiting for approval to sell and distribute their first beers they began to test recipes with a small pilot system using a 10hl brew tank from Krones (a German company with one of the best brewing systems in the world). As soon as the license was approved they would be ready to begin distribution. Winnie didn't want to waste any time. Luck was on their side; within 3 months, they had approval.