The two friends turned business partners started their journey in the world of coffee 4 years ago from two separate paths. It was coffee that got them together and through them, the scene is thriving. We get some insights from the pair about what makes Yellow Brick Road such a success and their motto, which sets them apart in the industry.
Jason Loo
Opening a café has always been Jason's dream. To serve good food, coffee and cakes, he needed to acquire all the necessary skills. His first experience was working as a chef in a western kitchen and he learned to make pastry. Then he joined The Red Beanbag for the skills to become a barista. 10 months into the job, he took the industry by surprise and bagged his first trophy in the Malaysian Barista Championship held at the Black Box, Publika in March 2013.
Things were moving quickly for the 26 year-old and he went on to learn about operations. The owners of The Red Beanbag, Kheong and Lin were supportive and so Jason got to try out all the positions available in the café. His passion remains with coffee.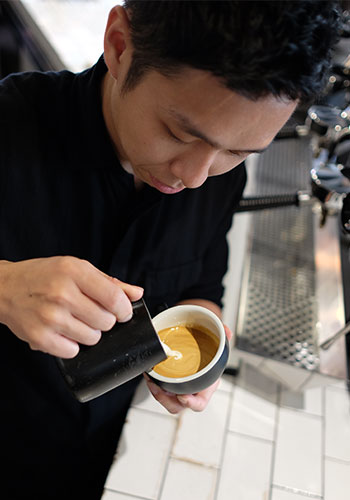 Jason will be representing Malaysia at the World Barista Championship 2017.
Shaun Liew
Shaun was the Assistant Lecturer at Berjaya University. After attending a coffee workshop run by then editor of Coffee, Tea & I magazine, SK Leng (now owner of Constant Gardener Coffee in Penang), Shaun took an interest in coffee and helped to develop the coffee program in the University, taking advantage of the Coffee & Tea Academy facilities. That's when he introduced the Barista Championship to The Red Beanbag, where he made acquaintance with Jason.
Shaun then moved to Monin. The two kept in touch and often bumped into each other at coffee events. In 2014, the idea of Yellow Brick Road emerged and Jason discussed the possibility of an expansion from The Red Beanbag with the two owners. It was 3 years after the opening of The Red Beanbag and the café business was stable. While they were looking for a place to open this second outlet, Jason thought it was a good idea to take in another partner. By this time, both Jason and Shaun were already very good friends and knowing that Shaun was leaving his job, Jason offered him a partnership.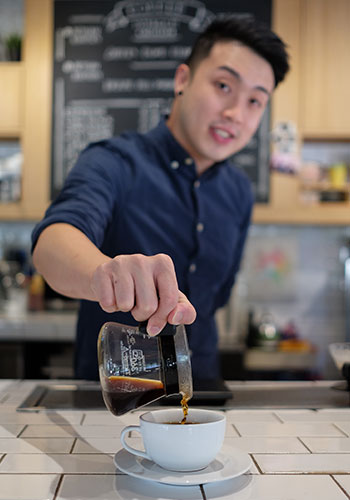 Shaun will be representing Malaysia at the World Brewers Cup 2017.
Yellow Brick Road
Renovations started in January 2015 and in April, Yellow Brick Road was opened. The new café was the first outlet in an entirely new development in Damansara. The two jetted off to Seattle for Jason's competition expecting the business to pick up slowly but it turned out to be a hit.
The outlet would feature Asian brunch food (which was lacking in KL at the time) and espresso base coffee, filtered coffee and specialty coffee.
Specialty coffee
Specialty coffee is something new in the coffee industry worldwide. It has only been around for about 30 years compared to the long history of coffee itself. However, the acceptance of Malaysians who are exposed to specialty coffee is high. The transition from dark roasted coffee moving slowly to lighter roast within the three years in The Red Beanbag has shown that those who are exposed to specialty coffee are learning to love it.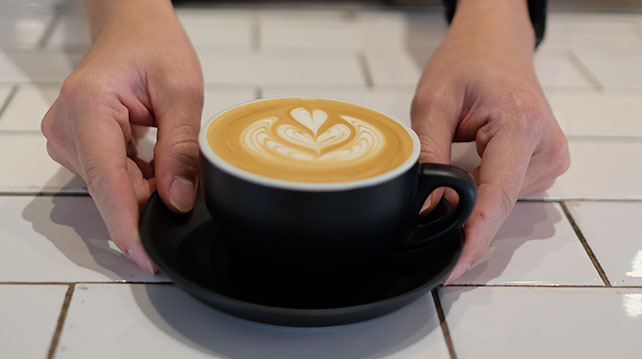 Well executed latte art never fails to put a smile on a customer's face.
Training
The toughest part of training is the preparation. The most important part is the routine of fine-tuning your steps. Sometimes, even a simple skill like grooming the coffee ground flat in a porta filter can feel impossible. "But you have to keep practising until you get it right. This is a journey that I truly enjoy with coffee," said Shawn, who first got into training with Jason before his competition.
Individuality
"Rituals are something passed on so if you learn the correct way from the beginning, you'll get it right throughout. Personality however, is different for everyone. It's not something you can give to the person you train, the barista will have to figure that out themselves," says Jason.
Team work
A café's profile is enhanced by team work that creates a universal understanding in the taste, character and presentation of the coffee through constant calibration.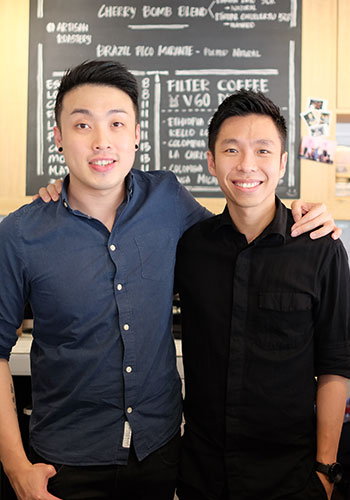 Good friends bonded by coffee.
Defining a good cup of coffee
"It is what your customers like and this can be subjective," says Shaun. Yellow Brick Road conducts market evaluation daily through customers' feedback. In order to introduce more unique beans to the market, the café mixes beans that are familiar to the local palate such as chocolatey, nutty and caramel flavours with brighter beans that are of higher acidity with berry and fruity characters.
Working with roasters
The café could have imported roasted beans from overseas but instead, they choose to work with local roasters. This way, they get to support local roasteries with close research and development on the beans they have selected. It also means fresher beans that are more accessible. Any follow up is only a phone call away. They believe their relationship with the local industry will help it grow.
Strategy in educating consumers about their product
The café is not there to change people from drinking what they already like, but to showcase the quality of what good beans bring to the cup. Consumers who like their coffee will return to find out more and that's when the café gets to spread their knowledge about specialty coffee, that every bean has its character and how they can taste very different, country to country, climate, varietals, through roasting and preparation methods.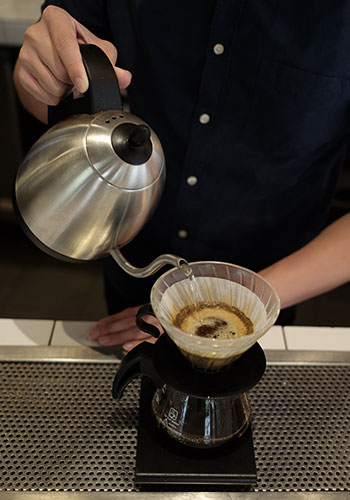 Drip coffee is the best way to taste the beans' original flavours.
Price
The price point in specialty coffee is not much different from commercial coffee, generally at RM9 for a cup of long black. People might compare the sizes but there is a lot more work that goes into specialty coffee in terms of process, from choosing the beans to making sure the green beans are fresh and without defect. A fresh coffee green bean before roasting can last for 6 months, whereas after roasting it's best within 2 weeks.
Some more tips
For those who want to step up their game and go into entrepreneurship, first take a look at the big picture then, understand the market and find the most efficient ways to operate a bar. You might just want to focus on making coffee as a barista but know one thing, customers are your source of income to sustain your café. It's not just about making a good cup of coffee, but also how to work with a team that will be the backbone of your business. Train them to aim at satisfying at least 100 customers a day, then your idea will be relevant.
Ultimately, the two wish to inspire more young baristas to understand and pick up the skills needed to operate a bar of their own. Competitions can help to shape your form and experience but to win the game, you must put in effort to practise, observe and work towards the goal of staying consistent even though you have to serve 100 customers a day.
Jason and Shaun will be providing classes to not only train baristas but also to help consumers understand coffee.Shaun Liew and Jason Loo will be representing Malaysia in the World Brewers Cup (13-15 June - Budapest, Hungary) and World Barista Championship (9-12 November - Seoul, South Korea) respectively.