On 6 September 2021, Johnnie Walker Princes Street, a new eight-floor visitor experience officially opened in the heart of Scotland's capital city – Edinburgh.
The four-and-a-half year project took over an almost 100-year-old department store, occupying a floor space of 71,500 sq ft. It boasts the use of world-first technology to reimagine the traditional whisky tour experience via the concept of personalisation and discovery.
"… Last year Johnnie Walker celebrated 200 years since founder John Walker opened the doors to his small grocery store and this opening represents the next chapter of the incredible story. Johnnie Walker Princes Street is a landmark investment in Scotch whisky and into Scotland and it sets a new standard for immersive visitor attractions. It celebrates Scotland's remarkable heritage, our incredible skilled whisky-makers, and looks to the future by engaging new generations of consumers from around the world in the magic of Scotch whisky," said Ivan Menezes, Chief Executive of Diageo.
The Johnnie Walker Journey of Flavour allows visitors to map drinks with their personal flavour identified through a questionnaire. Ranging from sweet, sour, tropical, spicy, etc, visitors can experience drinks made with more than 800 flavour combinations.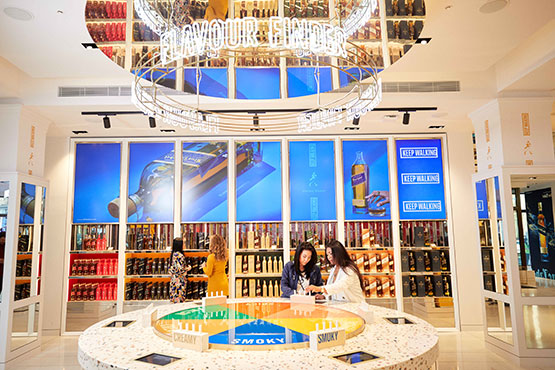 Johnnie Walker Princess Street Flavour Finder
With the Scotch Whisky industry attracting a record 2.16 million visitors in year 2019 alone, Diageo's £185m tourism investment programme aims to rebuild Scotch whisky tourism for the future. The investment includes the Johnnie Walker Princes Street and the transformation of Glenkinchie, Clynelish, Cardhu and Caol Ila – the whiskies that make Johnnie Walker.
"We're thrilled to be opening the doors and helping to rebuild the tourism and hospitality industry after a very difficult 18 months," said Barbara Smith, Managing Director of Johnnie Walker Princes Street.
Johnnie Walker Princes Street houses over 150 diverse and talented new employees who speak 23 languages between them; a whisky cellar of unique whisky casks which are still maturing whiskies waiting to be sampled by guests; a state-of-the-art experiential retail space where shoppers can select from unique and exclusive whiskies, fill bottles direct from casks and have them engraved.
The visitors centre has won the Green Tourism Gold Award, the highest sustainability accolade for a visitor attraction. The building includes roof terrace planters which will provide herbs for garnishes and infusions for drinks, and a sedum roof covering and bird boxes to encourage biodiversity.
Two rooftop bars overlook Edinburgh's gorgeous skyline and the castle. The Explorers' Bothy whisky bar is stocked with 150 different whiskies, whilst the 1820 Rooftop Bar and Dining Experience at the terrace provides drinks pairings with a curated menu sourced from, and representing in culinary form, the four corners of Scotland.
Johnnie Walker Princes Street's tour tickets start from £25 (approx. RM145) per person, including a 90-minute tour and three personalised Scotch whisky drinks. All samples are provided with carefully controlled measures and non-alcoholic alternatives are also available to all guests.
- T -