The Mid-Autumn Festival approaches fast, and mooncakes are appearing across the city. We've made a list of our top favourites that grabbed our attention, and which will certainly make a statement on your dinner table.
Restaurants, cafes, and bars
Godiva
This supremely delicious and decadent chocolate mooncake selection from Godiva comes in three gourmet flavours: Crunchy Nuts Milk Chocolate, Speculoos Dark Chocolate, and Roasted Sesame Milk Chocolate (pictured above). Encased in a firm chocolate tartlet shell and filled with silky chocolate, these mooncakes would be a great gift for that chocoholic friend with a sweet tooth. They're also available in giftboxes (from RM119 to RM299), and can be found in all Godiva boutiques.
WAY Modern Chinois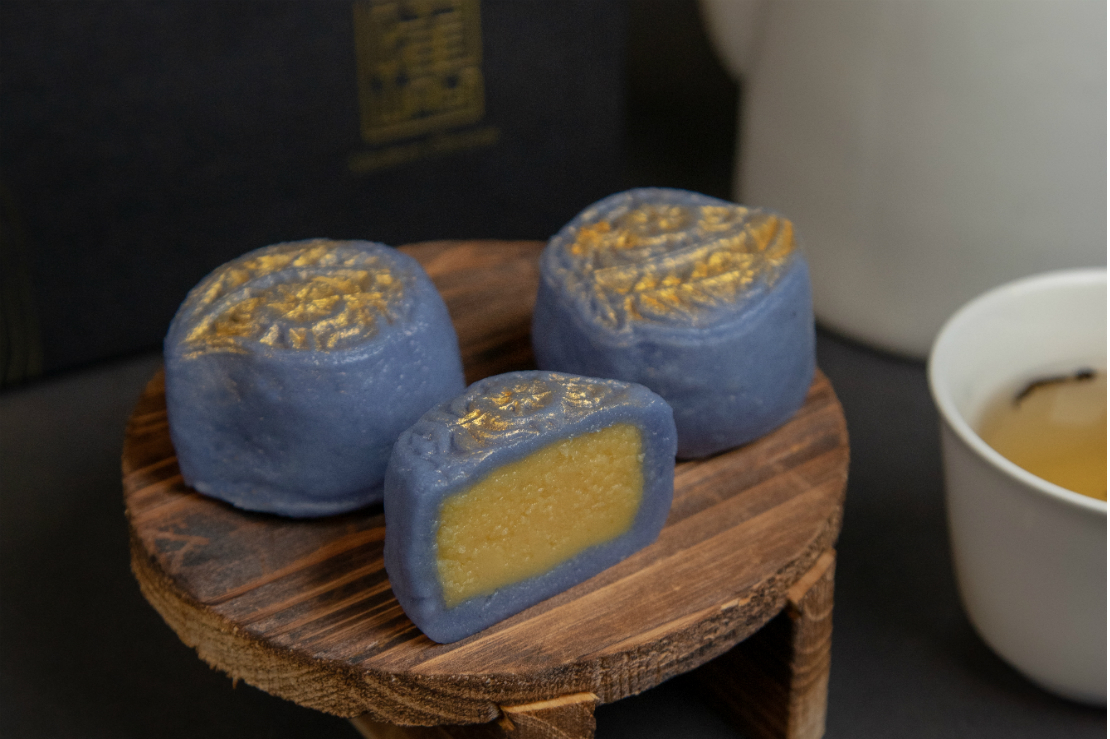 Make an impression (and leave an impression) with the WAY Musang King Mooncake, by WAY Modern Chinois. The handcrafted mooncake is made using 100% Natural Musang King, in blue skin coloured by organic butterfly pea flower extract and finished with a sprinkle of golden dust, and absolutely no preservatives. They're available from 1st of August to 13th September, and are priced at RM88 for four pieces, or RM24 for one.
Inside Scoop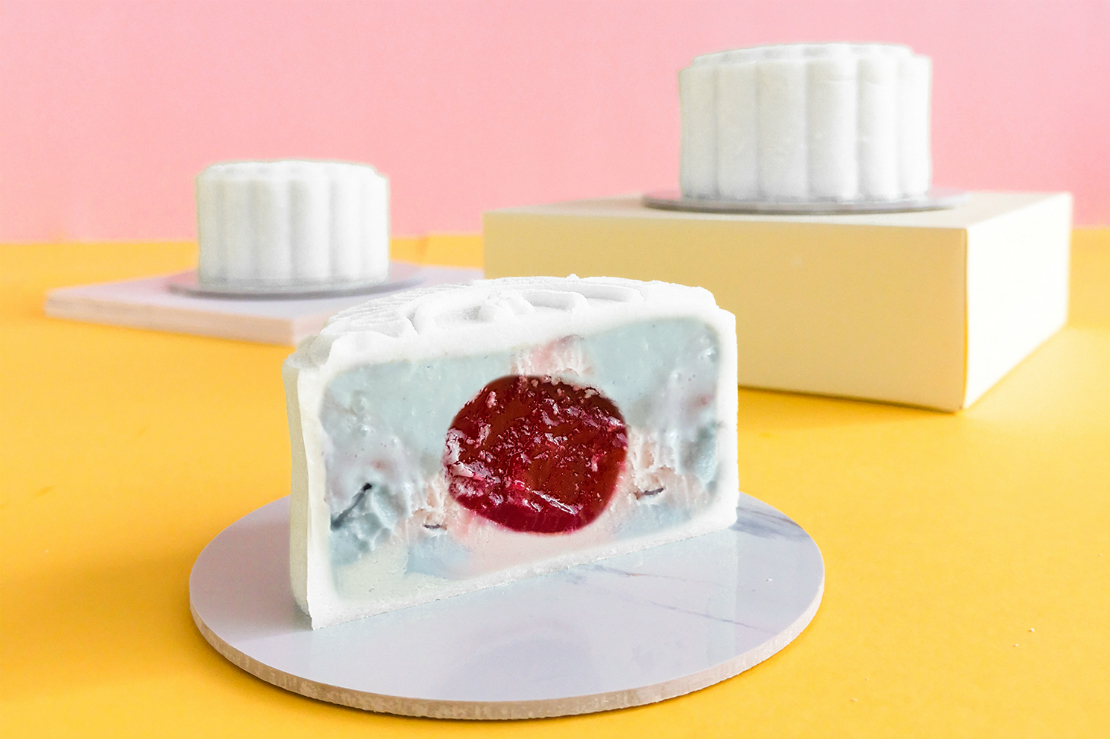 This is Inside Scoop's fourth year of making ice cream mooncakes, delightfully maintaining their playful aesthetic and whimsical flavours that they are known and loved for. This year you can choose from four main flavours: Rocher, a chocolate hazel nut concoction finished with a layer of strawberry chocolate and a gold-dusted seal; Durian, with a chocolate ganache yolk, wrapped in green snow skin; Unicorn (pictured), a colourful blend of blue pea flower-tinged milk ice cream and raspberry yoghurt ice cream, and a raspberry centre; and Matcha, made with green tea ice cream, black sesame ganache, encased in a passionfruit chocolate velvet coating. Not forgetting the Supermoon, a 7.5" marvel (good for 10 to 12 people!) of layered raspberry jelly, on top of a crunchy chocolate base, finished with a yellow snow skin. The Supermoon retails for RM115, while the two-piece box is RM60 and the four-piece box is RM100. Available instore and online.
Guinness x The Beer Factory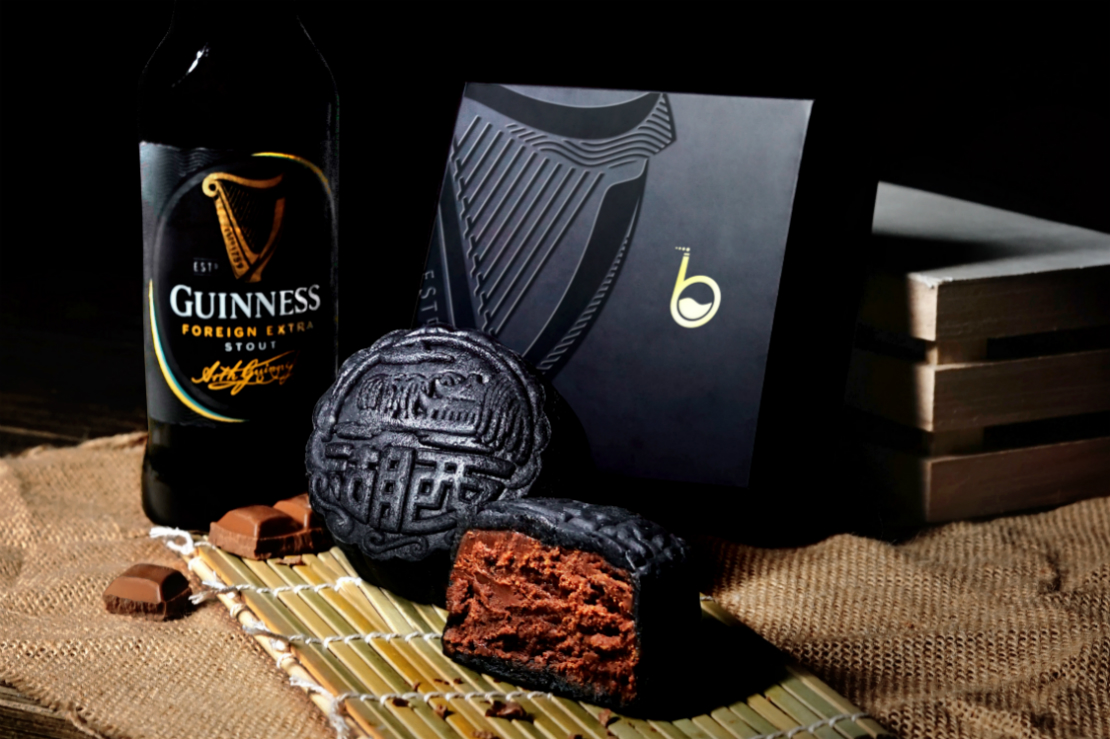 Now here's a collaboration we weren't expecting but are happily surprised by. Guinness teamed up with local bar chain The Beer Factory to create a Guinness-infused black snow skin mooncake, showcasing the deep roasted flavours of stout with chocolate and lotus seed paste in a charcoal snow skin. This is available for pre-order online from the 19th August until 2nd September, or it can be purchased in-store at any TBF outlet (except TBF Cyberjaya) between 19th August and 13th of September. Get one for yourself at RM45, or share with a buddy and get two for RM80.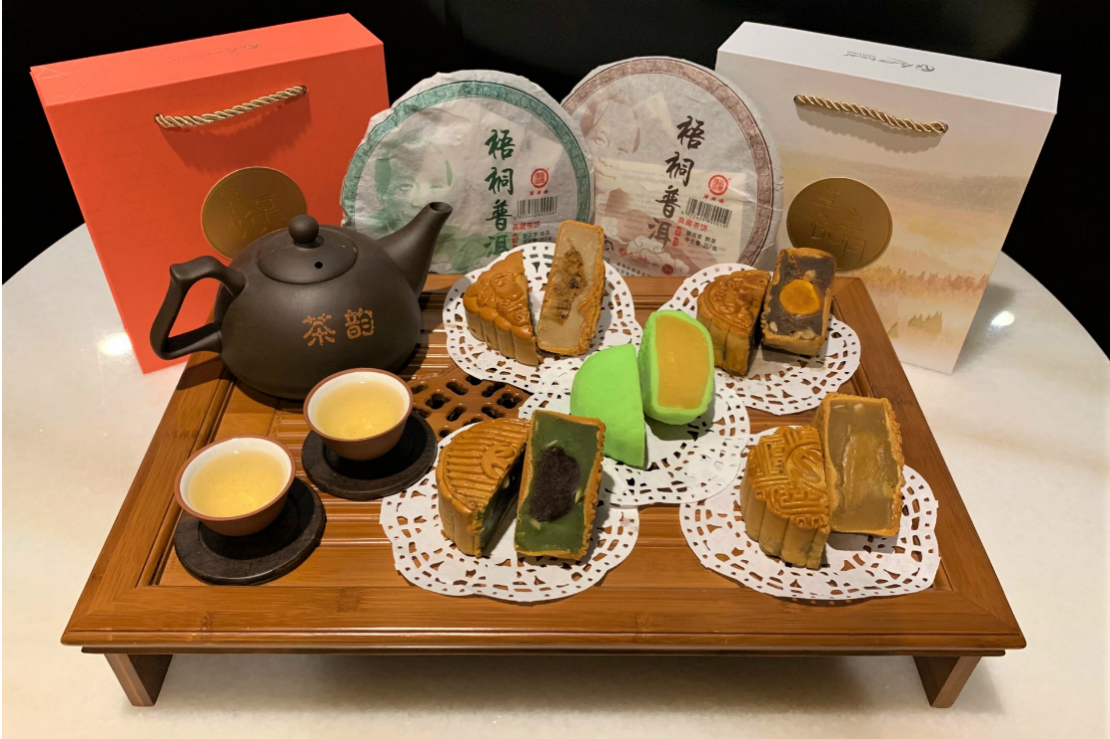 The Mid-Autumn festivities at Resorts World Genting – a month-long celebration from 10th August to 16th September that includes the new Moondance animated show at the SkySymphony stage at SkyAvenue – would not be complete without their famous mooncakes. Featuring the top five favourites of 2018 (Lotus Paste Single Yolk, Pu Er Single Yolk, Low Sugar White Lotus Paste, Golden Jade Single Yolk and Green Tea Lotus Paste), plus this year's new selection of flavours of White Lotus Paste with XO Jingsa, Pandan Jade with Choco Hazelnuts, and Durian Paste with Premium Durian. These tasty creations are priced between RM17 and RM22, can be found at special kiosks and restaurants across the resort during this festive period.
Hotels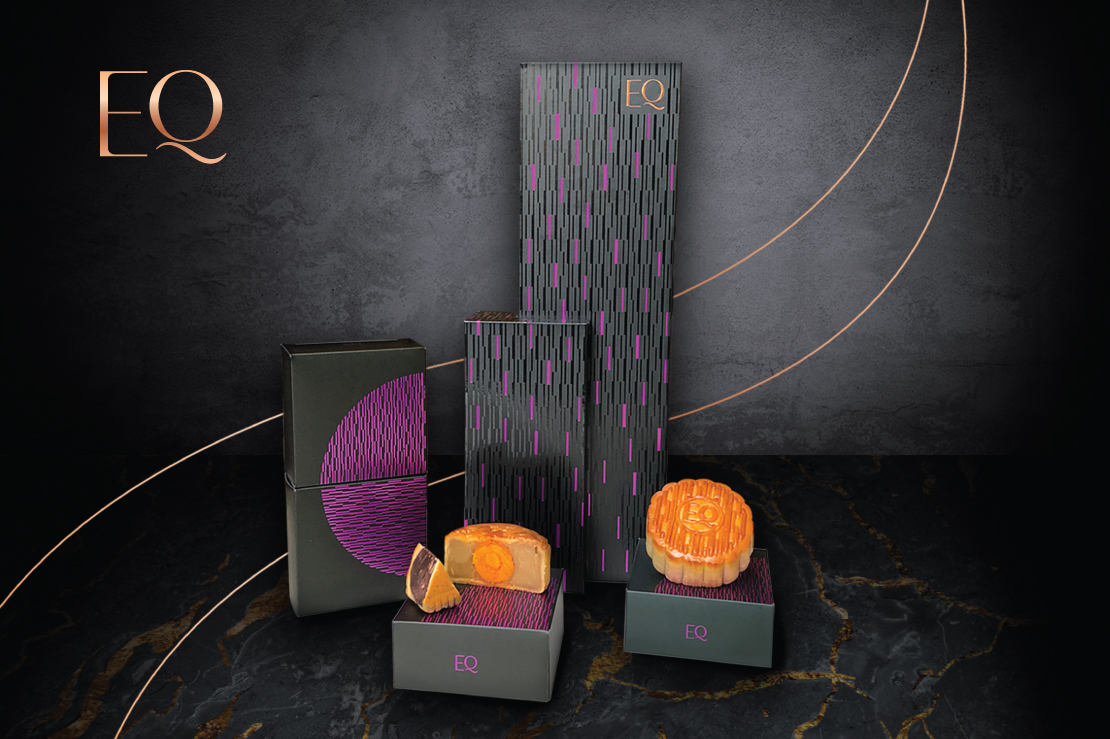 KL's iconic Equatorial Hotel has reopened as the very chic EQ, and they're sharing their new look with their special edition EQxquisite mooncakes. The four flavours – Pure Lotus Single Yolk, Low Sugar White Lotus Single Yolk, Red Bean and Pearl of Harmony (comprised of black sesame seed paste, mung bean filling and a golden salted egg yolk at the centre) – are housed in a replica of the new 52-storey hotel. This year's will be in an exclusive purple colour and will change every year, so heads up for the collectors among us. Each box is RM168 nett, and are available through Nipah from the 12th of August.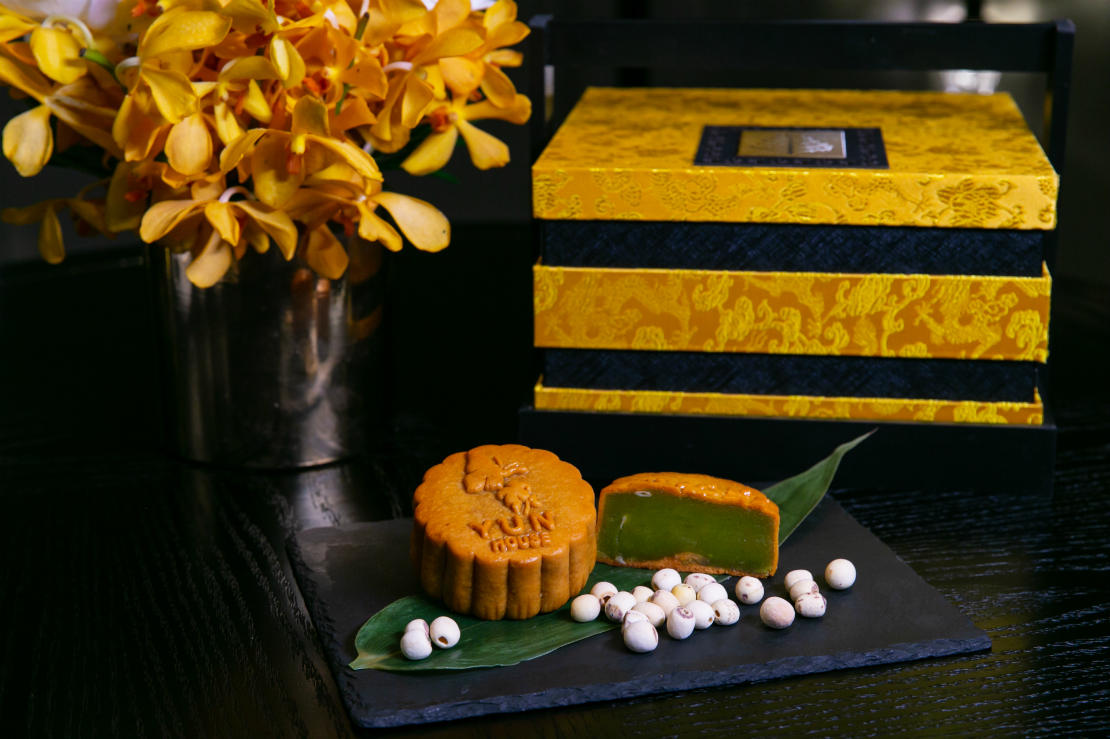 Made by the skilled pastry chefs of Four Seasons Kuala Lumpur's signature Chinese restaurant, Yun House, the luxurious baked mooncakes feature impressive flavours like as Oo Long Tea and Osmanthus with Lotus Seed Paste, Traditional Assorted Nuts, Lotus Seed Paste with Double Yolk, White Lotus Seed Paste, Pandan Lotus Paste with Single Yolk and Black Sesame with Lotus Paste (all at RM45 per piece). Their snow skin selection includes Charcoal Lava, Homemade Snow Skin Blueberry Chocolate (both RM45 per piece) and Pandan with Bird's Nest (RM55 per piece). Then there's the staggering Lotus Seed Paste with 8 Egg Yolks (RM208), for maximum impact. Don't miss out on the mooncake-themed afternoon tea at The Lounge from 5th August to 14th September, priced at RM148.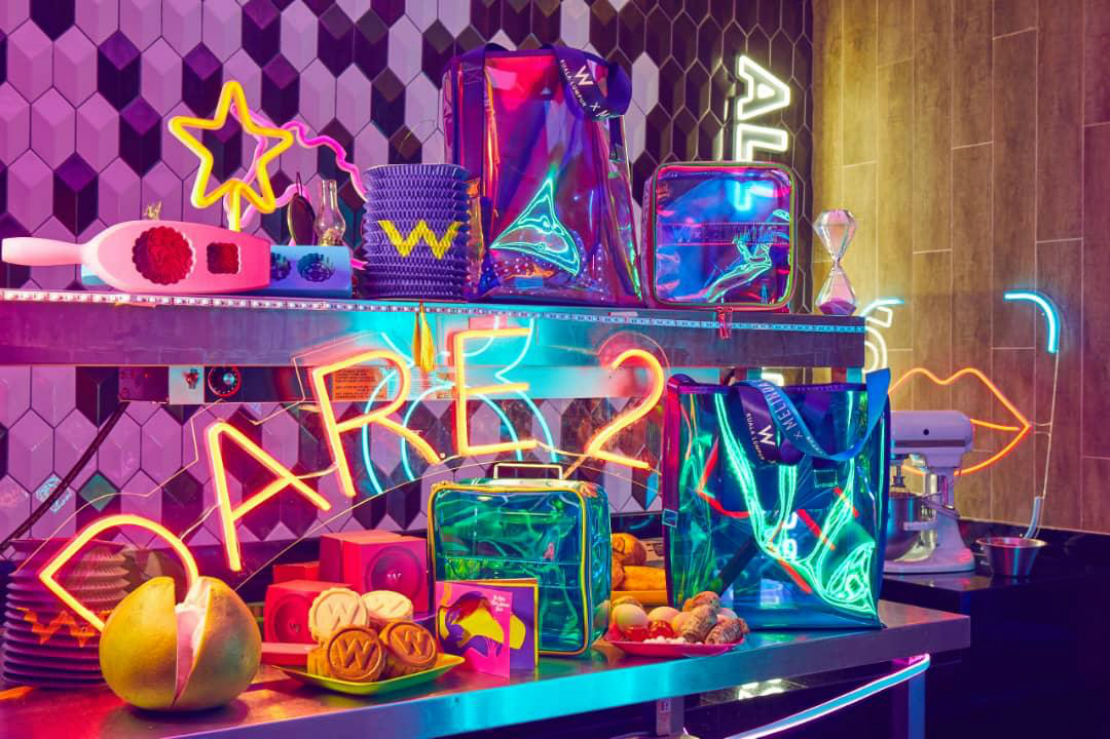 Mooncakes, but make it fashion – W Kuala Lumpur has teamed up with Melinda Looi to create a mooncake set that is functional, trendy, and tasty all at once. Of the available mooncake flavours - White Lotus Seed Paste with Single Yolk (RM43), Red Bean Paste with Aged Mandarin Skin (RM41), Yellow Lotus Seed Paste with Double Yolk (RM46), Assorted Nuts with Dried Fruit (RM43), Pandan Lotus Seed Paste with Single Yolk (RM43), and Almond Sesame White Lotus Seed Paste (RM43) – you can select four and collect them in a luminous translucent square pouch and an opalescent Limited Edition W Kuala Lumpur x Melinda Looi tote bag at RM198 nett (including the mooncakes). Available only at YEN from 1st August to 12th September.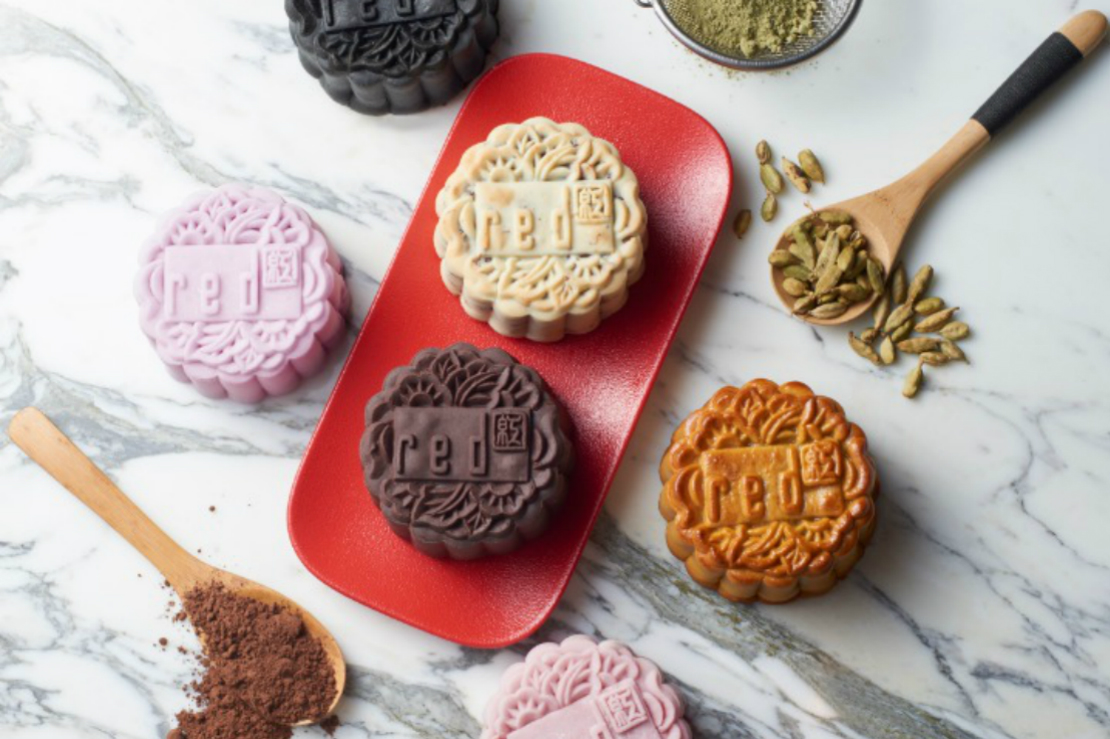 Available from the newly revamped Pullman KLCC's modern Chinese dining concept, Red, the carefully handmade mooncakes are an elegant addition to any reunion. Available flavours include Bamboo Charcoal Paste with Macadamia Nut and Raisin, Coffee and Chocolate Chip, Snow Skin with Matcha Green Tea and Red Bean Omochi, Snow Skin with Sweet Potato and Mung Bean Paste, and Snow Skin with Roselle and Strawberry Paste, and the elegant glass gift boxes, with a discrete red and black floral pattern, can also be co-branded with your company logo. Mooncakes start from RM32 per piece.