Last year, we did a tea and mooncake pairing article. This year, outlets are so creative we want to share them with you. Here you go, mooncake pairing in a set with cocktails, beer, whisky and sake.
They are great as gifts but who says you can't get them for yourself?
1. W Hotel - Mixology Kit
In collaboration with Chivas Regal Malaysia, W Kuala Lumpur Hotel's Moonstruck Mixology Kit comes with two mooncakes and matching sets of cocktails, which comes with assembling instructions. The specially curated pairings are Matcha Old Fashioned using Chivas Regal 12 Years Whisky to be paired with the Mint Red Bean mooncake; and Loka Loco using Chivas Extra Blended Scotch Whisky to be paired with the Cendol Coconut mooncake. RM288+ in a beautiful case designed by Gung Ho, choose from neon blue or purple. Order from W Kuala Lumpur via Oddle, Instagram, Facebook or bf.wkualalumpur@whotels.com.
2. Guinness Mooncake - Beer infused recipe
The Beer Factory is returning with their new and improved recipe for the Guinness Snowskin Mooncake, available only at limited quantity. Pre-order required RM88 for 2-piece mooncake set. Beer not included, however can be ordered from draught in can format. Order directly from The Beer Factory for delivery or pick-up.
3. Cognac infused mooncake – Skillet@163
As part of Hennessy's Mid-Autumn Festival promotion, the cognac brand partners with modern European restaurant Skillet @ 163 for a cognac infused mooncake. The Hennessy VSOP infused St Dom single origin chocolate ganache and brownies is wrapped in cacao snow skin. Comes in set of 2, 4 or 6 (RM78 - RM168) which can be mixed and matched with other flavours, or order with their cheese platter and signature tarts from www.karlslifestyle.com.
4. The Whisky Notes - Whisky pairing
The Whisky Notes, a new whisky subscription service is partnering with Yumcha.my Café for a whisky and mooncake pairing set. Order the box of Sipping Eastward Tasting Set and yum.cha's Cha.Kingyu Mooncake Box that comprise of three whiskies (Miyagikyo Single Malt, Omar Single Malt, Amrut Fusion) and four mooncakes (NIKO Ajisai Matcha Pistachio, NIKO Houjicha Cranberry, NIKO Genmaicha Goma and NIKO Yuri Matcha Anko) at RM288 per set.
5. Sake Kami - Sake pairing
Choose from two types of yumeshu and the accompany box colour. Each box comes with one bottle of selected yumeshu: Tsuruume Kanjuku Ume (Pink Label) or Tsuruume Kanjuku Nigori Ume with Pulp (White Label) and four artisan handmade mooncake with single yolk (2 pure white lotus and 2 green tea lotus). RM388 per box. Pre-order from Sake Kami for delivery between 1-3 September 2021.
6. Yun House x Bar Trigona - Classic cocktail flavour
The Four Seasons Hotel's two outlets have come together to curate a cocktail inspired mooncake as one among four different flavours. Savour Old-Fashioned, a masterful medley of whiskey, trigona honey and cedar wood bitters, or sample Judgement, concocted jackfruit, aged rum and triple sec. Available for a limited time, place your orders with Four Seasons KL.
7. Tiga Bar x Ching Han Guan
Ipoh's home grown brands have come together for a smoky pairing – over hundred years old Ipoh pastry shop Chin Han Guan's traditional BBQ meat mooncake and Tiga Bar's curated tea infused whisky are a special menu at limited supply. The set that comes with two mooncakes and four infused whisky drams are priced at RM150. Order from Tiga Bar. Delivery nationwide.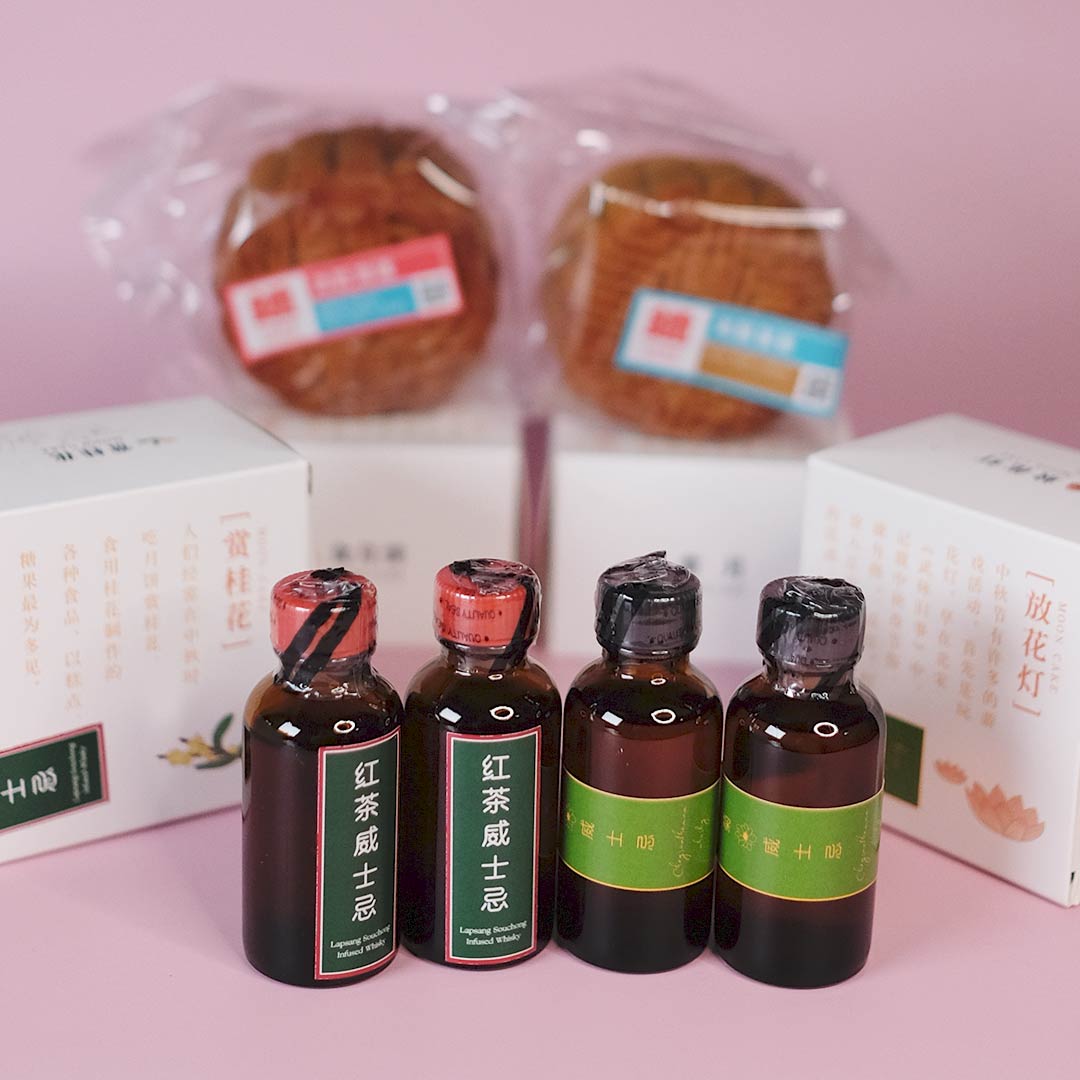 8. DiineOut - Whisky gift with purchase
Oder a bottle of The Glenlivet Founders Reserve, 12YO, 15YO or 18YO which comes with 2 pieces of made-to-order 4-yolk lotus seed mooncake priced between RM235 and RM560. Order on DiineOut website.
- T -