Bar Trigona, Asia's most sustainable bar for 2019 and 2020, has released a new menu with the aim of raising awareness on food waste.
Adopting a different approach from their previous geeky take, the current menu is a clear and simple to understand drinks list. Their message on sustainability this time is through locally sourced everyday fruits.
"We want to use common fruits which we consume everyday because we don't appreciate them enough. We talked about ugly fruits and we want to tell people that you don't have to throw away fruits that don't look pretty. There are so many different ways to use and enjoy it (the fruit), and you can share. At the end of the day, even if you're doing something small, you can tackle a big issue like food waste and hunger by using things commonly found around us," said Ashish Sharma, Head Bartender of Bar Trigona, while explaining how the team came up with the concept of the new menu.
Four common fruits were chosen by the team, with three cocktails and a mocktail produced from each fruit. Mango, watermelon, jackfruit and mandarin orange made their way into the menu with each fruit fully utilised from skin to seed.
One thing worth noting is that most citrus in the drinks is replaced with citric acid to reduce wastage as too little juice is extracted from a citrus fruit compared to what would be discarded afterwards.
How are the fruits used?
The task given to each bartender was to fully utilise every part of the fruit they have chosen, including the skin, flesh and seeds.
Mango, one of Malaysia's favourite tropical fruits, has the juice fermented with honey, flesh pureed and made into jam (a gift for guests sometimes), whilst the skins and seeds are distilled into a gin that's used to make a Negroni.
Dance of Calypso – White rum, lacto mango honey, lemon, coconut water, sugar
Watermelon is a big fruit and every part can be used. The juice goes into making the soda, the flesh is made into pickles as a bar snack, the rind gets pickled and made into a Bloody Mary (Emerald Dream in the menu), and seeds into seed paper which the bar gives to guests to bring home to plant.
Sunset Margarita – Tequila, aperol, lemon, sugar, watermelon soda, vanilla salt
Jackfruit is a tricky one as there is no way to use the skin. However, the flesh is used to make syrup or fermented into jackfruit wine and seeds into orgeat syrup.
Together is a beer cocktail with cognac, aperol, leftover Brewdog's Elvis juice re-carbonated as foam, lemon and jackfruit syrup.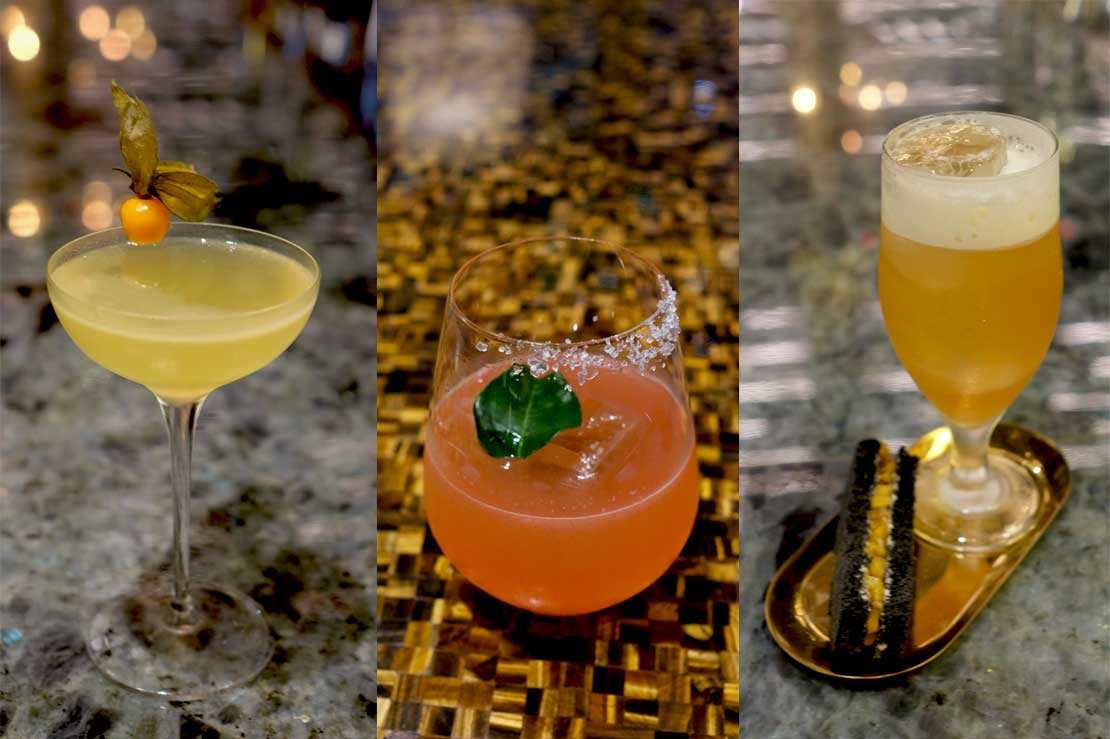 From left: Dance of Calypso, Sunset Margarita, Together
Mandarin Orange peel is made into soda and liqueur, the juice is made into citric acid and fruit caviar and used in Vespop, a rendition of Vesper, a strong drink but with a deceiving orange colour that makes you believe it's just juice.
Vespop – Vodka, vanilla vermouth, mandarin orange liqueur, corn silk bitter, mandarin orange caviar
What about the honey?
Working with local farmers has been the way Bar Trigona sourced their star ingredient, stingless bee honey from Dino's Kelulut Organic Farm in Negeri Sembilan. Their "Save the Bees" program has garnered interest in local bee farms and created awareness of the impact that bees have in maintaining the balance of our ecosystem. Honey is, therefore, still an important part of Bar Trigona's menu, which has evolved into an experience under their Honey Cocktail Flights.
This section highlights each honey's unique flavour profile through three classic cocktails, Bees Knees, Stiletto and Old Fashioned. Choose a cocktail and it will be made into three versions using three different honeys i.e. longan honey, durian honey and trigona honey, and served in a flight to be compared side-by-side.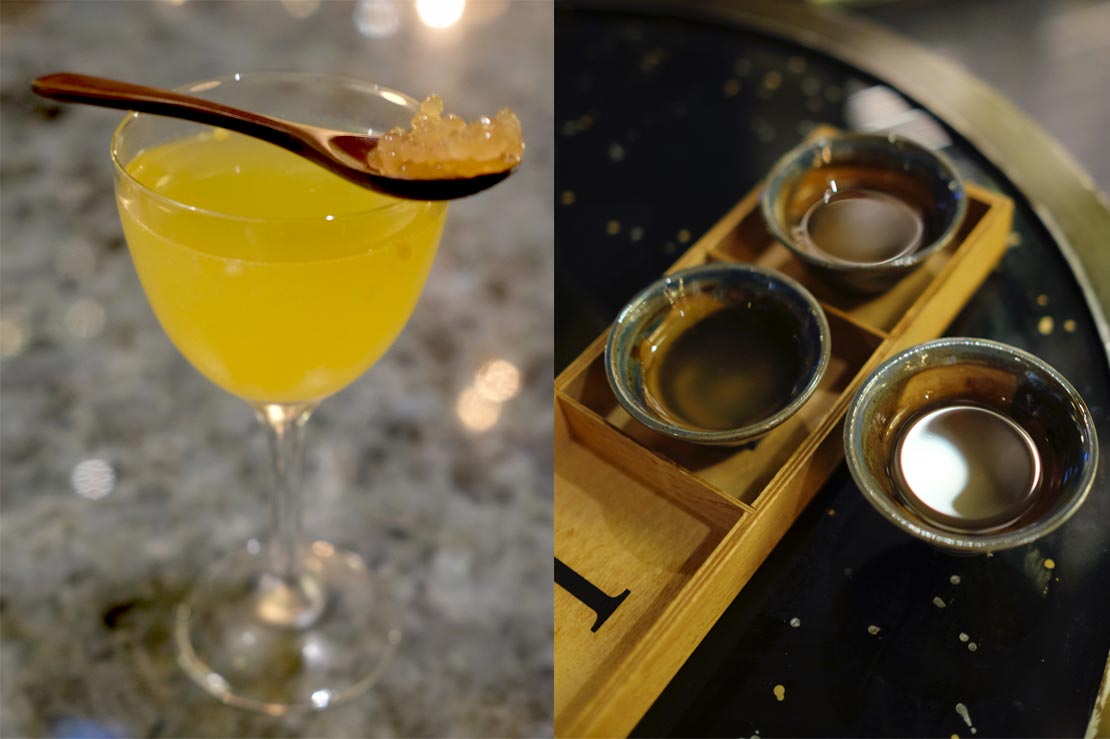 From left: Vespop, Honey Cocktail Flight
Local arts and crafts
Other than farmers, Four Seasons Hotel which the bar is part of, supports local artists and crafters by purchasing their work for the hotel. Through the contacts that help the hotel source local artwork, NowOrNever.MY, an independent design studio, was commissioned to design the menu and printed by InkInkDer using risograph, stencilling different shades of bright and vibrant pink and blue.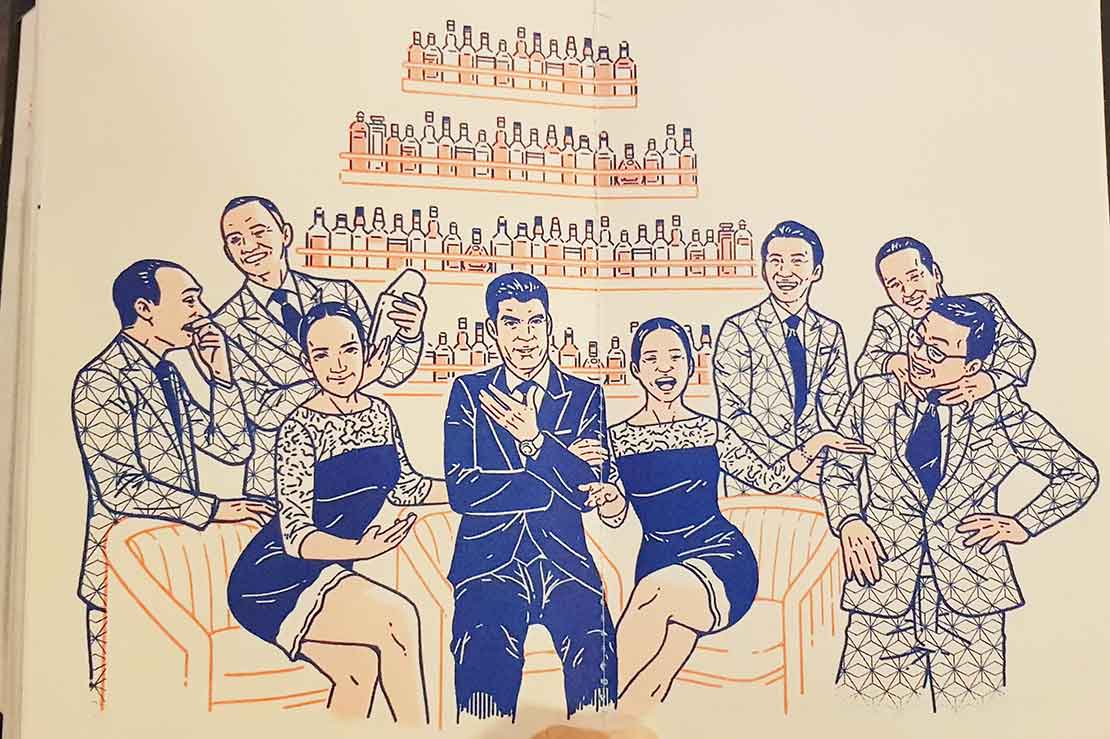 NowOrNever designed, ​InkInkDer printed Bar Trigona Menu.
Some six clay pots have become the latest addition to the bar's menu offering. These clay pots were made by local ceramic artist Potter Man based in Pahang. Clay pots have been part of our culinary culture in Malaysia for over 8,000 years, with different ethnic groups using clay pots to keep water cool, and to preserve food and drinks amongst their uses.
Claypot aged cocktails
To commemorate the guest bartenders who have done shifts at Bar Trigona, their cocktails are replicated and stored in these clay pots in rotation. To reduce the evaporation rate, sealant is applied on the top half, leaving half of the clay pot to react with the liquid during the aging process.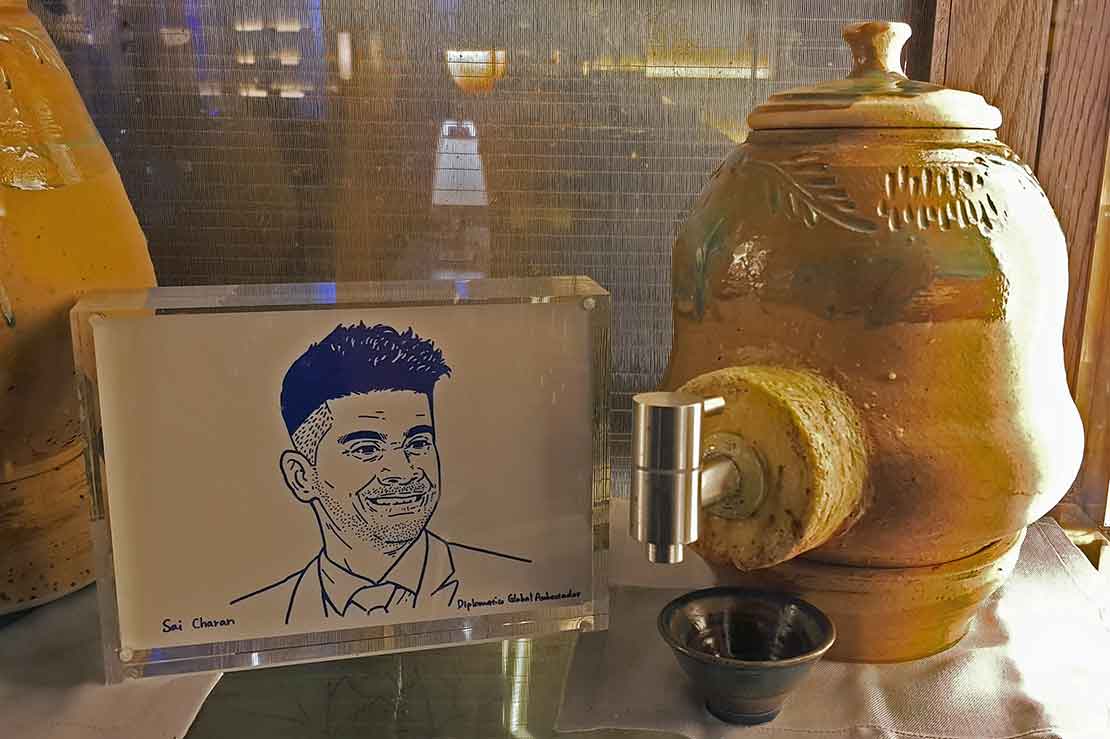 What Sharma and the team at Bar Trigona do is an effort to show appreciation for the common and everyday things that we have taken granted for. In times of crisis like Covid-19 when our health and that of the planet is at stake, sustainability is a way to balance things.
Here we talk about fruits and the industry eco-system; but the same ethos can be applied to every aspect of our lives. Go visit, adopt a hive, drink a cocktail, talk to the staff. It made my day, it will make yours too.
- T -