With over 200 years of history since being established in 1819, Bisquit & Dubouché may not be the oldest Cognac brand, but its cognac distilling experience can be dated back to the 1700s.
Acquired by Gruppo Campari in 2017, it was rebranded from Bisquit Cognac to its original name Bisquit & Dubouché, and joined the group's RARE Division portfolio in Singapore and Malaysia (Prestige Challenger in the UK), marketed alongside other premium brown spirits such as Appleton Estate, Glen Grant and Wild Turkey.
The current brand story surrounds the two founders, Alexandre Bisquit and Adrien Dubouché. Started first by Alexandre Bisquit who was exposed to the family's intuition-led distilling method, he was later joined by his son-in-law, a fine painter and ceramist Adrien Dubouché, who introduced an artistic flair to the brand. At its prime as the third most exported cognac label in the late 19th century, the brand was even endorsed by Josephine Baker, one of the most celebrated entertainers in France at that time.
Produced with intuition
"Bisquit & Dubouché eau-de-vie relies on intuition and knowledge rather than technical methods, extending extraction during heart collection in comparison with traditional cognacs," explained Thomas Mayr - Marketing and Channel Marketing Director Asia at Campari Group.
Before distillation, the liquid from grapes of four main crus - Grande Champagne, Petite Champagne, Fin Bois and Bon Bois, is naturally fermented between four to eight days, followed by double distillation in copper pot stills during November to March to maximise the extraction of its "eau de vie". The selection of the "heart" that is combined with the "tail", which is done by hand at the perfect point that best reflects the brand's characters, is a process only achievable through years of practice.
The result is a full-bodied cognac with aromatic floral notes and fruity concentration, a taste unique to Bisquit & Dubouche's two main expressions – VSOP and XO, of which the former has won 'VSOP of the Year' at the New York International Spirits Competition 2021. In a perfume making session hosted in conjunction with the launch of the cognac in Singapore, Maison 21G's founder and perfumer, Johanna Monange described the VSOP as "floral, delicate, yet strong and woody".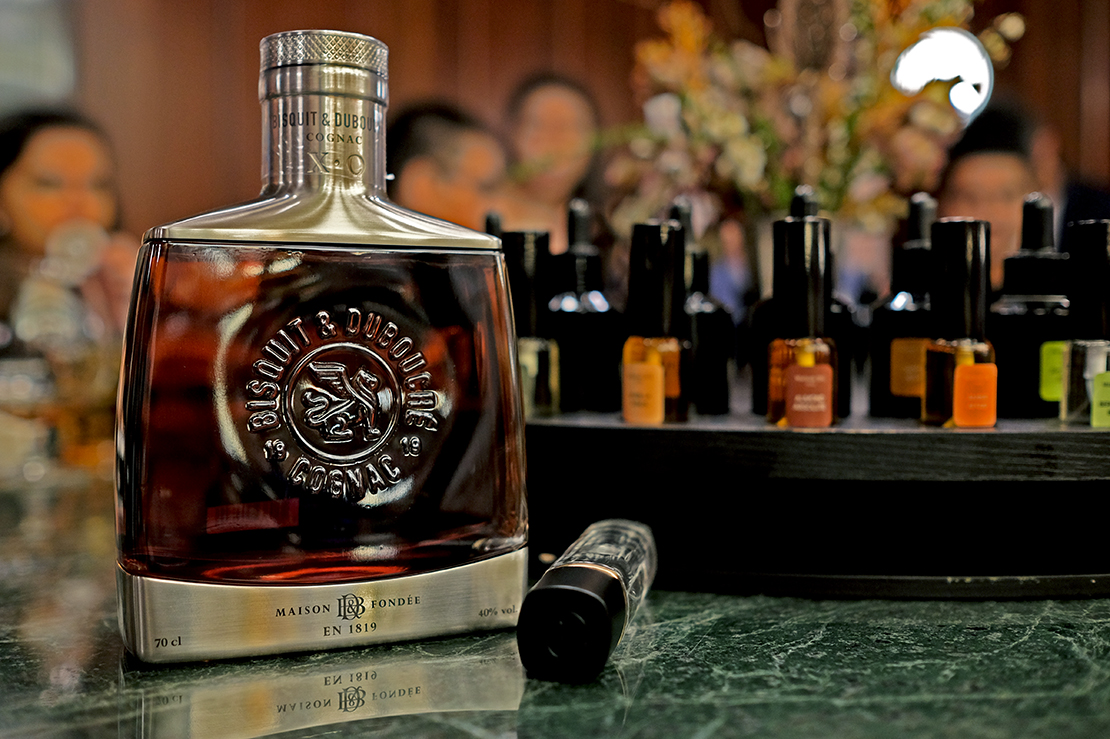 New Packaging
Bisquit & Dubouche's bottle packaging has evolved since the acquisition from the traditional design of a carafe bottle with an elongated neck, to a solid square with rounded edges, silver knurled cap, and an embossed redesigned griffin logo. The new design is described as "disruptive" by Mayr and is set to bring forth the progressive spirit with a modern perspective and to exude luxury.
Strategy in Asia market
Cognac has been a status beverage around the globe, and a fast growing one in Asia since the 1980s. Hence, the perception of an aged category among other spirits. When asked how Campari is positioning Bisquit & Dubouché to compete as a latecomer in the category, Mayr replied, "The cognac category is actually experiencing a renaissance in many markets, as brown spirits connoisseurs are exploring the category. Given its distinctive positioning and distinctive, award-winning liquid, Bisquit & Dubouché is set to delight the confident, aspiring and creative urbanites and is being made accessible to them in gastronomy bars, mixology bars, hotels and high-end restaurants."
Official tasting notes
Bisquit & Dubouché V.S.O.P.
Style: Fruity and complex
Aroma: Marzipan, candied pecan and Chinese five spice
Flavour: Brown sugar and maple, vanilla and spiced green tea
Suggested serve: Neat, on the rocks or in cocktails like Sidecar, Brandy Crusta, Champs-Élysées
Bisquit & Dubouché X.O.
Style: Rich, spicy and complex
Aroma: Marzipan, apple custard, spiced carob
Flavour: Spiced pistachio, mocha latte and ginger-peach tea
Suggested serve: Neat
Bisquit & Dubouché V.S.O.P. and X.O. are priced at SGD129 and SGD365 respectively and are available at selected retailers, with the X.O. sold in limited quantities.
- T -