Cognac has a reputation of being a complex, dark spirit that's enough to be enjoyed by itself. And if that sounds familiar, it's the same rep that gets whisky associated with purists.
To be fair, cognac isn't the youngest spirit in the bar, stretching back to the 1600s in Holland. The Dutch who were distilling gin, started distilling wine, and when the French caught on, they did it themselves and made arguably better distilled spirits.
Some of the oldest houses include Martell which operated since 1715, Rémy Martin since 1724 and Hennessy since 1765. Even "new kids" Courvoisier were founded in 1809.
What defines cognac is where it's from, with a protected Appellation of Origin for Cognac. Due to using a blend from a wide range of ages, cognac houses also avoid going by age statements. Instead the ages are divided by Very Special (V.S.): for Eau de vies with a minimum age of two years; V.S.O.P. for a minimum age of four years; and X.O. for a minimum age of six years.
However, realising there's more choice to life that "neat" or "on the rocks", cognac houses are increasingly encouraging fans to try their spirits mixed into cocktails, offering younger, more robust bottlings that can roll with a punch of citrus or stand toe-to-toe with another alcohol in the same glass.
The good news is that there is quite a selection of cognac cocktail classics to choose from, some nearly a hundred years old like the Sidecar. Given cognac's profile of an aged dark spirit, it can also be subbed into some whiskey or bourbon signatures, like the Old fashioned or Sazerac.
Here's a list to get you started, and to see the old spirit in a new light.
Rémy Martin Sidecar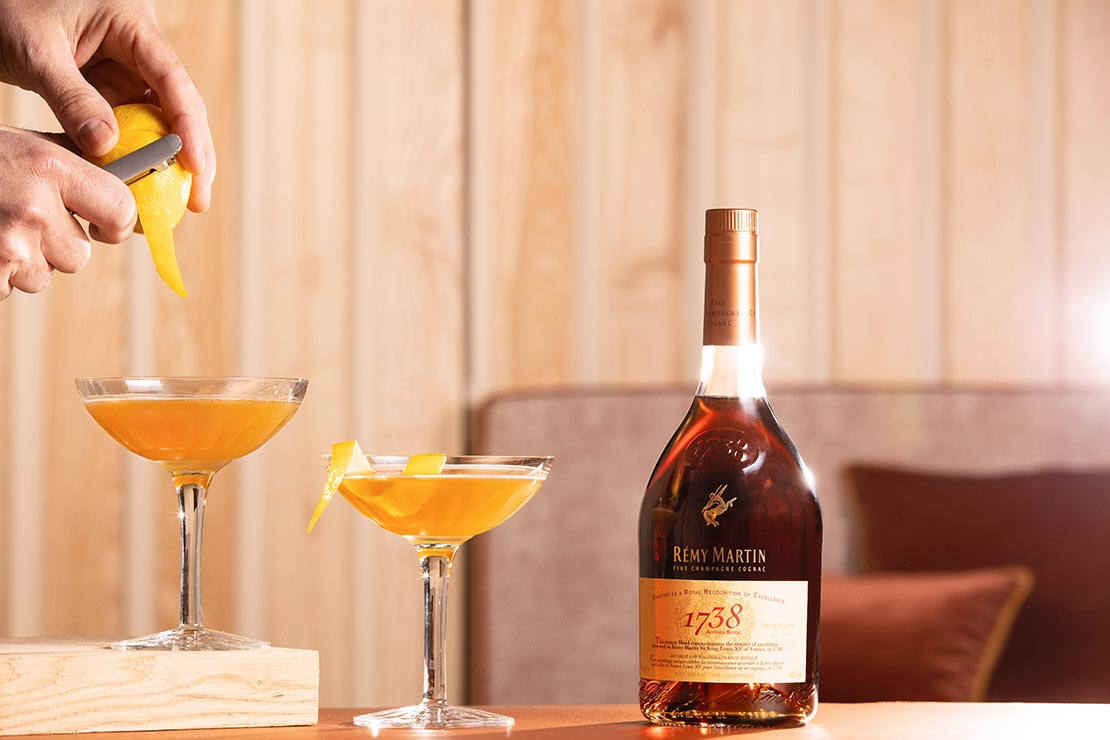 Probably the best known cognac cocktail, the Sidecar pushes the prim spirit out of its comfort zone with a healthy dose of liqueur, citrus and even a sugar rim!
Put to the page in 1922, in two books Harry MacElhone's Harry's ABC of Mixing Cocktails and Robert Vermeire Cocktails and How to Mix Them, the original called for equal parts cognac, Cointreau and lemon juice. Somewhat like MacElhone's gin based White Lady which adds egg white to harmonise the bold equal parts.
Modern versions of the Sidecar put cognac in the driver's seat, upping the power while dialling back the other ingredients.
Rémy Martin recommends its 1738 Accord Royal for cocktails, the top suggestions being the Sidecar or Tom Collins. With a touch of toasted brioche and vanilla, toffee sweetness, plus cognacs usual nutty and oaky notes, Rémy Martin says this bottling emphasises smoothness over fruitiness and richness, making it an ideal team player in a mixed drink.
Rémy Martin's recipe uses a 3:2:1 ratio, with its spirit on top, followed by orange liqueur and just enough lemon to brighten the drink. Going for a drier presentation, they omit the sugar rim and keep it classy with a citrus peel.
To make the drink, mix the lemon juice, Cointreau and cognac into a shaking tin, add ice and shake till cold. Pour into a coupe glass, using a strainer to prevent any ice shards or lemon seeds from getting in. Squeeze either an orange peel for rich flavour or lemon peel for freshness, then drop it in as a garnish.
30ml Rémy Martin 1738 Accord Royal
20ml Cointreau
10ml lemon juice
Garnish: orange or lemon peel
Hennessy Sazerac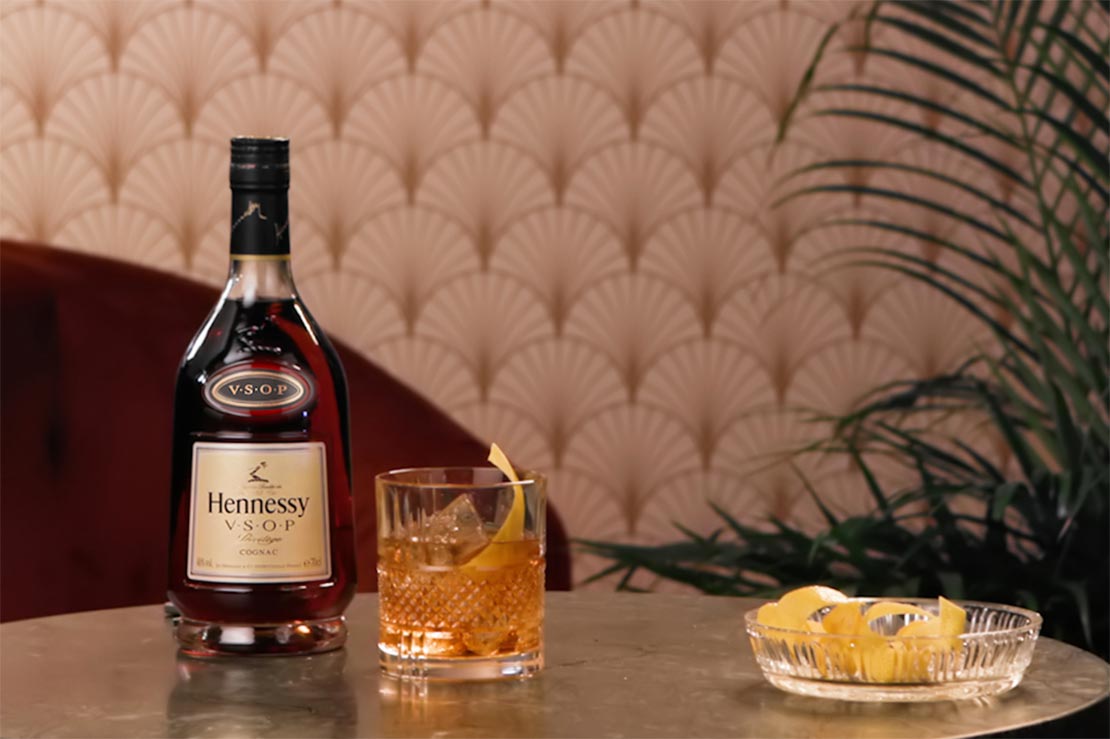 Though the default base for the Sazerac is now rye whiskey, it's believed that the Sazerac originally used cognac, a spirit prevalent in the cocktail's birthplace of New Orleans in the 1800s. The Sazerac Company even claims the recipe called for a cognac called Sazerac de Forge & Fils, which came from the family's vineyard back in France.
Regardless of which spirit one choses, what stays the same are its signature accompaniments: a rinse of absinthe, then stirring in sugar and Peychaud bitters to round out the drink, much like an Old Fashioned.
Switching rye for cognac shifts the flavour from the spicy, pepper accents to a fuller, fruitier presentation. Like a rye, Hennessy Very Special (V.S) is similarly matured in new oak barrels for a bold and fragrant character, of toasted almonds and vine fruit notes.
Hennessy says its V.S has round and robust flavours versatile enough to be mixed into a variety of cocktails, adding a creamy palette with vanilla and a floral finish.
Bartender Gary Regan's recipe starts with preparing the drinking vessel, using an Absinthe rinse in a rocks glass, adding crushed ice and setting aside. Next build the drink in a mixing glass - add cognac, simple syrup and the bitters - then stir till chilled.
Discard the ice and leftover Absinthe from the rocks glass (to enjoy the cognac, you don't want to add too much flavour from the rinse), then strain the cocktail in from the mixing glass. Express a lemon peel over the drink, and add it as a garnish.
Absinthe, to rinse
60ml Hennessy V.S
15ml simple syrup
3 dashes Peychaud's bitters
Garnish: lemon peel
Martell NCF Float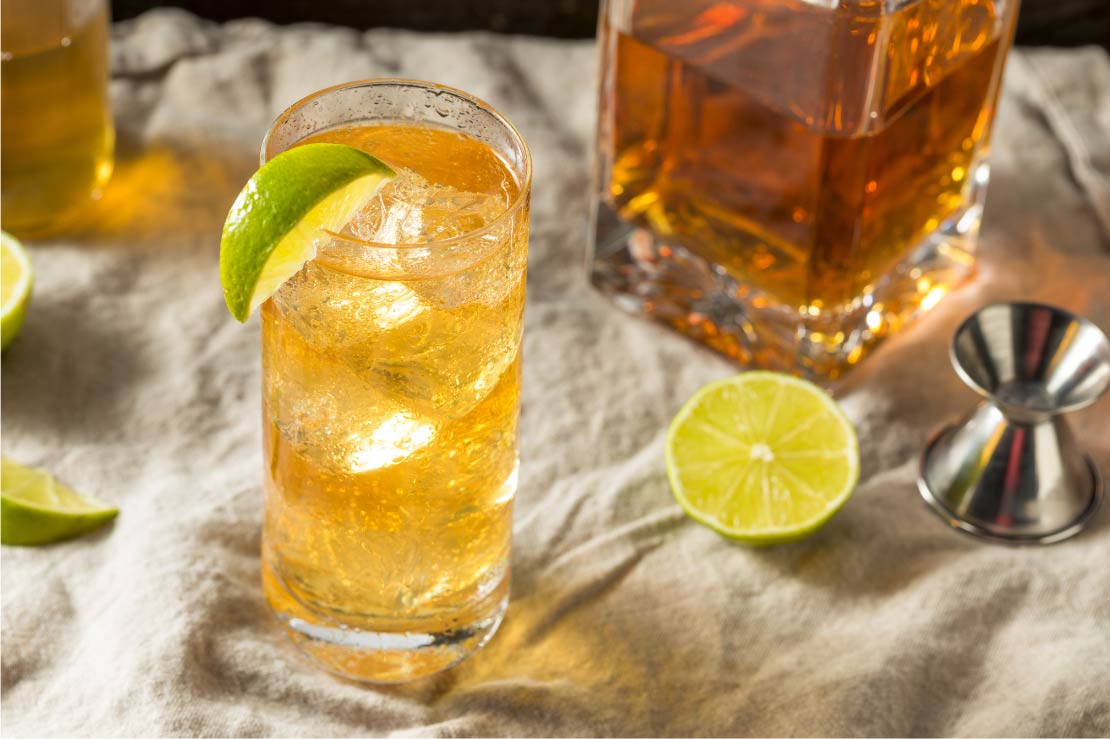 Where the Sazerac calls on a double pour of cognac, those looking for something lighter to start the night would be best served with a bubbly highball.
Typically for cognacs, that would be the Tom Collins - cognac with lemon juice and simple syrup, topped with soda water. In fact this refreshing drink is light enough to be had on a hot afternoon, like a spiked lemonade.
In the spirit of keeping it simple, Martell's NCF float cuts it down further to just the base spirit, your choice of mixer - from soda, to ginger ale or lemonade - and a garnish.
Martell NCF's sets itself apart by being filtered at room temperature, unlike most cognacs which are done below 0ºC , which they say gives it more expressive aromas on ice. This includes hints of apricot jam, vanilla plus citrus notes of mandarin and pink grapefruit. Its taste matches the nose with a mix of citrus peel, candied fruit and vanilla.
The NCF float needs no special bartools, and can be built in glass. Start by adding ice, pouring the mixer of your choice, then floating the cognac onto the drink. Do this by placing the spoon - bottoms up - close as possible to the waterline. Next, slowly pour the cognac onto the spoon, which drips it gently into the drink and avoids mixing it too much.
This way, the cognac gets a chance to shine, hitting your taste buds ahead of the rest of the mixer. And if you take time with the drink, it will naturally sink in, giving a different, more blended taste like a typical highball.
20ml Martell NCF
100ml Sparkling soft drink (soda water, ginger ale, tonic water, lemonade)
Garnish: lemon peel
Courvoisier Old Fashioned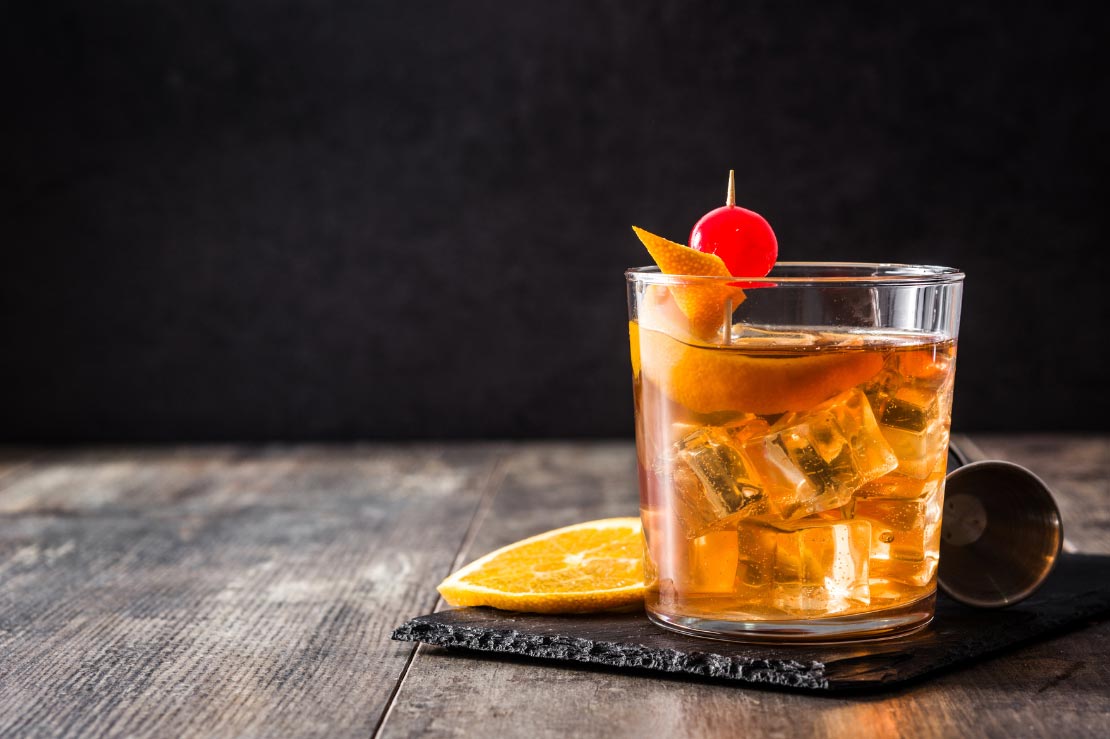 The Old Fashioned has as much history as most cognac brands, stretching back 200 years. Supposedly first made in Louisville, Kentucky in 1881, it still is their official cocktail.
Coming from Kentucky, it's no surprise that the original calls for bourbon, but this spirit forward drink works with a variety of bases, typically barrel aged ones including cognac.
The important thing is that the cocktail emphasises the base, with the sugar softening it slightly, and a measured dash of bitters adding to the aroma and balancing the sweetness. This means not cheaping out on your base!
Courvoisier's VS is amply able to take on the role, its makers' philosophy being to realise the potential of each ingredient, ensuring every part can be tasted. Its opening notes are fruity with apples, pear and grapefruit, followed by floral and an oaky finish.
The brand has no qualms about having their cognac mixed into drinks, their Master Blender André Boufflet having developed a cognac made to be blended back in the 1950's. While the Old Fashioned isn't the most out there cocktail, having just three ingredients, it will breath a new light to cognac, especially to those more familiar with drinking it neat.
An old fashioned can be built in the drinks glass or combined in a mixing glass, then strained in, typically into a rocks glass. While some recipes use sugar and depend on the bitters to dissolve it before adding the spirit, for a more consistent drink, it's better to use syrup.
Start with an ice cube, then pour in the syrup, bitters, and cognac. Stir to combine and chill the drink. Express an orange peel over the drink, and add it as garnish.
60ml Courvoisier VS
12.5ml simple syrup
3 dashes Angostura's bitters
Garnish: orange peel
Tesseron French 75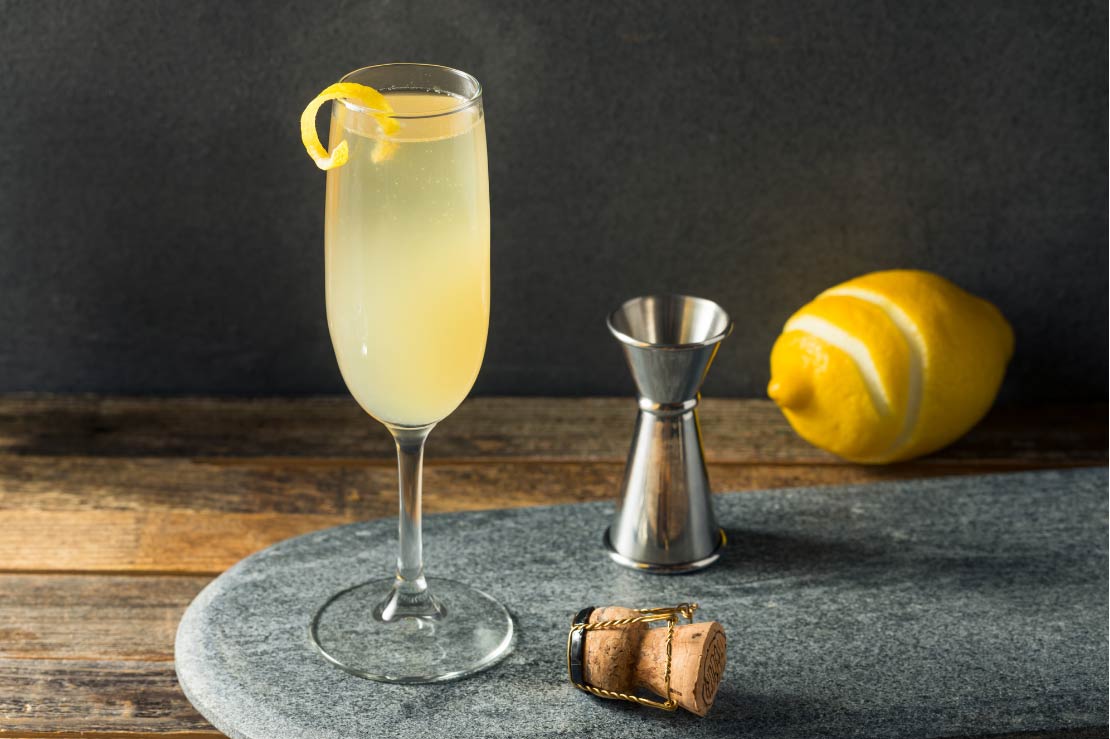 What could be more French than cognac? Probably making it into a French 75, where it can mingle with its liquid countryman, champagne.
The drink has a mixed up history, being a prohibition era cocktail from the US but taking its name from the 75mm field gun French soldiers used during World War One. While the exact inventor is hard to pin, once it was added to Harry Craddock's "The Savoy Cocktail Book" in 1930, the French 75 made its way back to Parisian bars. Another point to contest: is it made with gin (as typically seen in bars today) or with cognac?
The important point is that it definitely tastes good with cognac.
In the case of Tesseron cognacs, the champagne shares a hometown, as Tesseron's are made from Ugni Blanc, Folle Blanche and Colombard grapes grown in the Champagne region since the 1900's. For cocktails, they suggest its Composition cognac, the brand's first non-XO release. The Composition cognac boasts enough complexity with spiced autumn fruit, white flowers and fresh plum.
The drink is of course served in a champagne flute to best show off the bubbles, with the base ingredients shaken before adding the champagne to avoid killing the fizz.
In a shaker tin, add freshly squeezed lemon juice, simple syrup and cognac. Add ice and shake till cold. Strain it into the champagne flute and top with champagne. Add your fanciest cut lemon peel, then it's ready to serve.

30ml Tesseron Composition
15ml lemon juice
15ml simple syrup
90ml Champagne
Garnish: lemon twist
- T -