21 May 2012, St. Regis Hotel, Singapore – I was given a glass at the registration hall when I arrived at 1pm. The purpose of this was for tasting, of course.
It was tough to choose where to start when I entered the hall. On my left was The Monkey Bar serving cocktails, on my far left was the dessert counter and the rest of the hall was filled with different brands of whisky and whiskeys from all over the world.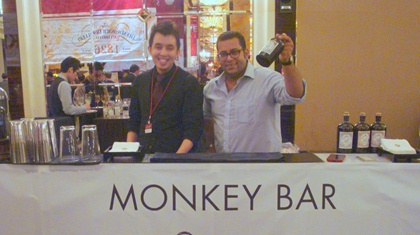 I decided to walk to the organiser's booth – La Maison du Whisky – and I was introduced to Strathisla and the Artist Collection. It was here that I met Marlene Leon, the manager for La Maison Du Whisky, who shared with me about the increasing popularity of whisky in the French market and that France currently receives the largest volume of imported whisky in the world.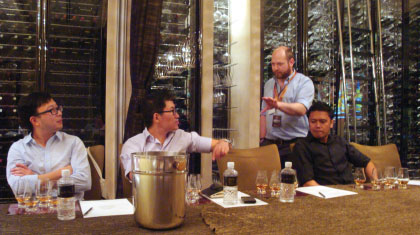 Then, it was time for the master class conducted by Stephen Marshall for Dewar's. The class was conducted in a room downstairs away from the event hall. This one-hour class (attended by 15 people) was informative about whisky laws, history, the making of and the different types of methods used. We also did some tasting on Aberfeldy and Dewar's 12YO, 18YO and the Signature. We were introduced to Dewar's latest smartphone application – Dewar's Clink. Tap your phone with 6 different friends and show that to the personnel at Dewar's booth to get a sample bottle of Dewar's 12YO.
I took a tour around the hall, visiting the entire floor of whisky and bourbon booths before proceeding to the desserts counter. I met the Pastry Chef, chef Wong Joon Kit from Malaysia, who introduced me to his creations of 8 different types of desserts made using Adberg, Great King Sreet: The Artist's Blend, Nikka and Blanton. I liked Great King Ice Cream the most as you can taste the whisky in the gelato but it is not overpowering like the Adberg's Almond and Vanilla Pear Bavaroise. The Green Tea Truffle definitely went well with Nikka whisky.
By the time I went to Monkey Bar, it was at the end of the trade show and the organiser announced for the guests to leave the hall. I managed to take a photo of the Monkey Bar and the mixologist at that time – Raveen Misra from Nektar. Time does fly when you are enjoying yourself. I find the people who love whisky are definitely passionate and nice people. I want to attend one in Kuala Lumpur, would you like that too?
If you would like to have similar whisky event in Malaysia, please go to our homepage, click on the Facebook icon on the right panel and vote on the Would you participate in a whisky event like Whisky Live 2012 if it was to be in Malaysia? on our Facebook page.