The final for Monin Cup 2018 Student Chapter wrapped up last Saturday (12 May 2018) at Truffles Restaurant, Taylor's Lakeside Campus. 12 students from 6 colleges and universities battled head on in two categories: Cocktail and Mocktail.
The Champion in the Cocktail category will move forward to take part in the Monin Cup Asia Pacific league in October with Malaysia's professional champion, facing professional bartenders from the rest of South East Asian region.
The annual competition held by Monin since 2010 was changed to biennial since 2014, and has seen a rise in the quality of tastes and techniques. With the theme of "Mix Your Origins" this year, interesting and creative ingredients and stories, some being personal to the contestants, were brought to the competition.
Mocktail
Champion of the category, Chan Shae Lyn from Taylor's University Malaysia created her drink "Be Brave" based on the breast cancer awareness drive, where the drink's colour resembles the international symbol Pink Ribbon. The recipe is a combination of cancer-fighting food such as mangosteen, pomegranate, apple, cherry tomato with Monin Lemon Rantcho and Monin Watermelon.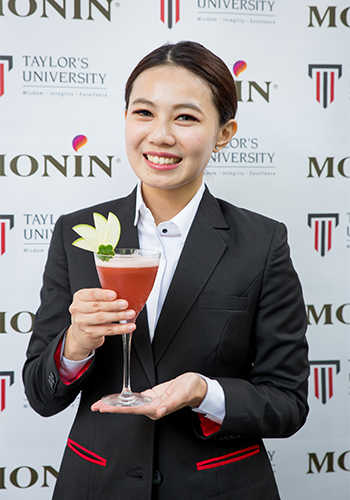 Chan Shae Lyn - Be Brave
The First Runner-Up Chua Yuen Ching from the same university concocted her Dragon Elixir with Monin Asian Lemongrass Syrup, Monin Yuzu Fruit Mix, white dragon fruit, bitter gourd juice, aloe vera, kiwi, mint leaves and honeydew powder with the intention of a healthy drink using locally available ingredients. The Second Runner-Up from KDU University College, Sim Tien Pey's Asian Accordance highlights her favourite flower, cherry blossom, creating a pink-tinged green drink that tasted sweet with roasted umami flavours from the matcha green tea and roasted rice, genmaicha, Monin Cherry Blossom Syrup, Peach Fruit Base, Asian Lemongrass Syrup, lime and soda water.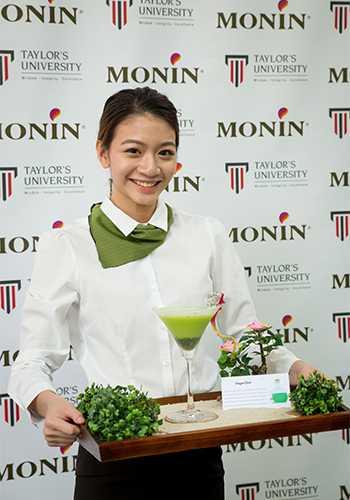 Chua Yuen Ching - Dragon Elixir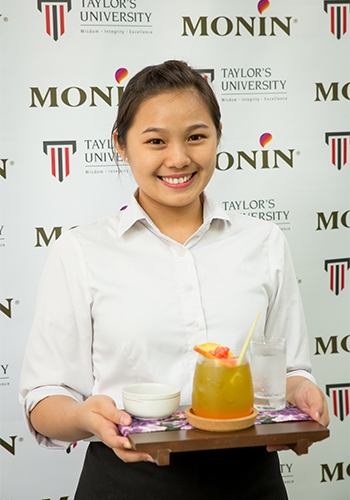 Sim Tien Pey - Asian Accordance
Cocktail
Did we say these are students and the Champion is going to compete among the professionals? Ivon Soon from Berjaya University College has won herself this task to represent the student level for Malaysia. Her Bayu Kenyalang is a daring concoction using bambangan, a fruit originating from Sabah and described as "pungent" at the same level as durian. She pulled off the recipe with gin, tuak, spicy sesame oil, kaffir lime leaves, calamansi, egg white, Monin Spicy Mango Syrup and Elderflower Syrup.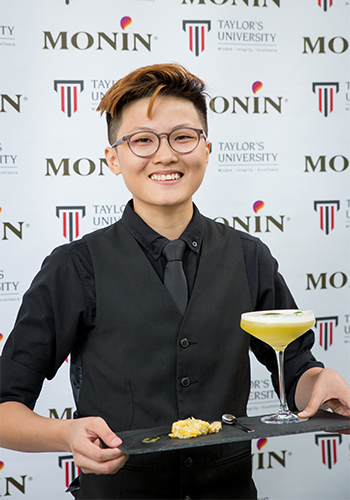 Ivon Soon - Bayu Kenyalang
Whimsical Garden 2.0 by Tracia Chan Qi Li from KDU made it as the First Runner-Up using a chemical reaction of citrus and butterfly pea flower made into ice cubes to allow the beverage to change colour over a period of time. The rest of the ingredients in the recipe are gin, Monin Pink Grapefruit Syrup, Pineapple Syrup, Mango fruit Mix, kaffir lime leaves and soda water.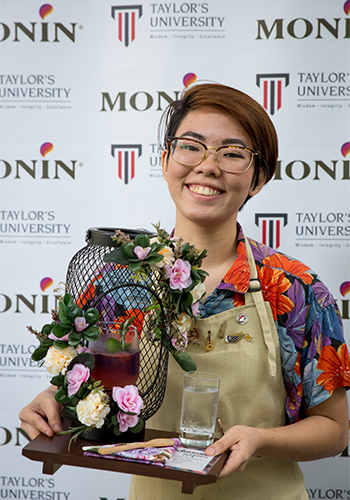 Tracia Chan - Whimsical Garden 2.0
The Second Runner-Up, Lee Jia Wen from Taylor's University Malaysia, asked the audience to reflect on themselves, like her creation Reflect-ioned that uses Hibiki Harmony Whisky, Monin Pink Grapefruit Syrup, 38 Tripple Sec Curacao Liquer and tonic bitters. This is the only contestant that did a twist from a classic cocktail.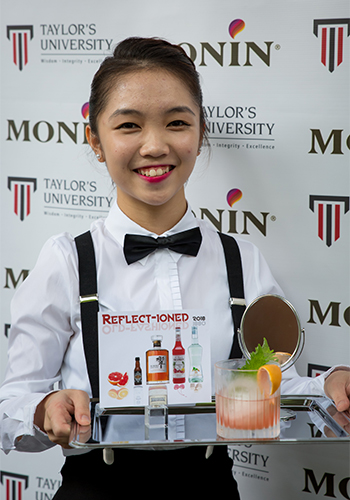 Lee Jia Wen - Reflect-ioned
The three sensory judges were Shawn Chong of Omakase + Appreciate, Ash Mariano of The Vault and Kim Choong of thirstmag.com; whilst the technical judge was CK Kho of Coley KL.