Cacao husks are generally discarded after the flesh is extracted. The same goes for cascara, the shell of coffee cherries. But both cacao husks and cascara (meaning husks in Spanish), which are sometimes used to make teas, contain flavours from the fruits they originally contained, while also reflecting the terroir where the plants were from.
Native, an award-winning bar in Singapore, and Young Master, one of Asia's leading craft breweries from Hong Kong, have come together to brew a stout that uses cacao husks and cascara. The use of cacao husks (from Singapore's Fossa Chocolate) and cascara (from West Java coffee beans) ties in with Native's philosophy of "sustainability" and the idea of using these came from the cocktail bar's general practise of utilising every ingredient down to their skins.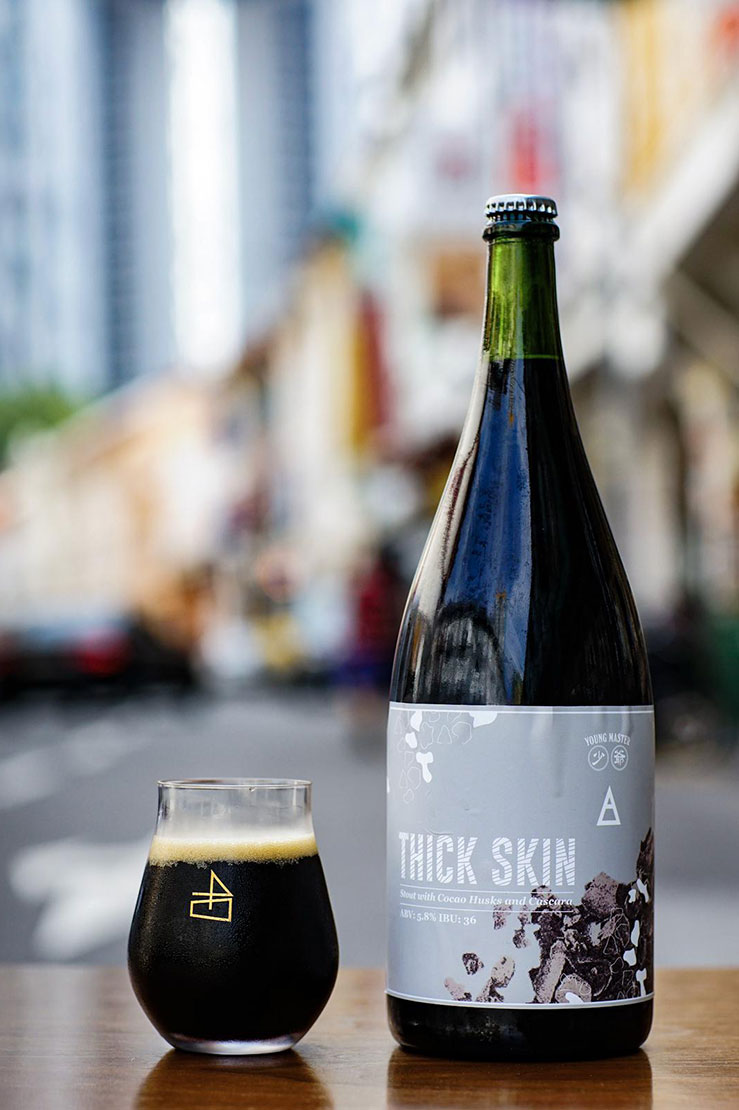 The result of this collaboration is Thick Skin, a sessionable ale that showcases the unique aromas and flavours that are still obtainable from these "waste products". Thick Skin is chocolatey on the nose with an earthy note from the cacao husks, sweet but light on the palate, with hints of dark fruit from the cascara. Highly drinkable, this could easily replace the afternoon mocha!
Thick Skin was launched at Native on 17 October 2019 in 750ml bottle format. Priced at SGD35 each, limited quantities of the bottles are currently exclusively available at the bar. The first keg was tapped the next day at The Guild, Young Master's partner bar in Singapore. A 450ml serving is priced at SGD19 and is recommended to be paired with Pulau Ubin oysters (SGD3 per piece). The pairing is available at The Guild for up to 3 pieces per pint of Thick Skin.
- T -