Malaysians are patriots. When we heard "The Best Malaysian Whiskey", we jumped for joy and looked up the whisky to see if we could get our hands on a bottle. Yeah, like you didn't do that.
This is the first time we've heard about a Malaysian whisky, and, winning awards. So, how is it made? What ingredients are used? What is the age? Can we visit their distillery to see the process? Maybe we could even get to see how whisky is aged in Malaysia in this hot climate.
The terms "whisky" and "whiskey" are used interchangeably in this article because the former is defined under Malaysia law and the latter is used by Timah, a new brand that recently conducted a virtual launch to media in Asia. For the differentiation between the terms "whisky" and "whiskey", please read Whisky or Whiskey by Matthew Fergusson, previously brand ambassador for Glenfiddich.
The launch
Timah, which means "tin" in Malay, was launched through Zoom on 7 October 2021, with invited regional media from Malaysia, Singapore, India, Philippines and Taiwan. Every invited media received a bottle of Timah and a whisky tasting glass.
The launch was hosted by an emcee and kickstarted by the two directors from Winepak/Thai Seng, Gilbert Yeo and Kenny Yeo, and Tony Allen, the Global Technical Consultant who had inspired Winepak to create Timah.
The event went on to introduce the person on the label, historical figure Captain Tristram Charles Sawyer Speedy, a British officer and explorer who had spent some time in Malaya during the Victorian era. While Captain Speedy has nothing to do with the Timah brand, he is quoted by Timah as being one of the few who introduced whisky drinking to Malaya.
When it came to the media Q&A session, the emcee invited media to post questions in the chat room. At the same time, a 10-question quiz was held to give away some Winepak products. A couple of questions were posted, such as "Why does Timah use the term "whiskey" and not "whisky", and "What is in the blend in Timah?". However, instead of answering media questions, two pre-designed questions were shown on the screen instead of questions typed in the chat box.
Timah as an alcoholic product
To find out more about the brand, I emailed Govin Singh, the marketing representative from Winepak. Here is a summary of what I was told:
Timah is a blend of two imported peated malts (they preferred not to disclose the country of origin due to the sensitive nature) and a locally distilled neutral spirit
The neutral spirit is distilled from sugarcane molasses
Timah is aged at least 3 years (though they have previously published their product to be 8 years – refer to the screen shot below) in oak barrels in Selangor
Whiskey with an 'EY' is used to differentiate Timah from the Scottish, Canadian, or Japanese grain spirits, and

Grammarly

was referred to for the word's definition
The distillery is not open for visit
The bottle packaging says that Timah is distilled, blended and bottled at 40% alcohol by volume in Malaysia.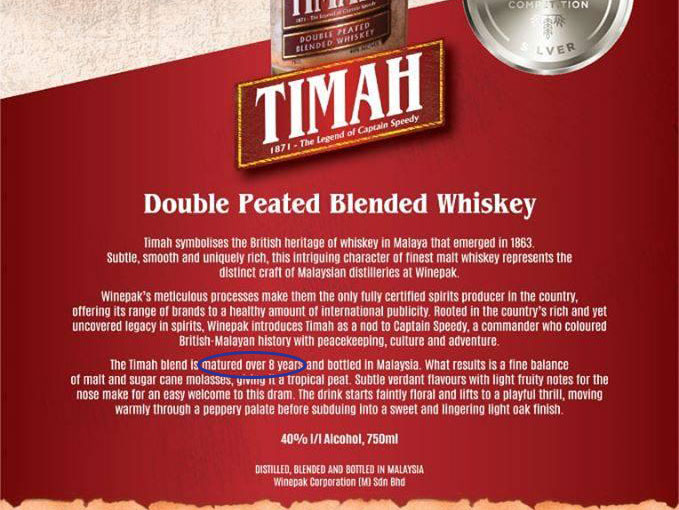 The definition of "whisky" in Malaysia
Although there isn't a regulatory body in Malaysia for whisky like the Scotch Whisky Association that lays down the specificity about the spirit, we still have a regulation that defines spirits produced in Malaysia and the law that governs labelling.
When probed, Govin from Timah replied in the email, "According to Malaysian law of Food Act 1983 (ACT 281) & regulations there is no specific term mentioned to be strictly used as long as the whiskey produced has undergone alcoholic fermentation and shall contain not less than 37.5% volume per volume of alcohol."
This is simply not true, as "whisky" is clearly defined in the Food Regulations 1985 as:
381 Whisky
(1) Whisky shall be the spirit produced by the distillation of cereal or cereal product which has undergone alcoholic fermentation. It shall contain not less than 37.5 per cent v/v of alcohol.
(2) Whisky may contain caramel as a colouring substance and permitted flavouring substance.
Though broad, it is plain: A whisky can be distilled from cereal or cereal product. There are definitions for other spirits with the raw ingredients they should be derived from, such as rum from sugarcane product, vodka from grain, and gin should be flavoured with juniper berries (regulation 377 – 386 defines spirits in the Food Regulations). For the full spirits list, please read "The definition of spirits in Malaysia".
Then what is Timah?
Under the Food Regulations which were updated in 2016, Timah is a compounded hard liquor, as it is a blend of two or more types of spirits, i.e. two peated malts and a neutral spirit distilled from sugarcane molasses (agricultural origin):
386A(1) Compounded hard liquor -
(a) shall be a blend of two or more types of spirits;
(b) shall contain ethyl alcohol of agricultural origin or distillate of agricultural origin;
(c) shall contain equal to or greater than 32.5 percent volume per volume of alcohol; and
(d) shall not be an alcoholic beverage as prescribed in regulations 377 to 384 and regulation 386
(2) Unless otherwise provided in these Regulations, compounded hard liquor shall be packed in a glass bottle and the minimum volume shall not be less than 700ml.
(3) There shall be written in the principal display panel in the label on a package containing compounded hard liquor, the words "compounded hard liquor" in accordance with sub-regulation 12(2).
(4) Notwithstanding sub-regulation (3), the word "compounded" shall not be conjoined together with the name of any other alcoholic beverages under these Regulations.
(5) There shall be also written in the label on a package containing compounded hard liquor, the words "compounded in..." in no smaller than 4 point lettering which specifies the name of the country where the compounding was effected.".
So is it a whisk(e)y or not?
There is no "whiskey" under the Malaysian law.
Adding an "e" to the legally defined term of "whisky" on the product packaging is not in itself sufficient to create a new category under the Malaysian law, neither does it differentiate itself from whisky when the product itself is under an entirely different category, i.e. compounded hard liquor. By telling consumers that the use of "whiskey" is to differentiate itself from "whisky" is not only confusing, it is misleading.
What about the awards?
Award certification bodies are not legal entities and can't speak for the respective entry's local authorities. Though to maintain the integrity of their awards, checks should be done to ensure all entries comply with categories in their jurisdictions.
When reading about an award, consumers should also look at how these award certification bodies accept, process and judge their entries. If it is just a taste assessment, then it is safe to assume that categorisation and legalisation of the entries are not considered.
Regardless of which countries these entries come from, any written law is public information. If in doubt, here is the link to the Malaysian Food Regulations 1985.
What should have been done about the product labelling and information?
Be transparent about the ingredients used and the process of making the product.
Clear labelling on Timah product that it is a compounded hard liquor according to Malaysian law.
Clear labelling that follows the Malaysian guidelines for alcohol.
385 Particular labelling requirement of spirit
(1) The word or words "brandy", "fruit brandy", "rum", "samsu", "whisky", "vodka" and "gin" shall not be conjoined with any other word except those words which denote the source of the product, place of manufacture or brand.
It simply means a vodka is a vodka and cannot be called "vodka gin"; or whisky is a "whisky" and cannot be called "whisky rum" by simply combining the two types of spirits together.
Would you not want transparency and correct labelling from a spirit that has won an award and representing your country?
- T -