KUALA LUMPUR, 6 MARCH 2023 - Every March, the annual commemoration of International Women's Day sparks endless discussion across the F&B industry about representation of women.
About IWDDE 2023
Women in the F&B industry have historically been underrepresented. For the hospitality industry, this is always particularly contentious. May it be in roles such as producers, operators, front and back of house, barbacks, sous chefs, pastry chefs, PR and marketing, supply chains, and administration. The gender balance of those working in bars and restaurants is unequal for a variety of reasons, particularly in kitchens. Many women are put off by long hours, difficult working conditions, making a career in hospitality unappealing to many.
What we'd like to address this year is the scarcity of media attention devoted to unsung female heroes, and there is still much room for improvement in this regard. Women play an integral and interesting role in the food industry. There were so many women whose stories that have yet been told. With this in mind, Thirstmag.com and Set the Tables have joined forces to champion the industry's unsung female heroes. Let us use this month to honour our female colleagues, to elevate them, and to inspire future generations of women to choose hospitality as a profession.
IWDDE 2023 Outlet Map
For IWDDE 2023, each participating bar, restaurant, or café will feature their female peers and staff, as well as what they are appreciated for. During the month of March, participating establishments will also highlight a drink or dish inspired by their female employees for customers to try. Refer to this map with IWDDE 2023 promotion which feature outlets that promote equal opportunities and a positive environment for their female staff to grow, they include Foxhole (Penang), Kapitan Haus, Dissolved Solids, Reka:Bar, Triptyk, Joloko, Backdoor Bodega (Penang), Boci, BAC, Ignis, Aposto, LI, ShhhBuuuLeee, Gooddam, WAIG, MyBurger Lab, Bisou, Afloat Coffee Roaster and more.
Collaboration with Johnnie Walker
Known as a brand championing inclusivity culture at workplace, Johnnie Walker's two global campaign "First Women'' in 2020 and "First Stride'' in 2022 were initiated as an effort to focus on supporting female entrepreneurs.
"The First Strides initiative focuses the brand's ambitions to support individuals and organisations within underrepresented communities," said Sophie Kelly, Senior Vice President of the Diageo North America, which resonates with IWDDE 2023 initiative this year to put the shine on the underrepresented female players in the F&B industry.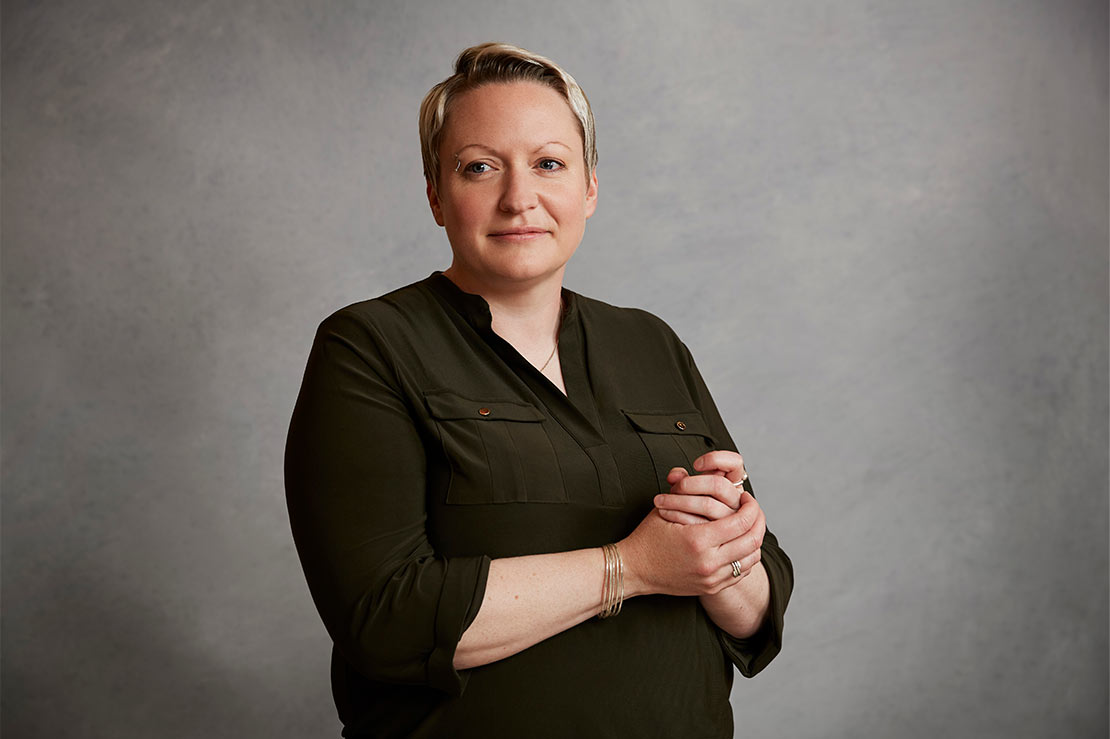 Dr. Emma Walker, Johnnie Walker Master Blender since 2022.
The majority of Johnnie Walker's campaigns promote inclusivity and are committed to consistently providing opportunities for women to succeed in shaping the future of the company. The appointment of Master Blender Emma Walker, the first female master blender in Johnnie Walker's 200-year history, is a clear example.
Johnnie Walker Pop-ups
For 2-nights only, the two pop-ups will showcase 5 female tastemakers who will create immersive experience and flavours as bold and dynamic as the liquid itself.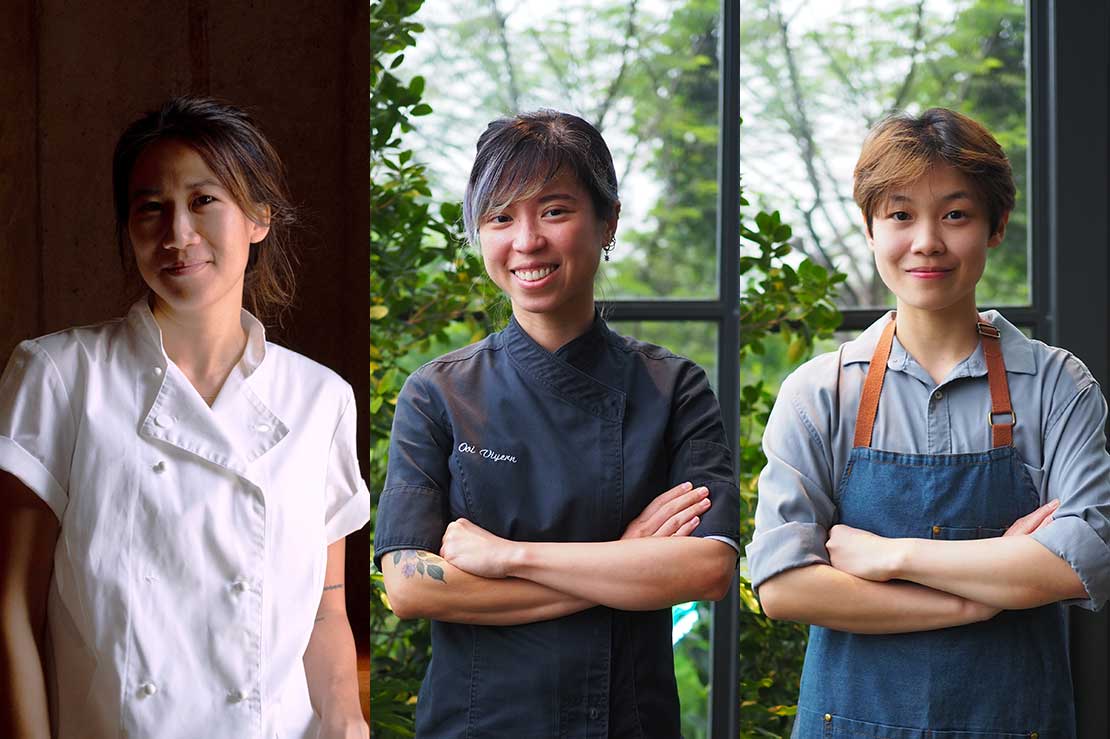 From left: Chef Jun Wong (Yellow Fin Horse), Pastry Chef Ooi Viyern and Bartender Chong Wen Shan (Ignis)
Pop-up 1: Ignis x Yellow Fin Horse IWD Gastrobar Experience
Date: 15 March 2023 (Wednesday)
Time: 7pm onwards (Public)
Venue: Ignis - G-02A, Ground Level, The Sphere, No. 1, Avenue 1, Bangsar South City
Ticket price: RM400 (pre-booking required)
Booking: +6012 343 9566
Chef Jun Wong (Yellow Fin Horse, Elyse Hotel, opening in April 2023), pastry chef Ooi Viyern (Ignis), and bartender Chong Wen Shan (Ignis) will collaborate on a 7-course tasting menu for one night only. A preview of Chef Jun's highly anticipated Yellow Fin Horse menu, Johnnie Walker whisky-paired desserts by next generation pastry chef Viyern and cocktails by bartender Wen Shan will be on the menu.
About Ignis (IG: @ignis_kl)
Their cuisine is a fusion fest of modern European and Asian inspired ingredients. Almost every dish gets a hearty lick of our flames over woodfire and charcoal grills. You'll be sampling from the freshest produce sourced locally from our Malaysian farms.
About Yellow Fin Horse (IG: @yellowfinhorse) Opening in April 2023
A restaurant that pays homage to basic, elemental, open-fire cooking, with a "made from scratch" approach, revolving around fresh produce and seafood centric dishes, via elevated shared plates.
About Jun Wong
A culinary veteran in her own right, having her nose to the grindstone in top restaurants listed in the Michelin guide and the "50 Best" list, Jun brought her honed mastery back to homeland Kuala Lumpur in 2017. Today she continues to instill her philosophy of "respect, restraint and understanding" towards food while elevating KL's culinary scene.
She helms Yellow Fin Horse, an elemental, open-fire cooking, seafood centric restaurant in Else Kuala Lumpur, leading with strong values towards social responsibility and sustainability that starts in the kitchen.
About Ooi Viyern
Pastry chef Viyern is a rising star of our generation. Upon her graduation from Culinary Arts in Switzerland, she seized the first chance to work abroad when the opportunity presented itself. Over the next few years, she traversed from Geneva, Turkey, New York, to Singapore, where she led the pastry section for one-Michelin-starred Saint Pierre before returning home to Kuala Lumpur to join the opening team of Saint Pierre Kuala Lumpur.
Always striving to improve her craft and broaden her horizons, she was instrumental in the opening of Willow KL, W Hotel before taking on her current role as Executive Pastry Chef of Fine Diners Sdn Bhd., an upcoming restaurant group with brands such as Ignis, The Farm, and more to come.
About Chong Wen Shan
Wen Shan studied Culinary Arts in Taiwan before beginning her professional career as a barista at Privé in Singapore. She is drawn to the endless possibilities of crafting drinks after being exposed to them at Privé. She has since decided to hone her bartending skills. When she first started with Fine Diners Sdn Bhd., she was also a barista and bartender. She is now the bartender at Ignis.
-----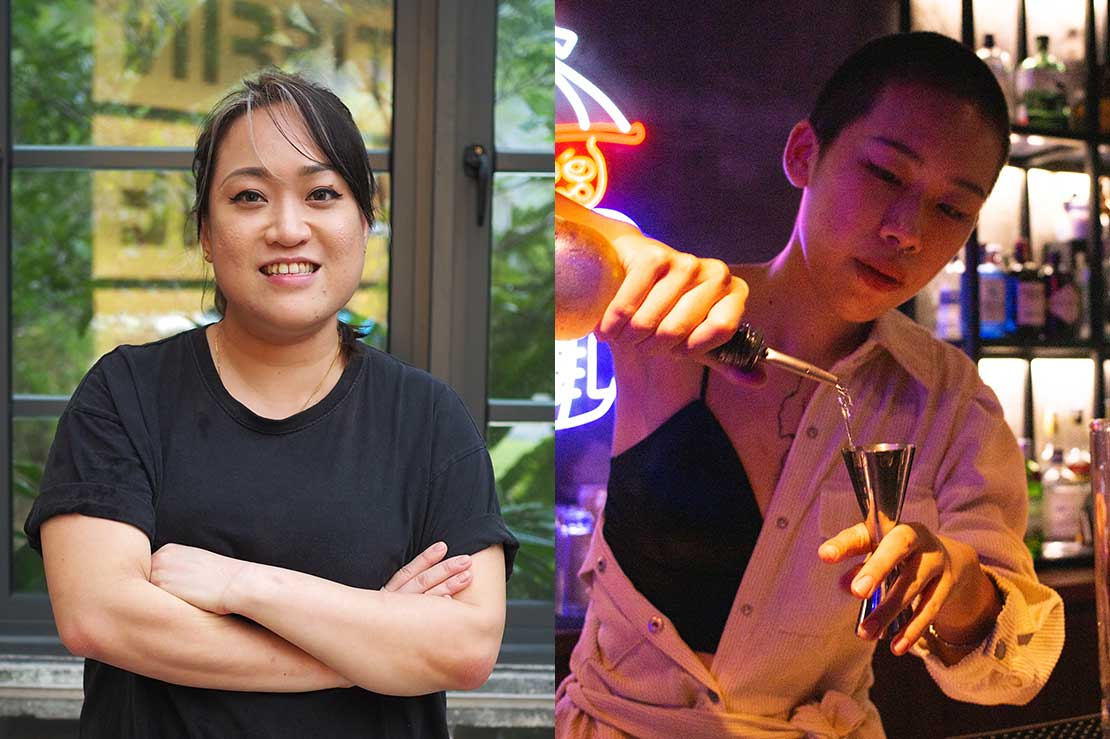 From left: Chef Julia Ung and Bartender Yap Siew Mun (Kapitan Haus)
Pop-up 2: Bao in Malaysian Street Food Style by Chef Julia Ung
Expressing her Nyonya heritage, Chef Julia Ung will be incorporating Malaysian flavour in street food style. The 4-course menu comes with Fried Bao with olive leaf and chicken crackling butter, Oyster Lo Bak Gou and Malaysian Grilled Greens, Spicy Lamb Bao and Taucu Ice Cream. Top these all up, are two signature Johnnie Walker Black Label cocktails created by Kapitan Haus very own bartender, Yap Siew Mun.
Date: 16 March 2023 (Thursday)
Time: 7pm onwards (Public)
Venue: Kapitan Haus - 15th Mar - 145, Jalan Petaling, City Centre, 50000 Kuala Lumpur
Ticket price: RM150 (pre-booking required) / Ala Carte menu available at limited quantity
Booking: +6012 602 2680
About Kapitan Haus (IG: @kapitanhaus)
Kapitan Haus pays homage to the Kapitan of the past, who was largely credited for the development of Kuala Lumpur, with their cocktails. The name Haus, meaning "thirsty" in Malay and an alternative spelling for "house", is a metaphor not only to describe the relentless thirst by the Kapitan to develop and serve the city, but also for the occasional drink or two.
About Chef Julia Ung (IG: @julia_ung_yilin)
Graduated from Culinary Arts & Culinary Management, Chef Julia was classically trained in Lafite, Shangri-la. Her work is greatly influenced by her last chef de cuisine who previously worked in Japan, who emphasised on simple but punchy flavours from ingredients which are meant to shine on their own. She has worked in Deuce, Char Line and Babulan. Currently working on her next project.
About Yap Siew Mun (IG: @siewmun.0110)
Yap's first foray into bartending was in the neighbourhood bar at her hometown Bentong. Having completed her degree in Taiwan, Yap started a career as a bartender at 23 and learned how culture can have influence in the food and beverage scene. Her choice of drink is whisky on-the-rocks or a Jägermeister and while at work, she enjoys fashion and sketching.
Johnnie Walker
Johnnie Walker is the world's number one Scotch Whisky brand (IWSR 2020), enjoyed by people in over 180 countries around the world. Since founder John Walker started in business 200 years ago, those who blend its whiskies have pursued flavour and quality above anything else.
Today's range of award-winning whiskies includes Johnnie Walker Red Label, Black Label, Double Black, Green Label, Gold Label Reserve, Aged 18 Years and Blue Label. Together they account for over 18 million cases sold annually (IWSR, 2019), making Johnnie Walker the most popular Scotch Whisky brand in the world.
An initiative by Thirstmag.com and Set The Tables
Thirstmag.com
Thirstmag (thirstmag.com) is an independent media that focuses on beverages with the aim to bridge the gap in drinks knowledge between the trade and consumers through contents, bespoke tasting events and large-scale festivals.
Set the Tables
Set the Tables (setthetables.com) is an independent food media created to inspire the hospitality community in Asia by creating opportunities for partnerships, networking, and the sharing of insights and news within the industry.
- T -