Only a few months ago, to hear someone say that they wanted to open a cocktail bar in Kota Kinabalu would have been madness.
That view would change today when Flips, a new cocktail bar is seen at full capacity during lunch time with the required 2-pax maximum seating per table, and amid the pandemic when it's most trying for the F&B industry.
Hometown to a melting pot of culture
The state of Sabah, also known as "The Land Below The Wind" is located in the northeast of Borneo. Its capital Kota Kinabalu (KK), declared a city in the year 2000, is a melting pot of different cultures from the South of China, the local Orang Asli, and from neighbouring Indonesia and the Philippines. Food variety is abundant with the highlight being fresh seafood as it was originally a fishing village.
Bar Flips is in a corner lot on Lorong Dewan, an old street with printing shops, small hotels and AirBnB. The street is 10 minutes' walk from the pier with lush greens for a backdrop. It is the city centre of Sabah's capital, a historic street which has in recent years sprouted boutique cafés and restaurants.
"Everyone thinks we are crazy to open now," says Rizal Junior Joe Utto, a partner of Flips. "The timing is neither good nor bad, as long as we stay open. We take our chances; threw everything we were doing in Kuala Lumpur (KL) and came back to do this."
Opening a bar during pandemic in a city new to the concept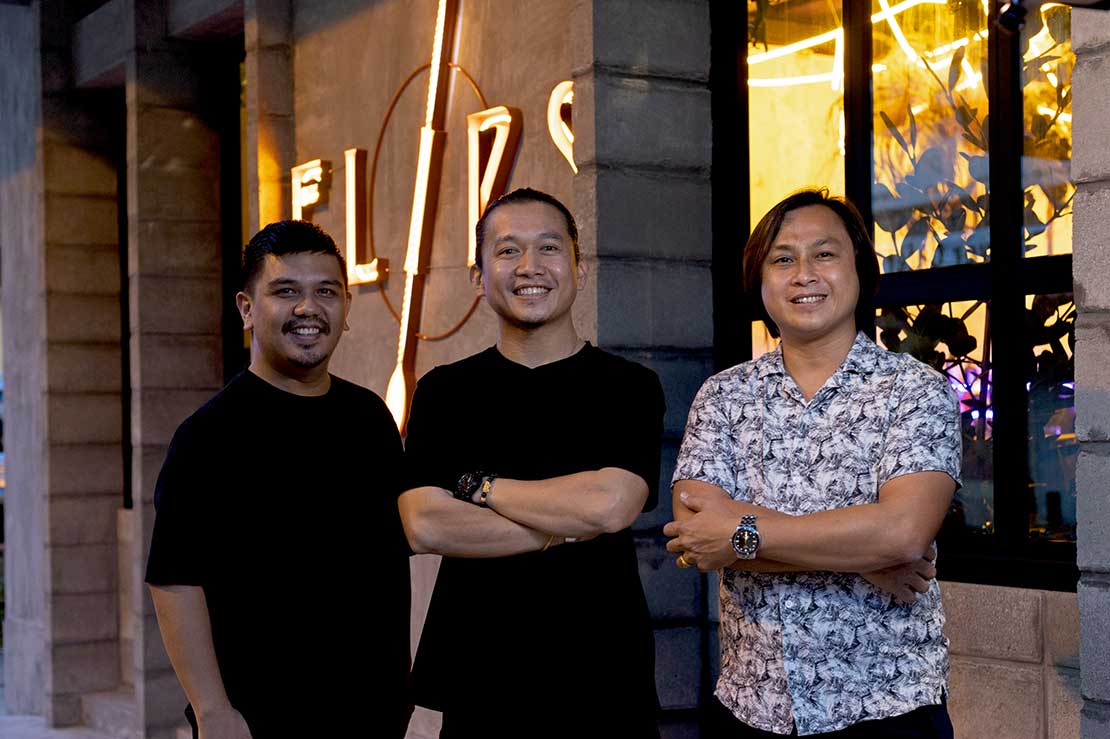 Flips KK partners: (From left) Azrien Daniel, Rizal Junior Joe Otto and Jimmy Gan
Flips, is a name chosen that makes a statement. It spells cocktails to people who know the drink category; but most important of all, it represents the struggle the partners of the outlet are going through at this difficult time but determined to "flip" the situation around.
Junior and two other partners Jimmy Gan and Azrien Daniel have been working on the project since 2020. When the border opened to travel again, they flew back to KK and opened the bar during Raya in April 2021. At the start, they only operated in the evening, just like a bar does. Business was slow.
"People in KK don't drink cocktails, we are against the odds here," explained Junior about the bar scene in the city popular for its food offerings. "But we have to try and change that through education, like how we did it 10 years ago in KL."
A game changer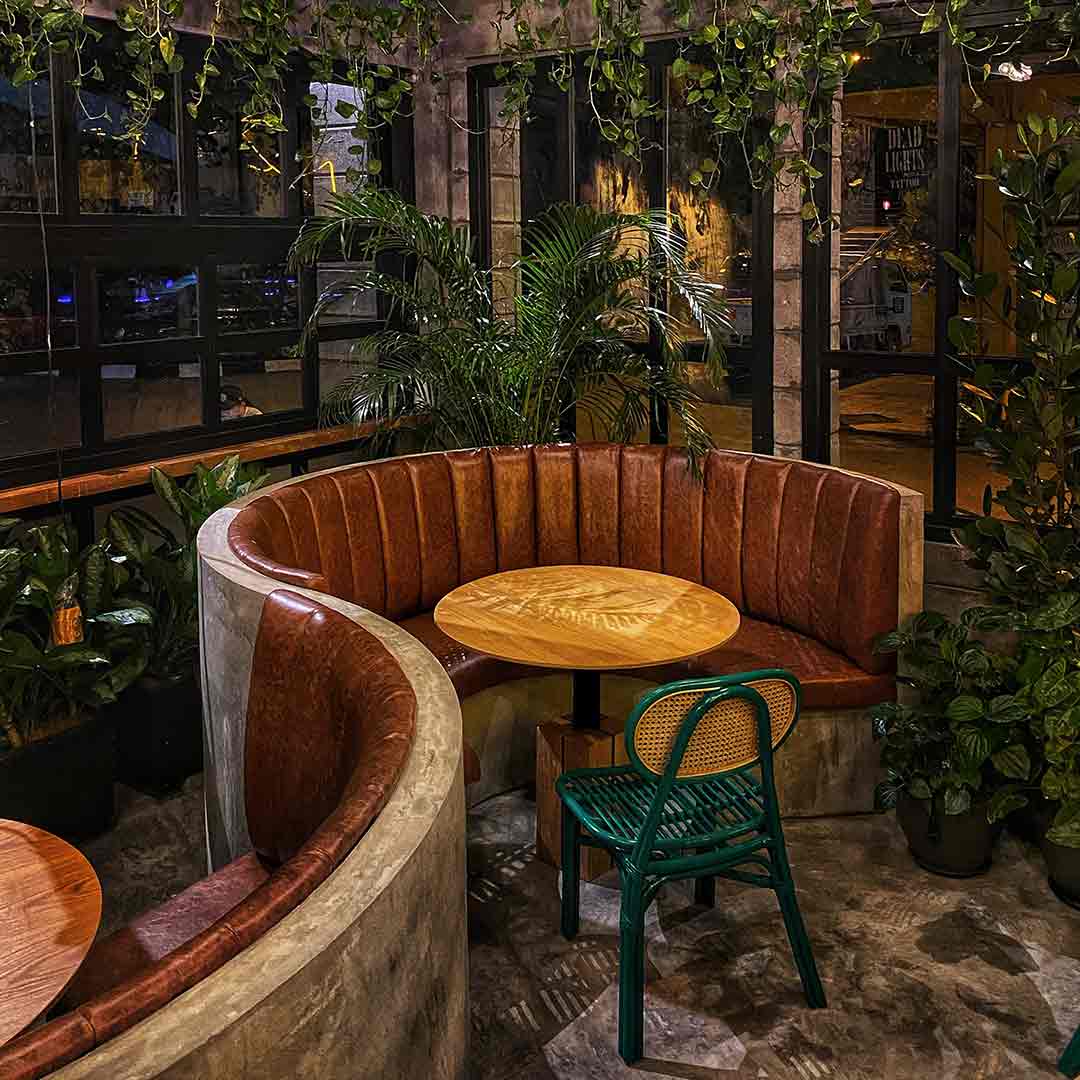 Flips interior
Junior was among the very first few bartenders who were passionately pushing the classic cocktail culture into the KL bar scene a decade ago. At the time cocktails meant colourful drinks with generic brands of alcohol, more aesthetic than taste and always too sweet; until classic cocktails that were simple yet elegant started to become signatures in bar menus, which also determined the credibility of the bars that served them.
We have come a long way, now that bars in KL are winning awards and recognised by the global bar community.
"I believe we can do the same in KK. We want to work with the tourism board in the future and promote the city, and win some awards," said Junior enthusiastically.
"Sabah is more open to alcohol consumption than West Malaysia, because it's in our culture to produce and drink," continued Junior, referring to the production of rice wine like lihing and the long-house tradition during the harvest season.
The menus
Flips' theme grew out of the love for tropical countries and Latin American culture. The menu is described as South American soul food with a touch of Borneo. "You can find any kind of food in KK and it is fresh, but not so much Western food," said the seasoned bartender.
Flips' chef Joyrone Ubong has worked in renown restaurant chain Troika Sky Dining since its inception and is no stranger to Latin American cuisine. The bar works with local hydroponic farms and food suppliers, and source all their ingredients only within KK, except the lamb which is imported from New Zealand. Importing products into Sabah is exorbitant so sourcing locally not only cuts cost but also promises authenticity, for example Sabah ginger beer which is spicy with a kick and 1/3 of the price of the imported brands.
When dine-in was allowed again, they extended their opening hours from morning till late and offer a lunch menu (11am – 3pm) at a bargain RM18 per set that comes with a main meal, a drink and churros as dessert. Their Happy Hour starts right after lunch between 3pm to 7pm. The takeaway menu is available all day and on Grab App.
Over the years, Junior has won cocktail competitions and created signatures for bars he's worked in. Now these cocktails are available in Flips with more classics to be added to the list. Local brew lihing from one of the best producers in KK, Tambunan, is also on the menu.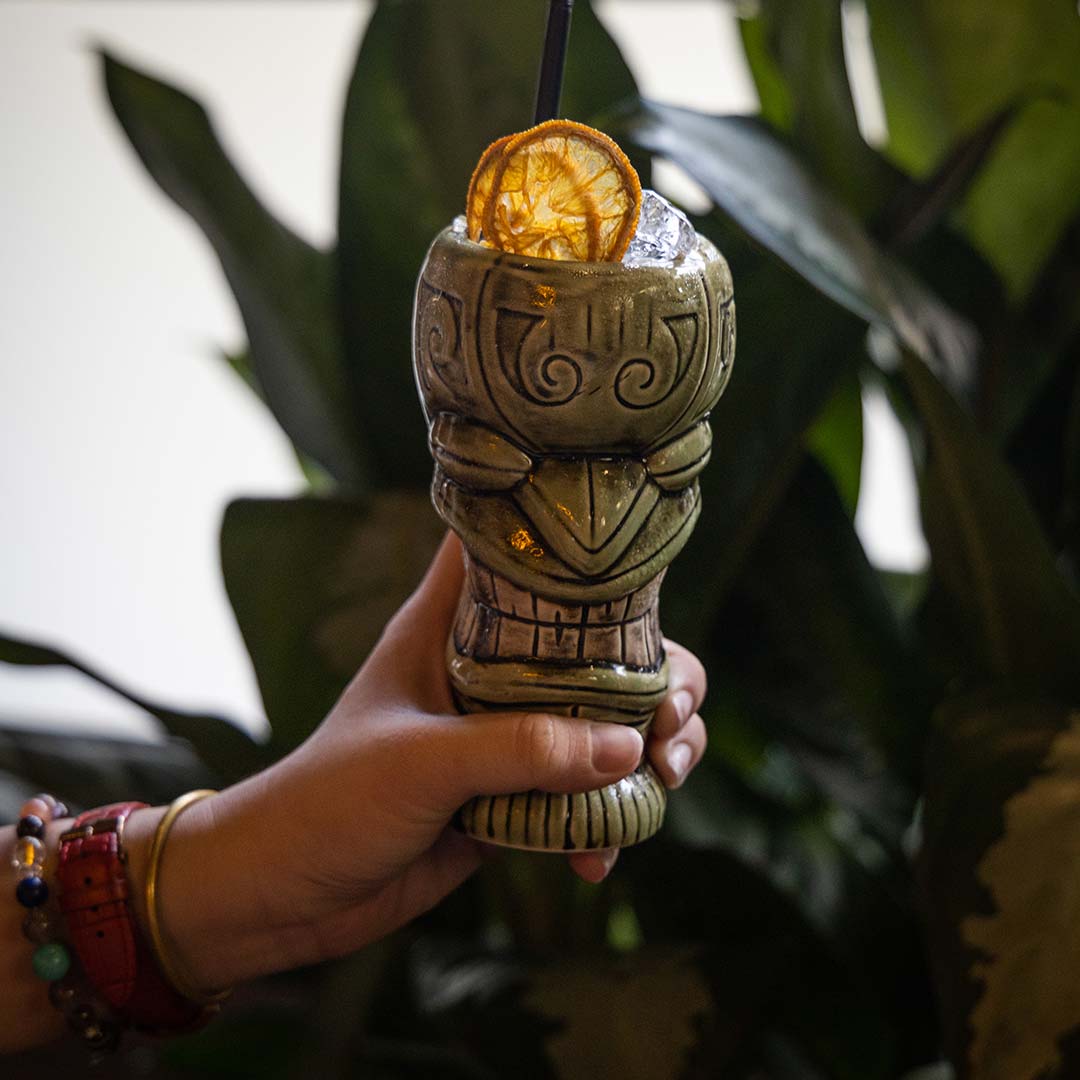 Cocktails in Flips in theme with South American vibes.
If you haven't heard yet, Malaysia's version of the notorious bartender's handshake using Angostura in replacement of the traditional Fernet-Branca, was introduced by the award-winning bartender after his trip back from Trinidad & Tobago in 2012.
Plan for the future
Sabah state contributes many talents to the F&B industry in the capital city of Malaysia, like Junior, Joyrone, Azrien and Jimmy who have left home to seek opportunities elsewhere. Flips has now opened their doors in KK for local young talents to learn the trade and pick up the skills without having to travel overseas.
Junior's wish is that by initiating a place that nurtures talents from the existing bar community there, it will attract more world class restaurants and bars to operate in Sabah, thus starting a new era for the F&B industry. He thinks that he owes it to KK as it deserves to be in the list of best cities to visit and its recognition is only a matter of time.
- T -
Address:
No. 2 Lorong Dewan, 88000 Kota Kinabalu, Sabah, East Malaysia.
Telephone No:
+6017 680 6061
Website:
http://www.barflips.com.my
Operation Time:
Daily: 11am - 10pm